Grammarly Affiliate Marketing Program
Best Affiliate product for New & Pro bloggers to promote and earn huge revenues.
No need to make sales to earn commissions, this affiliate is based on CPA (Cost Per Action) campaigns.
If anyone clicks on your affiliate link and do signup you will get paid $0.20 per free registration. Later, if the user upgrades his plan then you will be get paid $20.
You can easily make $10-50 per day with Grammarly affiliates.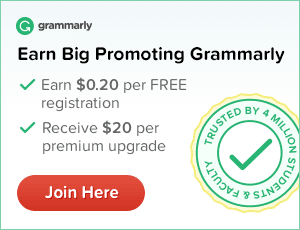 Here is the highlight of this Affiliate product:

Earn $0.20 per FREE registration (no payment info required!)
• Receive $20 per premium upgrade
• Increased payout tiers for top-performing affiliates
• Extra generous 90 day cookie window
• High conversion rates (20-30%)
• Regular performance incentives & cash bonuses
• Publisher-friendly PPC bidding policy
• Custom links, creatives, program terms and co-branded landing pages available
• Highly versatile educational product for all audiences (i.e. educators, students, professionals)
• Reputable company working with leading universities
How To Start?
1. Click here to Sign up for Grammarly.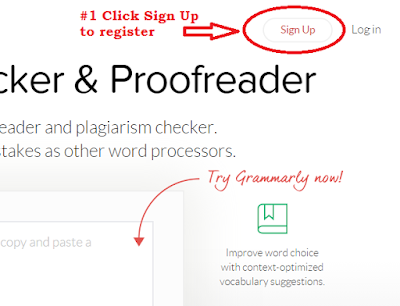 2. Apply for being affiliate.
3. You will get confirmed in 2-3 working business days.
4. Ocnce you will get approved then they will provide you affiliate banners and links to promote.
5. You can also earn $25 as bonus for placing a banner on your blog. Here is the detailed guide to earn $25 bonus from grammarly.
6. You can also access their premium product for one month without paying money. For this, you will have to contact your affiliate manager and then write a review about Grammarly according to your experience and publish it on your blog. Then send the URL to your affiliate manager and they will give you access to their premium package for one month.
7. It's so easy and simple to promote and earn commissions.
What is Grammarly?
Grammarly is the world's leading automated proofreader. It checks for more than. 250 types of spelling, grammar, and punctuation errors, enhances vocabulary usage, and suggests citations. If you want to know more about Grammarly then read this article that I wrote for Grammarly.
Can we really earn from affiliate marketing?
Affiliate marketing is a type of performance-based marketing in which a business rewards one or more affiliates for each visitor or customer brought by the affiliate's own marketing efforts.
There are lots of affiliate companies who provide the different type of products to promote and earn commissions. Commission Junction (CJ), ShareASale, Clickbank, V commission, Affiliatevia, and Komli media partners are some of the branded affiliate companies.
But I can say after Pokeram affiliate program, grammarly is the best. I love and promote grammarly on Tips2secure.
How they pay to their affiliates?
They pay via Paypal and minimum payment threshold is $25.
Conclusion
If you are fed up with old affiliate products and not making good money then this would be the great chance for you to switch for this new product.
If you face any problem then please let me know through comments, I will help you in all possible ways.
Message: I hope that you have enjoyed 'Grammarly Affiliate Program – Earn $0.20 Per Free Registration' article. However, if you want me to deliver more items, then please share my post. You can use Social Sharing Widget provided at the end of every post. After all, Sharing is Caring!