In this post, we are going to compare Grammarly vs Ginger. These two are the best tools to improve your English and writing skills. After reading this unbiased comparison post, you will be able to know which one is the best tool and which one you should use.
Every day we deal with English. English is the international language and all the interactions which happen nowadays are in English only. Suppose you are a student, writer, blogger or professional English is a must for you. If you can communicate well in English then you can do anything. You need to express your thoughts in the English language.
English is considered as easiest language to learn in the world. But a little mistake in English will cause a lot. If you make a tiny mistake of commas then also the entire meaning of the sentence will be changed. As a professional, you cannot afford such mistakes.
There are lots of tools available online which will help you with this. These tools are known as grammar correction tools.
Grammarly Vs. Ginger
There are many tools online so it is hard to choose between them. We cannot use two or three tools simultaneously for the same purpose. So we need to choose the best one.
Today I am going to write a detailed review of two such grammar correction tools. These two tools are best in its way. There are advantages and disadvantages to both tools.
After reading this post, you will be able to make a clear decision on which tool you should choose and why. So keep reading the post.
In this post, I will take you through the best features of both tools So that you can decide the best one for you. Remember one thing, the purpose of both the tools is same that is to improve your writing skills so that it can become more readable.
Grammarly Vs Ginger : An INTRO to Grammarly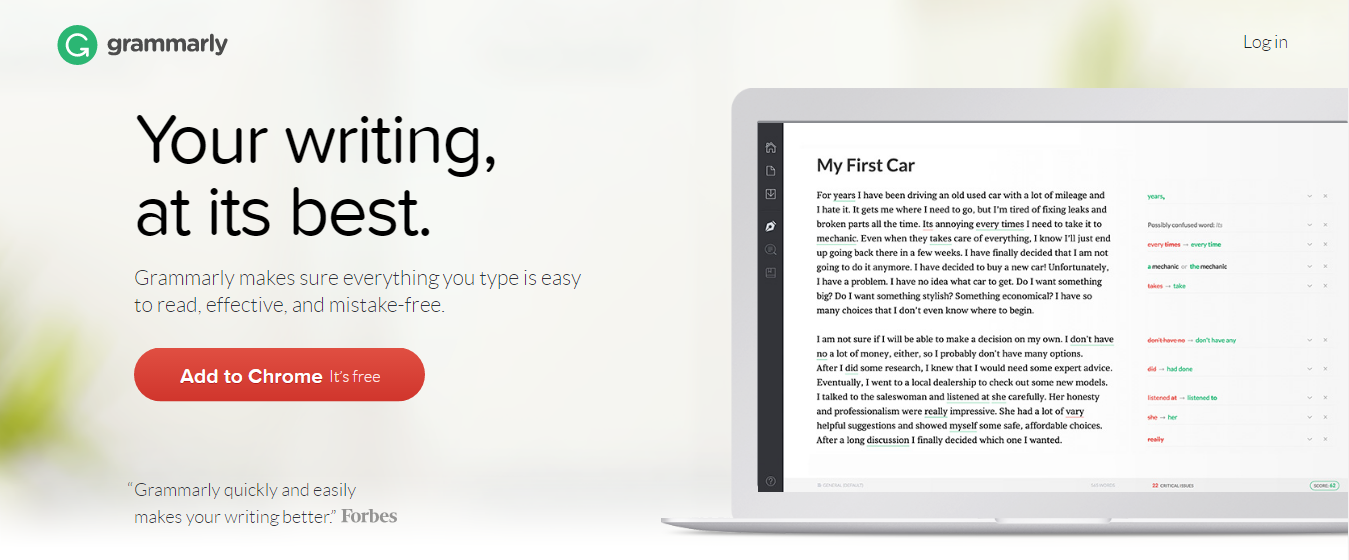 Grammarly is the best online tool which will work as an online mentor for you. Its interface is very easy to use and it provides all the editing tools. It will help you to identify more than 250 types of grammatical mistakes in your article. Grammarly gives you different writing styles like reports, business archives, research papers, presentations etc. If you are writing any word which is out of context then Grammarly will indicate an error for the same.
There are two versions of Grammarly is available. When I started with Grammarly, I was using the free version of it. I downloaded the extension of Grammarly to test it. After downloading the extension of Grammarly, whenever I would type something in my browser it started highlighting the errors whenever it finds them. So I thought I should buy paid version of it. So here are all the best features of Grammarly that you will get in the paid version.
Ginger Vs Grammarly Comparison (Side by Side)
If you are a writer and want to improve your writing or if you just want to enhance your English skills then a single grammar mistake is unbearable.
Both are branded tools and work smartly but presently, Grammarly has been liked and admired by many people.
1.

   

Grammarly is known as the best tool and software to check grammatical errors, spelling mistakes and so on and it is equally useful in proofreading.

2.

   

Grammarly works on 400 grammatical rules and regulations. It is an advanced version of detecting grammar errors online. 

3.

   

Grammarly is actually a cloud-based tool that works on different browsers like Chrome, Firefox, Safari etc. 

4.

   

Grammarly offers paid and free versions to users. For premium service, you can go with paid service and the annual package is more worth it than the monthly package.

5.

   

It checks spelling, punctuation, passive voice, sentences, proposition, repetition and many more. You can create a personal dictionary and translate the data.

6.

   

For the premium monthly plan, you have to pay $29.95 but I suggest that an annual plan is cost-effective and is available for $11.66/month.  

1.

   

Ginger is also a good tool to check grammatical errors and it is in working mode for the past many years and one can also use this for proofreading as well.

2.

   

Ginger also provides an online facility for working and you can easily check your spelling, text, and content, and one can translate the content into different languages.

3.

   

Ginger also works efficiently on different browsers but it provides a limited word limit for checking and is less advanced than Grammarly.

4.

   

 Ginger also offers paid and free services. The User can check the limited data via the free version so paid one is better and the yearly plan is better than the monthly as well.  

5.

   

It includes text-to-speech, translation, Rephrasing, etc.  

6.

   

The monthly plan of Ginger is available for $14.98 per month and the annual plan is available for $74.88 per year. If you want an infinite service then go with an annual plan.
How Does Grammarly Work in Realtime?
By looking at the name Grammarly, you can say, "Ohh, it checks and corrects my spelling. That's it. MS Word does the same for free, isn't it?"
…but here is the catch: I too know that Microsoft Word can spell check and suggests corrections in gimmick, but Grammarly is way superior to that.
Apart from just checking the spelling, Grammarly does a lot of other things which you will never get to experience with MS Word alone.
Grammarly has an intelligent writing algorithm working behind its dashboard that has numerous other features from just a spell-checker grammar tool.
It can correct your misspelt words, helps you write according to the tone you want to convey to your reader, check for plagiarism, improves the Flesch reading score, and a lot more.
Combinedly, all these features make Grammarly a one-click solution for all your needs for bringing perfection to your English.
Its intelligent app gives your write-up a compelling touch and makes it reader-friendly.
So, if you are curious about how Grammarly does all this stuff single-handedly behind the scenes…
…then, let's have a look at it.
Let's have a look at how Grammarly sidelines its competitors with its overpowering features.
Grammarly Editor has more than 250 standard grammar rules that it follows strictly. The rules ensure an excellent level of accuracy in every form of Document.
When you copy-paste some lines of content to Grammarly Editor, in a blink, it will just start showcasing the errors, improvements, and plagiarism level your content contains.
Grammarly will underline the misspelt words, redundant sentences, improper punctuation, and hard-to-read jargon & sentences—while you scroll down the lines.
Now, if you hover your mouse pointer over the errors, it will start showing you the possible suggestions: suitable word replacements, fix for punctuation errors, sentence structure, and other grammatical improvements.
The suggestions will show you a brief description of the error and will offer you options to rectify them.
For example, while you are composing a document mistakenly, you wrote "he" instead of "it" to refer to a non-living creature. So, when Grammarly scans through your Document, it will indicate this as an error by putting a red underline to the word. This way, you can readily rectify them with a click.
As you read out the reason for each of the errors while you correct them, gradually it boosts your Grammar intelligence side-by-side. This helps you make informed decisions about word choices and sentence structure while you draft a new document in the future.
Like a professional proofreader, it alerts you about frequent word repetitions, wordiness, slang in professional documents and active-passive voice usage.
Grammarly also has options to change the language of your choice to either American English or British English. It gives you another edge over the language in case you are not a native English speaker.
For document styling, it gives you several options to moderate your Document according to your need. You can choose between general, medical, technical, business, etc. to get strictly context-specific improvements.
You can get all these features in your Android Smartphone as Grammarly Keyboard while having a chat with your friend, in MS Office while typing a document with a plug-in installation, on Social Media while writing a post or having a conversation and also while drafting an email—by installing the free Grammarly extension in your internet browsers.
Overall, Grammarly has a robust algorithm that makes the competitors out of the competitors league.
Grammarly Vs Ginger: Features of Grammarly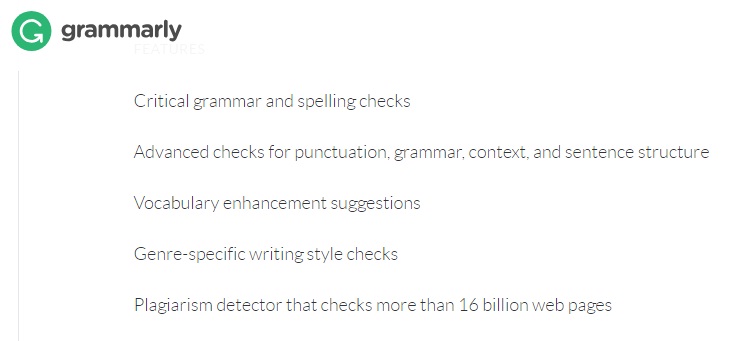 1. Anywhere and anytime: Grammarly is with you anywhere and anytime. There is a Google Chrome extension available for Grammarly which will help you anywhere to correct your grammar mistakes. This extension works fine with any text box whether you are using Gmail, Facebook, LinkedIn, Twitter, Tumblr, WordPress or anything. You just need to be online to use the Grammarly extension.
2. Plagiarism checker: This is the best feature of Grammarly. Grammarly will automatically let you know the percentage of plagiarism in your text. To detect plagiarism, Grammarly will check more than 8 billion web pages. With the help of this feature, you can crosscheck whether your content is original or copied. If you find copied content then at the same time you can change it. Thus it saves lots of time for any writer.

3. Grammarly Proofreading: Once you write the whole article, proofreading is very necessary. Proofreading will enhance the readability of the article. Grammarly is considered the best proofreading tool which will enable you to proofread your article in a very short span of time. There are many bloggers and writers who are using this feature of Grammarly every day. Even I am using this feature of Grammarly to proofread my articles.
4. Vocabulary: Grammarly editor is available online which will enhance the vocabulary in the article. If you are using the same word many times then it will give you suggestions for that word in terms of synonyms. So with the help of this feature of Grammarly, you can improve your article like anything. You don't need to remember the words. Just use the words which you know and Grammarly will recommend you the best word for that word.
5. Make your reading experience smooth and easy:
If you love reading news, stories, articles or anything else in the English language but your English is not much good then Grammarly will help you to find the meaning of the words that are bothering you.
Just enable the browser extension and double-click on the word which is a fuss for you and Grammarly will explain the whole meaning of it.
Grammarly for Android
Grammarly which is considered as best software or tool for finding errors related to grammar is now available for Android users. Isn't that great news? Now, one can easily download Grammarly keyboard on their android devices with just a single click.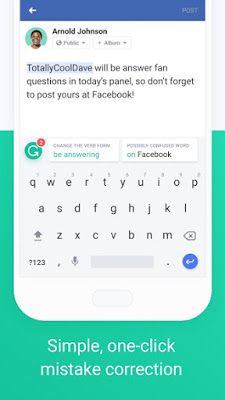 Professional writing seeks for much knowledge of updated vocabulary and proper sentences in the right place. No matter if you are writing a normal text or sending an important e-mail to your boss, if you are not correct with your words then you can destroy your image as well.
How does the Grammarly keyboard work?
After downloading the Grammarly keyword on your Android device, whenever you type something that tool will suggest you the correction if needed. If you still feel any doubt related to the sentence, you can go to the explanation that informs you about everything regarding your mistakes.
How to Download Grammarly Android APK?
You can simply get this from the Google Play store. Download the latest version and on time keep on updating for better performance and quality of finding errors.
Grammarly for MS Word
Another good news for writers and MS word users is that Grammarly is now directly available for MS word documents and outlook e-mails. You must have known about your operating system that should be able to support the Grammarly tool.
Getting this tool for MS word will help you to improve your writing. Suppose you are writing a document that must be error-free and original, so if you have linked Grammarly with MS word, it will allow you to find several errors.
Linking the Grammarly tool with MS word will save your valuable time and promote your work efficiency. You can link this tool with some of these simple steps:-
Open MS word and click on the file option and then click on Add-ins, then in the manage list, select the view and manage Microsoft Add-ins.
Then click on the COM Add-ins option, here you will see the Grammarly option, select this and enable this in the dialogue box.
Check out the load behavior that will specify at the bottom of the box, if it is still in the Not-loaded position and shows an error then visit the Grammarly link and read the instruction.
You can read in detail about Grammarly for Word & Mac Here.
Grammarly Vs Ginger – An INTRO to Ginger Software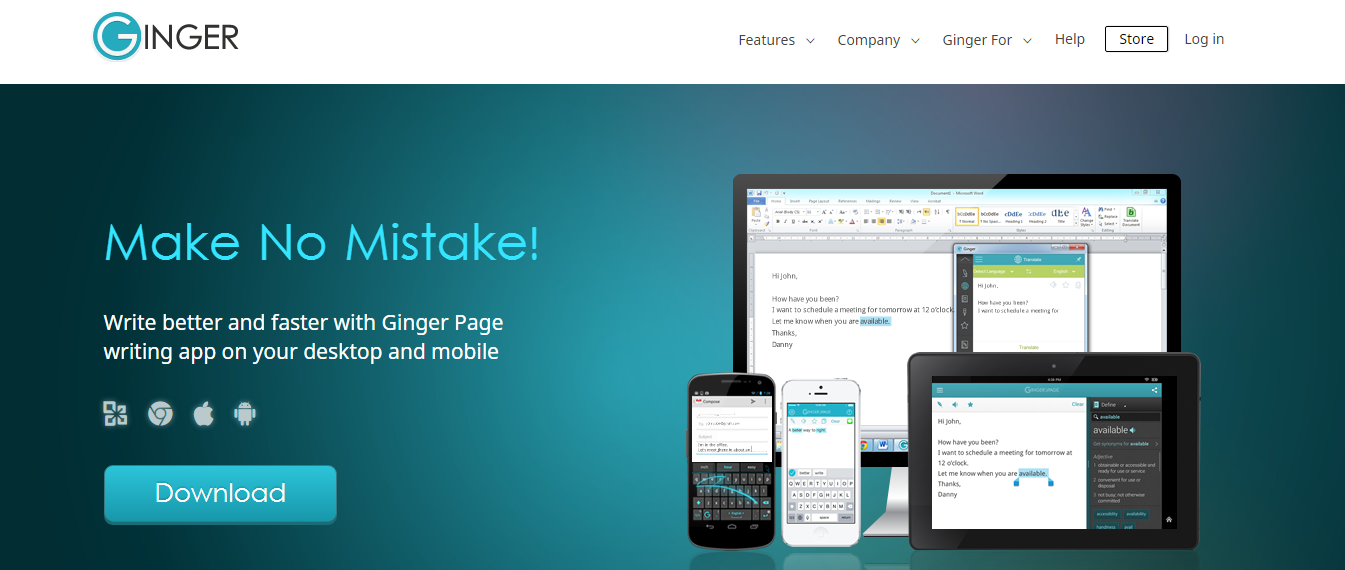 Ginger is one of the best Grammar Correction software I have ever used. I feel amazed after using this tool. Ginger tracks all spelling mistakes and contextual errors in your article. The top features of Ginger are translation, sentence rephrases, grammar checker, dictionary etc. Ginger is also having Google Chrome and Safari extensions which will enable you to use them in your browser. So let's see the detailed features of Ginger.
1. Grammar Checker: Ginger uses patent-pending technology to detect grammatical errors in sentences. Ginger provides you with some assistance with your writing and it adjusts your English as per the context.
2. Sentence Rephraser: Ginger advances the content you write with the help of this feature. It helps you to write better everywhere and every time. When you write, Ginger will rephrase it if you need. So you can enhance the readability of your article easily.
3. Ginger Translator: Ginger provides the facility of translation. When you want to convert your article into another language, you can try this feature. Ginger provides 40 such languages which you can use. It includes French, German, Spanish, Japanese etc. The interface which is offered by Ginger is very easy to use. You just need to select the language and then enter the text which you want to translate. Ginger will automatically translate your text into your preferred language.
4. Ginger Personal Trainer: This is a great feature of Ginger. Ginger takes your mistakes from the article and analyses them. After the analysis, it will give you a chance to practice English in your account. With the help of this feature, Ginger will break your English in two-part known as the powerful part and the powerless part. So you can practice on the powerless part and improve there. It is the most astonishing feature of Ginger.
5. Text to speech:
If your pronunciation is not as good as a pro then not to worry because Ginger will help you certainly with its perfect text-to-speech service. You can simply speak the text and Ginger will highlight the text and translate it for you.
You can pause and play the text anytime and can learn the exact pronunciation. This feature is only available for premium members but for learning it is not a big deal to pay some bucks.
6. Assist for better reading:
Click on the word whose meaning and explanation you want to know and Ginger will show the basic meaning of the particular word.
How does GINGER Software work?

Ginger is also superb software like Grammarly. It is suitable for correcting grammar errors. With Ginger, you will able to find out the translation in several languages, sentence rephrasing, text reading, and find a dictionary for updating vocabulary and for improving your English skills.
Once you will download Ginger software, you can forget all of your troubles related to grammar or writing. Ginger is quite a reliable tool that works perfectly for android users as well as for iOS.
Ginger provides the finest keyboard that helps to improve your mistakes and also shows suggestions regarding phrases.
Unluckily Mac users are still waiting for a Ginger app but you can use the Ginger extension with Google Chrome or other browsers that you love to use in your daily routine.
Grammarly Vs Ginger – Which one is Better?
Grammarly and Ginger both are great grammar correction tools which will help you with your writing skills. Both have their advantages and disadvantages. I have used both tools to check their features and see the difference.
In the initial days of my writing, I was like I don't need any tool to proofread my writing. When I heard of Grammarly and gave it a try, I was shocked as I found a lot of mistakes in it. Then Grammarly helped me rectify these errors.
I have been using Grammarly for a long and now I am addicted to it. The more you use Grammarly, the more addicted you get to it.
If we talk about Ginger then Ginger is also a great tool. I found the Ginger sentence rephraser very useful. You can use this feature to turn any sentence into a different meaning without any effort.
Some features of Ginger are Free so you can use that anytime. If you like those features then you can anytime upgrade your plan to the premium version.
The only problem with Ginger is that you need to open a different window for different functions. So it is a bit time-consuming.
It helps students, writers, bloggers, and professionals to improve their vocabulary.
Grammarly corrects spelling, punctuations error, and most grammatical mistakes.
It helps the users to improve their writing styles.
Grammarly provides its users with lots of essential features for free.
You can work with any website easily with the help of Grammarly.
Grammarly not only corrects the error but also provides suggestions more appropriately.
Grammarly helps to make text corrections across various platforms and websites.
It also provides a sound knowledge base for Grammarly.
Grammarly also improves the readability of your write-ups.
It also helps in correcting various grammar and spelling mistakes.
Grammarly offers users multiple browser extensions. By adding these extensions, you can fix common mistakes while writing articles, social media posts, blogs, emails, messages, etc.
Monthly billing costs more, so you need to go for annual subscriptions.
Sometimes Grammarly becomes unable to find the errors until you reopen the document in Grammarly editor.
There is no MS Office add-on for Mac users.
All features are not available for Mac.
In Grammarly, there is no free trial for the premium version.
Grammarly does not offer any personal directory.
Like Grammarly, ginger also offers suggestions for how you can rephrase your sentences.
Ginger helps to correct the error in a fast and effective manner.
Ginger helps in creating the assignments.
One best thing about ginger is that its trainer feature helps users make the same mistake again.
It also provides a detailed report from here you can check your progress and improvement.
It helps the user in improving their English writing skill.
Ginger also has a translation tool that helps you to translate documents into over 60 different languages.
Ginger offers extensions for firefox, google chrome, MS Office, Android, and Ios.
It helps to make the sentences better and error-free.
Ginger also helps users learn from their mistakes and learn how to become better writers. In addition, this tool helps identify document errors and correct them.
You can communicate in over 40 languages.
The rephrased sentences help to avoid redundant words.
It has a specific grammar-checking capacity.
Ginger does not offer a plagiarism checker.
Without the internet, it cannot work.
Ginger only provides extensions for chrome and safari.
This tool is not user-friendly.
It is costly for students.
If more things are available in the free version, then it would be better.
Both ginger and Grammarly support a custom dictionary. Ginger helps the British and us English. In comparison, Grammarly supports USA, British, Canadian, and Australian English.
I have compared the ginger vs. Grammarly tool for users to see which one suits best for them. Both devices are very effective, but it is impossible to afford the two grammar checkers. Grammarly and ginger fix the passive voice, fix instances of clumsy sentence structure, and improve the readability.
Grammarly is a highly advanced tool designed to make corrections in your write-ups. Similarly, ginger is also a god with lots of services like text reader, translator, etc.; in Grammarly, error detection is based on over 400 factors. Unfortunately, ginger does not include a plagiarism checker feature .so overall, Grammarly proves more valuable and effective than ginger.
Conclusion
Both the tools are great and really effective. But we cannot purchase both. So we have to select only one for purchase. Grammarly is mainly used for organizational purposes and Ginger is used for individuals. Grammarly is a bit expensive in price when we compare it with Ginger.
My own recommendation is to test both the tool in their free version and then go for the one which you like the most. This is the matter of money so no one can afford any mistake. If you make the mistake then you cannot recover your money back.
So make the proper decision for yourself. Analyse your need and what type of work you are doing. Then depending on your need, you can go for any tool.
If you want the single recommendation from my side then I can say Grammarly is best from both the tool. In my view, I will give 10 out of 10 points to Grammarly and 9 out of 10 points to Ginger. You can decide as per your requirements.
Grammarly: 10/10
Ginger: 9/10
If you like this comparison of two great grammar correction tools then do share it with your friends and help them to make a clear decide on one tool. I would like to hear your favourite tool. So feel free to comment on it.
Must read articles,
Message:
I hope that you have enjoyed 'Grammarly Vs Ginger – A Detailed Comparison Review' article on Tips2secure. However, if you want me to deliver more items, then please share my post. You can use Social Sharing Widget provided at the end of every post. After all, Sharing is Caring!