Well, if you are a
MAC Owner
, you would be aware of the fact that how un-tidy it can get sometimes if not taken care of. Seems like this is what the software was made for.
Mackeeper
is a collection of handful tools that can make the security, cleaning and optimization of your Mac, fast, handy, efficient, clean and less complicated.
MacKeeper Review 2021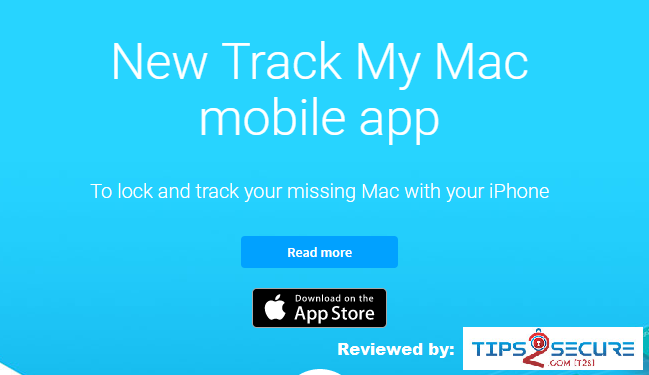 In this review, I'd be exploring some of its top-notch features and tell why is it worth keeping in your Mac. The tool has more than two dozen of optimization tools that covers areas such as Security, Data Control, Cleaning, Optimization and Support.
Installing MacKeeper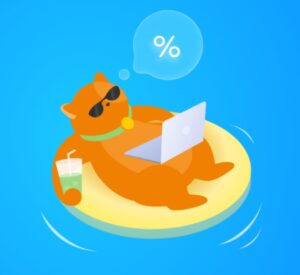 The installation process is quite straightforward and won't leave you angry and irritated. You would need merely a few minutes. Once the installation is done, the application would add itself to the application and can also be launched from the Desktop. When you download the software, you'll be provided with a small installer ( maybe 370 kb ), but once you run the installer, the actual installer would be then downloaded directly from servers and the whole thing is fully automated.
You must note that two features in this software don't get installed by default. These are Anti-theft and Internet security. Although you can quickly install these modules by merely clicking a button inside the dashboard and it won't cost you any additional dollars.
FYI, these modules are not essential and you can efficiently use the software without installing these modules. But based on my experience, it is highly recommended and you should use them.



Mackeeper Review – Features

1. Internet Security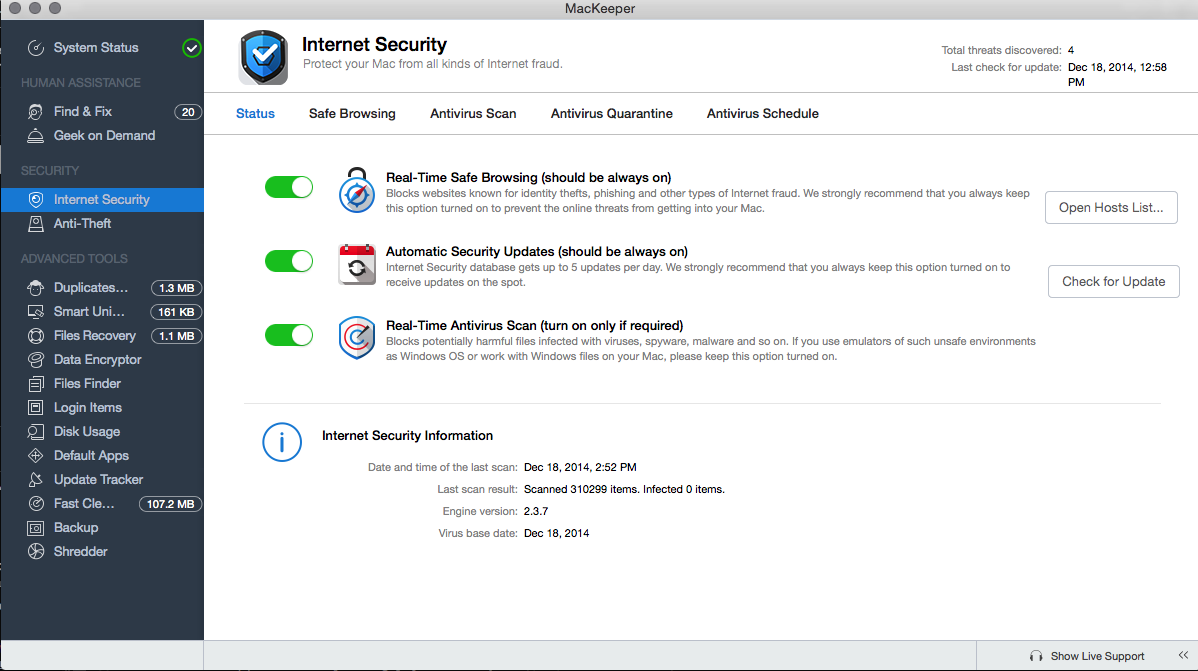 This is probably one of the most needed features for mac. Only some years back, a fake company that was posing as antivirus attacked tons of MAC computers and caused huge data loss. This module makes sure that malicious websites get blocked automatically to protect you from spammers and hackers.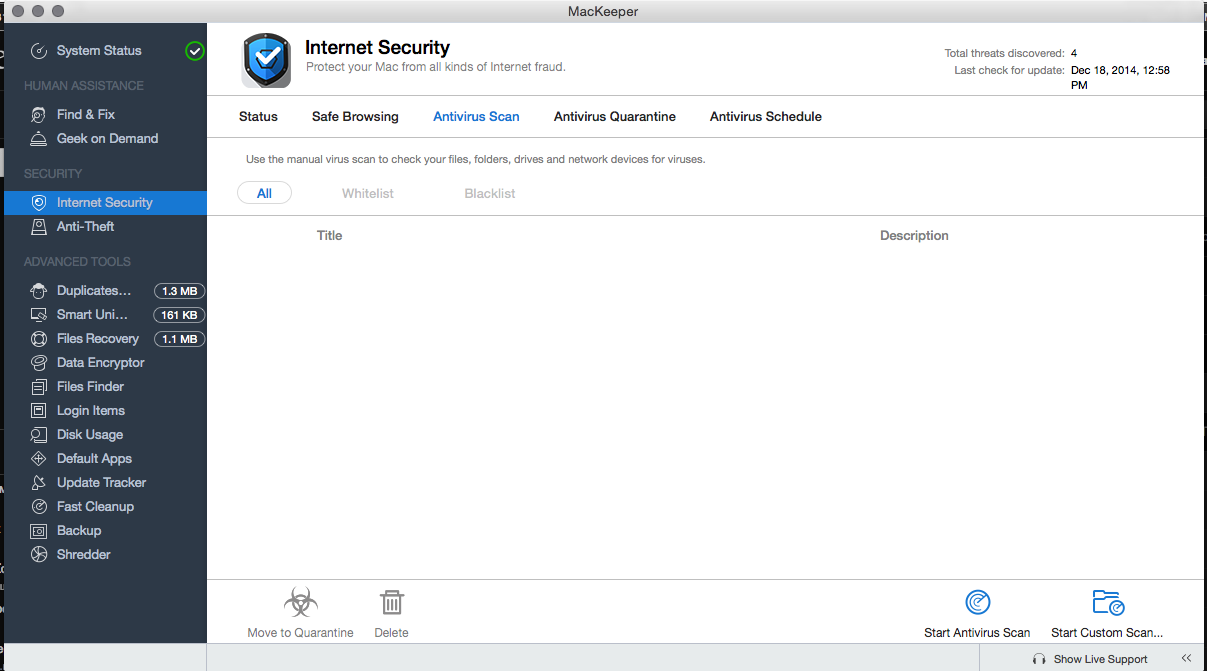 This software is laden with several databases in order to keep an eye on bad websites and blogs.
You can also block websites based on your choice. Simply make a list and paste it within Mackeeper and they won't be accessible anymore.

2. Anti-theft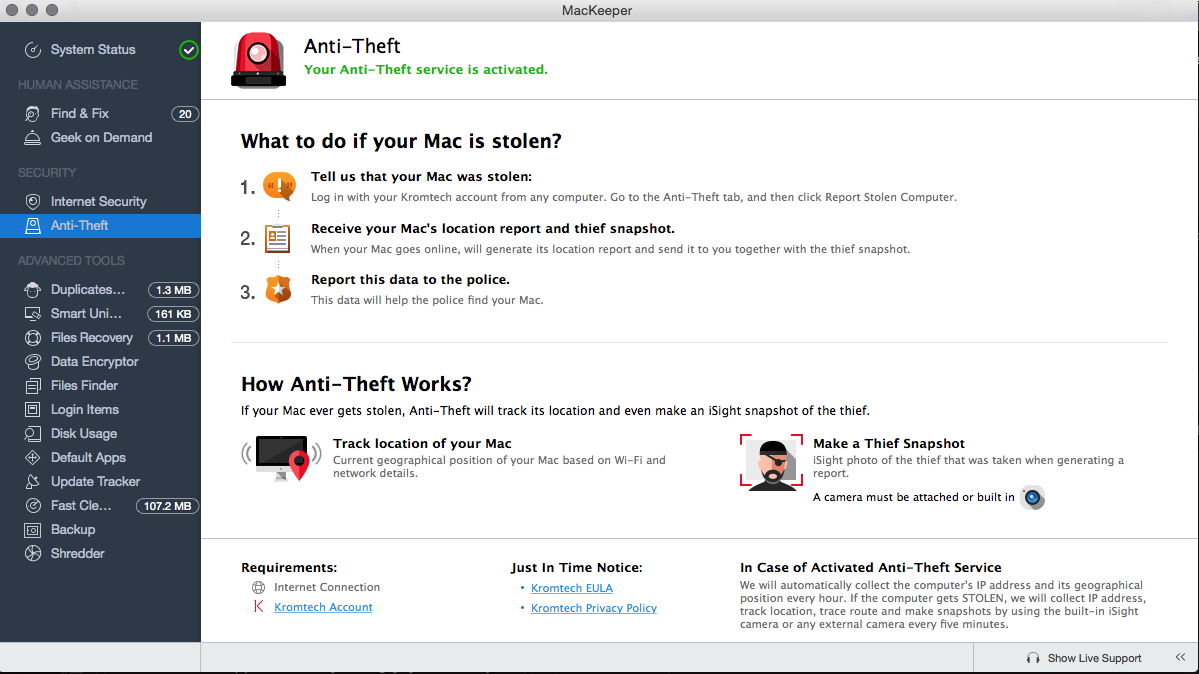 If you are one of those persons who travel frequently or keep your Mac often inside your car, your laptop is at high risk of getting stolen. If this worries you, this feature is quite useful in this regard.

The module works in a quite simple way –
1 . You need to activate this feature.
2 . If your mac gets lost, you navigate to the anti-theft section of the Mackeeper online account and hit the "My MAC was Stolen" button.
3 . Once done, as soon as the thief goes online, the software would automatically take pictures of their and location along with the Internet connection he is using and hand this information to you.

3 . Data Encryption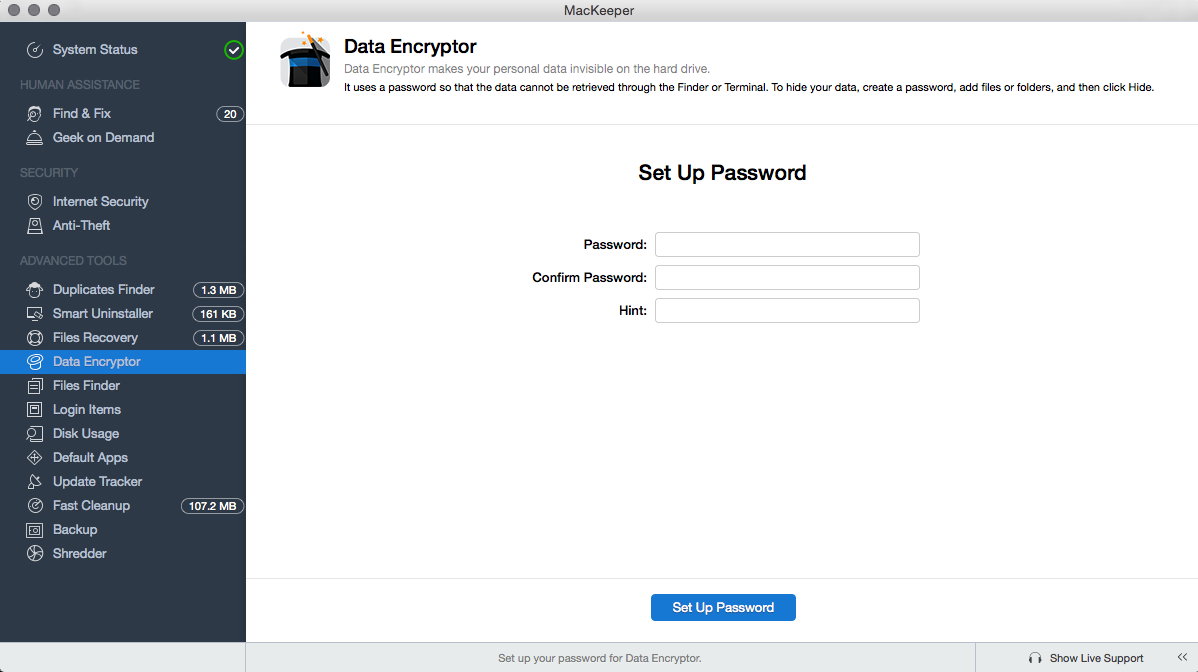 I know it can be hard to refuse to share a laptop when you live in a family. If you are worried about them viewing your data, then this encryption thing is a great feature for you.
If you have saved sensitive data such as banking passwords and credit card information, you would certainly want it to be secure.
The Data encryption module makes your files invisible so that only you are able to find them. No one other than you would be able to trace it, not even with Terminal or Finder.


4 . File Recovery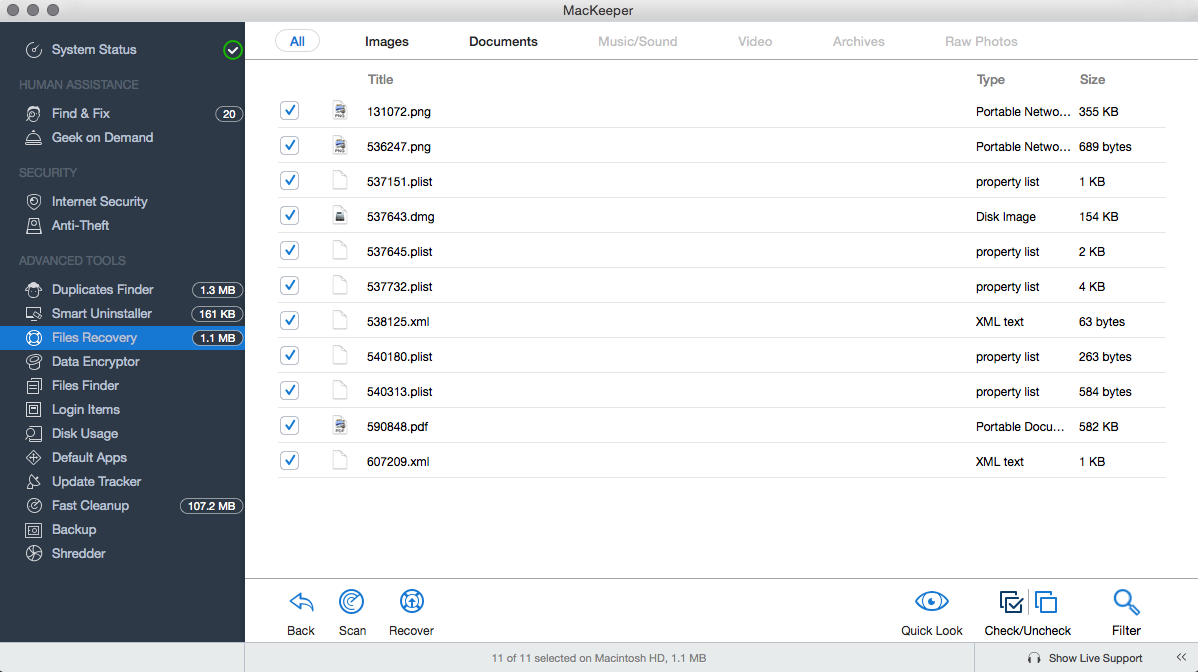 I don't think that I need to explain this feature as it is self-explanatory.
It comes in handy if you accidentally deleted some of your files from MAC. It even works in situations when you emptied your trash. You can recover your files using this module, and if you look at its price, most of the data recovery solutions are priced higher than the price of this whole solution.
To recover you need to open File recovery and select the specific partition where your files were before getting deleted, and click on Start Scan. It would then show you a list of files that can be recovered.

5 . Backup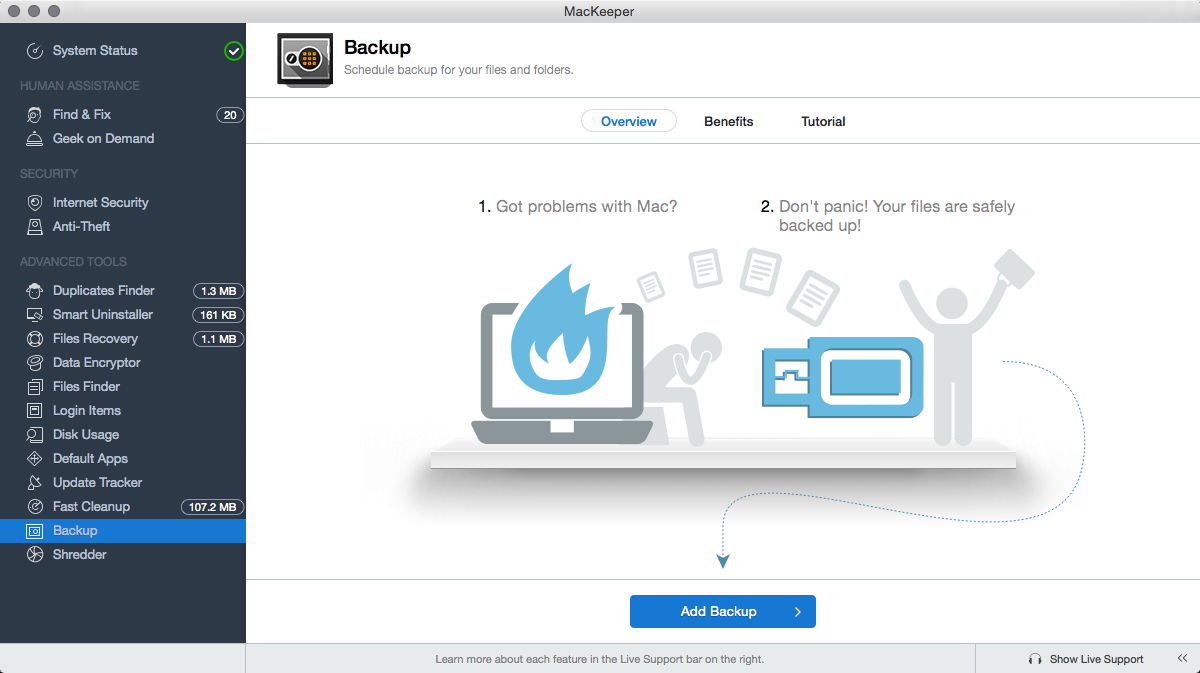 One can use this amazing module to create some copies reserved of your files and folders which are important. The backup can be made to an external hard drive, USB or FTP. If you are one of those corporate who frequently edits their files and documents and wants to keep save versions in case something occurs, then this is the perfect tool.
For using this module, you need to drag those files that you need to backup and select Backup. Further, if you want your documents to be backed up automatically, you can specify the default location and those files and documents would be regularly backed up on the scheduled time.

6 . Shredder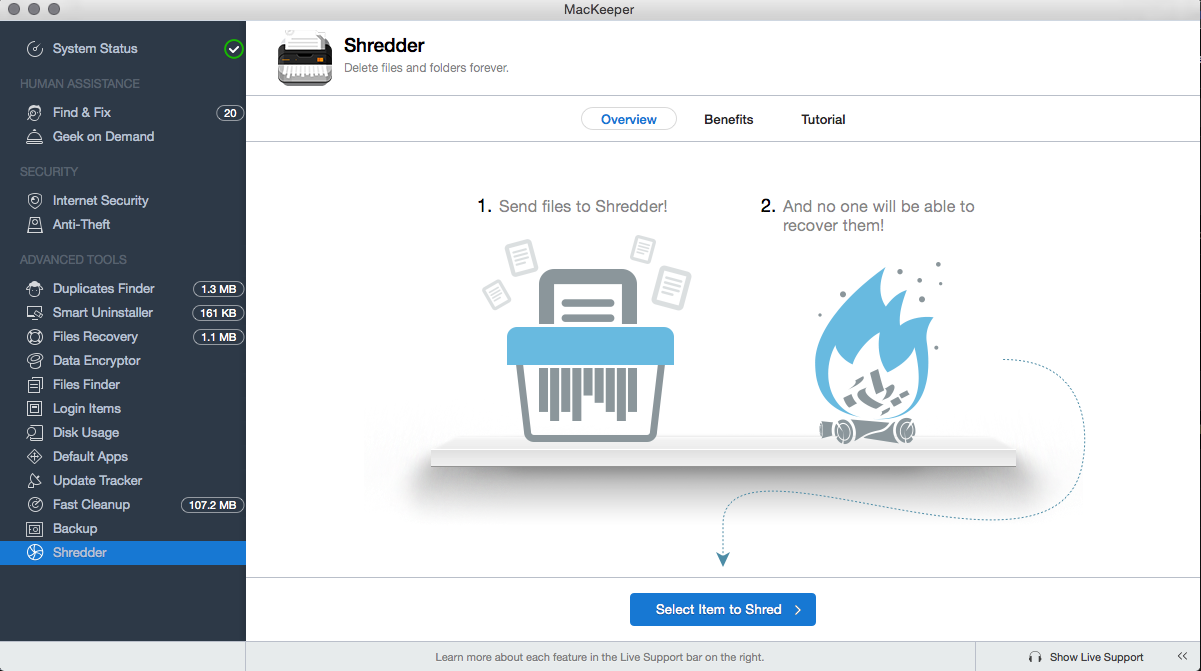 This is indeed a quite powerful utility and holds the capability to delete files permanently, so much so that even the most specialized recovery tools can't recover them. This can come handy in situations like when you are selling out your MAC to someone and don't want your files to be recoverable at any cost.
Your files are not actually gone when you merely delete them and can be recovered by the use of advanced recovery tools. But when files are shredded using this tool, they go beyond the level of recovery.

7 . Fast Cleanup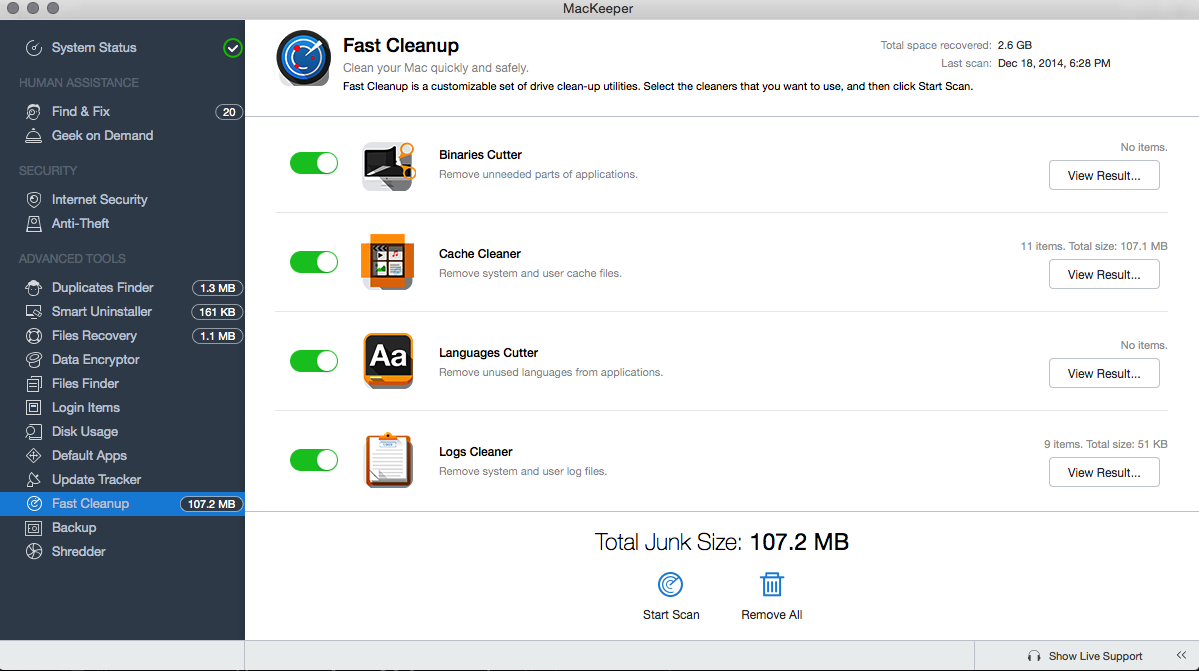 Quite a useful tool that can be used for cleaning up some free space out of your hard disk; although this is a very rare issue.

8 . Duplicate Finder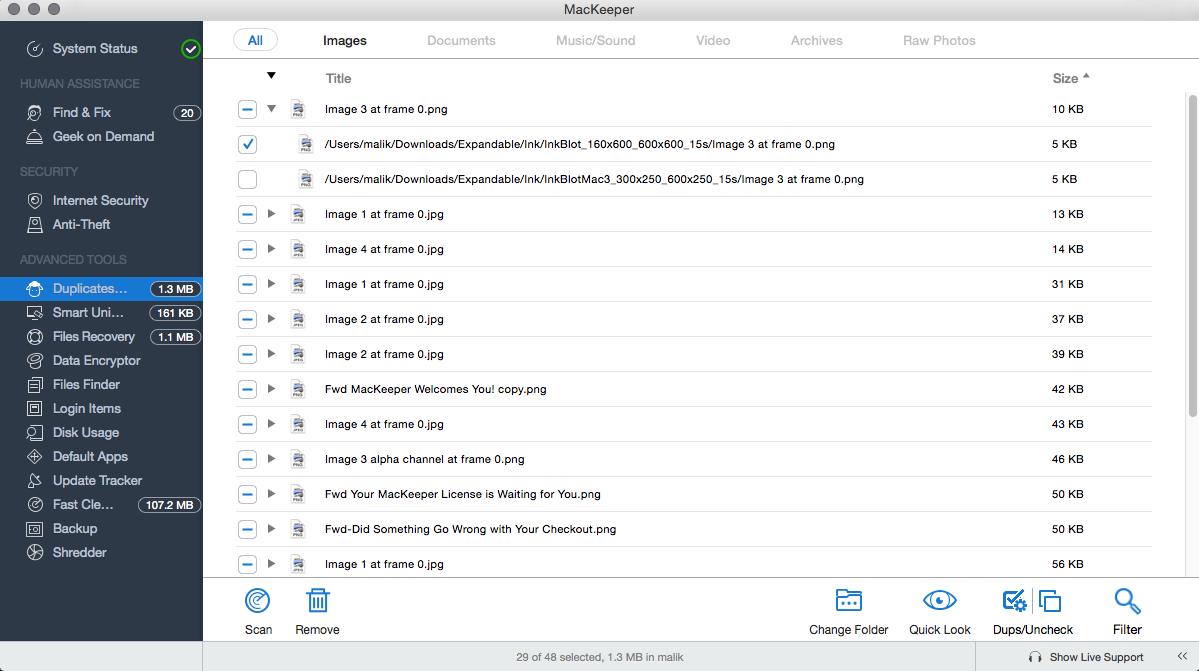 This module would search all instances of the same files on your hard drive. This is one of those tools that can help you in cleaning multiples files that eat up space. You can also check out some items so that they don't get deleted or show up in scans for identical files.

9 . Geek on Demand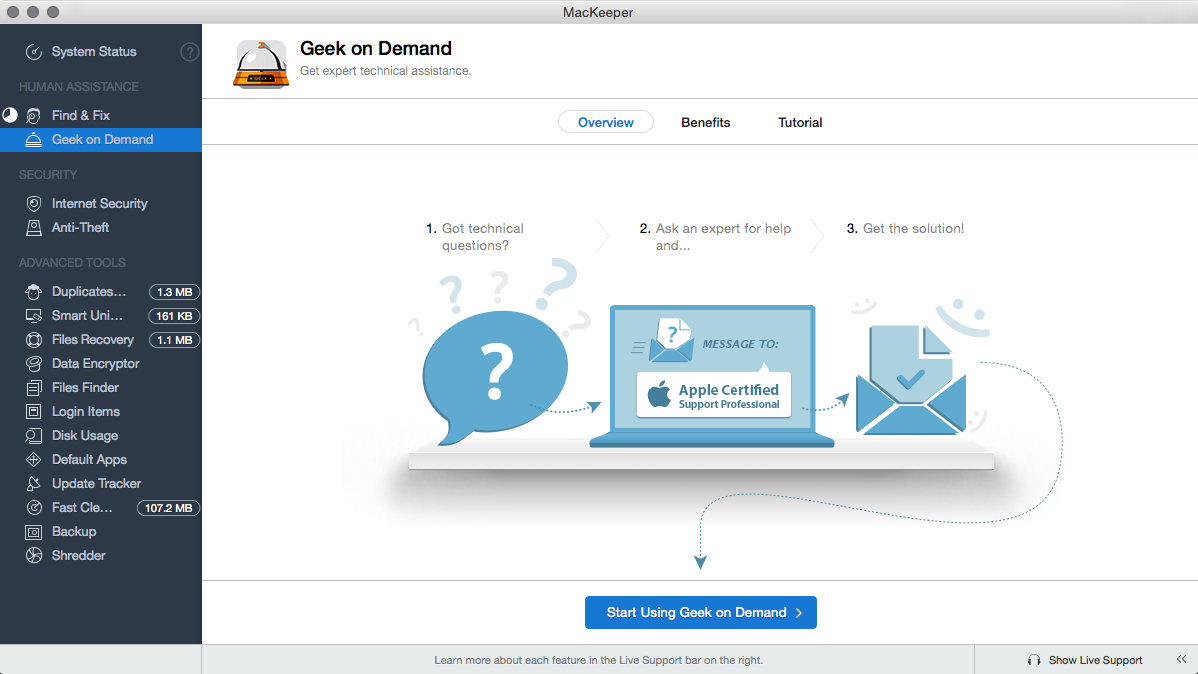 This is an enhanced support service provided by MacKeeper and it provides technical answers to any sort of questions raised. The service is provided free of cost to licensed users.
Using this you can also live chat with a live operator who is ready to serve 24/7 and would be resolving your queries within a matter of minutes.
To be frank, good support is something that everyone looks for before buying and also I consider it personally as well.
Pricing of MacKeeper:
MacKeeper comes in two different subscription packages, i.e., Prepaid plans and Month-to-month plans. Here is the detail of pricing.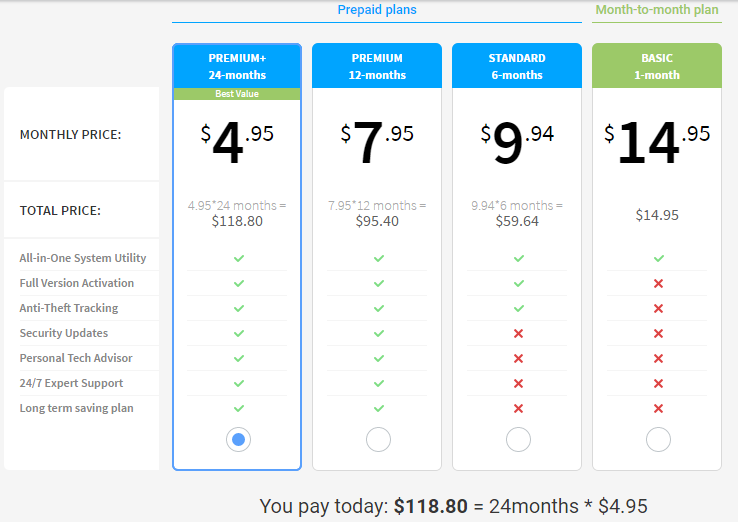 MacKeeper Review: Why Should You use MacKeeper?
MacKeeper is an app that is awarded by so many brands. Here are some of those brands.

Here is a Video by MacKeeperTV and in this video you can find what people say about MacKeeper.
Conclusion:
There are tons of features in this app, so much so that I can't cover them all under one single review. But one thing is for sure that it is a wonderful software and is worth using for mac users.

If you've used the software, leave your experience below. Do let us know your opinions and suggestions regarding the software in the comments below.
Message: I hope that you have enjoyed 'MacKeeper Review 2021– Is it Worth Keeping in Your MAC ?' article on Tips2secure. However, if you want me to deliver more items, then please share my post. You can use Social Sharing Widget provided at the end of every post. After all, Sharing is Caring!