People can have complex motivations behind name-changing. A person's name is more than just a label; it's a fundamental part of their identity. In this post we will learn about Online application for name change in Gazette Maharashtra.
However, circumstances sometimes arise that prompt individuals to consider changing their names. Self-discovery, cultural and religious influences like marriage, gender change, privacy and safety concerns, artistic pursuit, and others are some of the common reasons why people feel a need for it.
This article delves into the understanding of the process of name change through online application in the Maharashtra Gazette in the simplest way.
What is the Gazette?
The Gazette of India is a public journal and an authorized legal document of the Government of India, published weekly by the Department of Publication, Ministry of Housing and Urban Affairs.
It is printed by the Government of India Press and is a government gazette. To access the Gazette of India online, you can visit the National Portal of India website. On the website, you can find the Gazette of India under the "Documents" section. It is used to officially recognize the process of the name change.
Types Of Gazette Notification For Name Change
A few examples of Gazette Notifications for name change are given below and it's important to note that there may be other types of notifications as well. The specific types of notifications can vary depending on the jurisdiction and the purpose of the notification.
Gazette Notification for Name Change due to Numerology or Astrology.
Gazette for Change of Name of Women after Marriage.
Gazette for Name Change in Birth Certificate and School Leaving Certificate.
Gazette Notification for correction of Spelling Mistakes in Old Name.
Gazette for Name Change after Adoption.
Gazette notification for Name Change and Change of Religion.
Gazette for change in your Father's name or Middle Name.
Online application for name change in Gazette Maharashtra Documents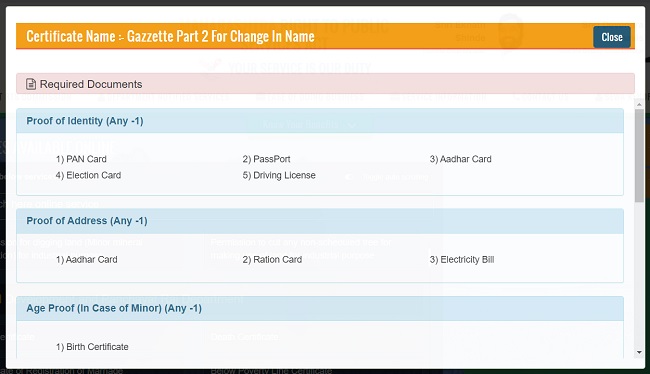 For name change notifications in Maharashtra Gazatte, specific requirements may vary depending on the reason for the name change, such as marriage, divorce, or personal preference. It is recommended to consult with a lawyer or a professional service provider for guidance on the specific documents required for your situation.
You'll need a 'Deed Changing Name Form' which you can find easily at the department that issues gazette notification and also from the local department press. Keep one extra copy in case needed.
Proof of Address (Any -1)
1) Aadhar Card
2) Ration Card
3) Electricity Bill
You need to provide some copies of attested passport-size photos.
You need to prepare an affidavit for a name change, which should contain your old name, new name, and the reason for the name change.
You need to publish a notice about your name change in a local newspaper and provide a newspaper clipping as proof.
You need to fill out an application form for a name change in the State Gazette of Maharashtra.
Also, you'll need a request application to the secretary asking to allow the legal name change.
A cover letter with a demand draft of fees.
Process Of Name Change In State Gazette Maharashtra
For getting your name changed you'll not have to go through the exhausting process, like it is supposedly considered with the advent of the online procedure of name changing. Here is a stepwise process for changing your name in the State Gazette of Maharashtra:
PREPARE AN AFFIDAVIT FOR NAME CHANGE: The first step is to prepare an affidavit for a name change. The affidavit should contain your old name, new name, and the reason for the name change. You can get the affidavit prepared by a lawyer or make it yourself.
GET THE AFFIDAVIT NOTARIZED: Once the affidavit is prepared, you need to get it notarized by a local notary.
PUBLISH ABOUT YOUR NAME CHANGE IN A NEWSPAPER: After getting the affidavit notarized, you need to publish a notice about your name change in a newspaper. The notice should be published in a local newspaper in the area where you reside.
SUBMIT THE AFFIDAVIT AND NEWSPAPER CLIPPING TO THE STATE GAZETTE: The next step is to submit the affidavit and the newspaper clipping to the State Gazette. You can submit the documents in person or by post. The documents will be verified by the authorities, and if everything is in order, your name change will be published in the State Gazette.
RECEIVE THE GAZETTE NOTIFICATION: Once your name change is published in the State Gazette, you will receive a Gazette Notification. This notification serves as proof of your name change.
Process Of Online application for name change in Gazette Maharashtra
For this, you need to visit the official website of the Maharashtra government at https://aaplesarkar.mahaonline.gov.in/. To apply for the Gazette name change certificate online, first register yourself here and then log in. Here two registration processes are provided, one using a mobile number and OTP and the second one involves uploading self-details, photos, Identity Proof, and Address Proof once and creating your user profile using OTP verification on your mobile number.
Format Of Name Change In Gazette Maharashtra
I……(Old Name)…..s/o,d/o,d/o……………R/o……….do solemnly hereby declare and affirm as under:
I am presently a Citizen of India(As the Gazette of India is for Indian citizens only.)
I am residing at the above-said premises.
My Old Name is……
(Supporting Documents,10th certificate, date of birth certificate, Affidavit from 1st class Magistrate.)
My new Name is………
Gender(Male/Female)…..
Is there a fee for name change notification in the Gazette of India?
There is a fee for name change notification in the Gazette of India. The amount charged for the Gazette notification varies from Rs. 500 to Rs. 2,000, depending on the state and the authority involved. The cost of publication in the Gazette will cost around ₹750 to ₹900 depending on whether you want a public notice. It is important to note that the specific fees may vary depending on the newspaper you prefer for publishing the notification and the city you live in.
Process Of Name Change For Central Gazette
Name change through the central Gazette holds more value than the one through the State Gazette. As a Maharashtra name change, the Gazette will only be valid and accepted within the state and not centrally. Along with getting it published in your state gazette, publishing the notification in the official gazette gives additional security.
The process of publishing gazette notifications in India online for name change is very easy. Same as for Maharashtra Gazette here one has to start with creating an affidavit and following the same pathway as before and get it published in the official gazette.
STEP 1: Creating an Affidavit:
An affidavit is a declaration document where your current name and changed name are mentioned.
It is signed by you and two other witnesses to confirm all this to be in your care.
A stamp paper of price proportional to your cause of name change and state is taken into use here.
The affidavit is printed on that stamp paper which eventually would be signed by two officers of gazetted rank. The affidavit gets notarized as the last step.
STEP 2: Advertising Through Newspaper:
Newspapers have separate sections for name-change advertisements. Following the advice format, you can publish your advertisement for name change in it.
This step involves the publication of the name change in the newspaper in two newspapers of your choice. The only condition here is one should be in English language and the other must be in the local language.
You may like to read,
Information Technology and Its Role in Modern Businesses
9 Smart Tips for Students to Get through College
STEP 3: Gazette Notification:
As the last step, the new name of the applicant is published in the official gazette.
If you are a government employee or even an aspirant, publishing a gazette notification becomes mandatory for you.
The required important documents will have to be sent to the Controller of Publication, Department of Publication, Civil Lines, Delhi-110054 as the next step.
After verification of your document which is the same for both a state and central Gazette, your name change will be published by the government.
Conclusion
A name change can signal a pivotal moment in one's life, allowing them to shed outdated identities and embrace new aspects of themselves. This process of name change has been incredibly shortened and simplified with the introduction of legal name change through online applications both on a state and a central level.
Frequently Asked Questions
Where is the gazette office of the Maharashtra government in Mumbai?
The address of the Maharashtra Gazette office is Subhash Chandra Road, Ground Floor, Government Book Depot & Publication House, Netaji Subhash Chandra Road, Charni Road, Near Charni Road Station, Charni Road, Mumbai – 400004.
What is the fee of the Gazette in Maharashtra?
You'll incur a cost of around ₹2,000-₹2,500 including notary charges, stamp paper, and Gazette notification fee.
How many days does it take to change name in a gazette in Maharashtra?
It takes around 15 days for the procedure to complete.
How can I contact the Maharashtra government?
You can get in touch with the Maharashtra government at the grievances redressal portal at https://grievances.maharashtra.gov.in/.