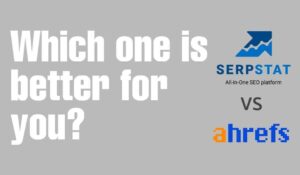 Every website owner would wish to fully optimize their website and get the best out of their search engine optimization tool, the best you analyze and optimize your website will determine the amount of traffic the website is likely to attract.
Running a website and you are having a hard time deciding the best search engine optimization tool that you can use for your website search analytics?
Well, worry no more this article is going to help you review the two best search engine optimization tools; Serpstat and Ahrefs tool.
Serpstat vs Ahrefs Comparison
Serpstat is a comprehensive search engine optimization tool that is designed to help online business owners to improve their performance mostly in digital marketing, content marketing, and search analytics. Both Serpstat and Ahrefs are tested by a team of reliable experts who steered a comprehensive analysis of all fundamental elements of every SEO software.
Serpstat – All-In-One SEO Tool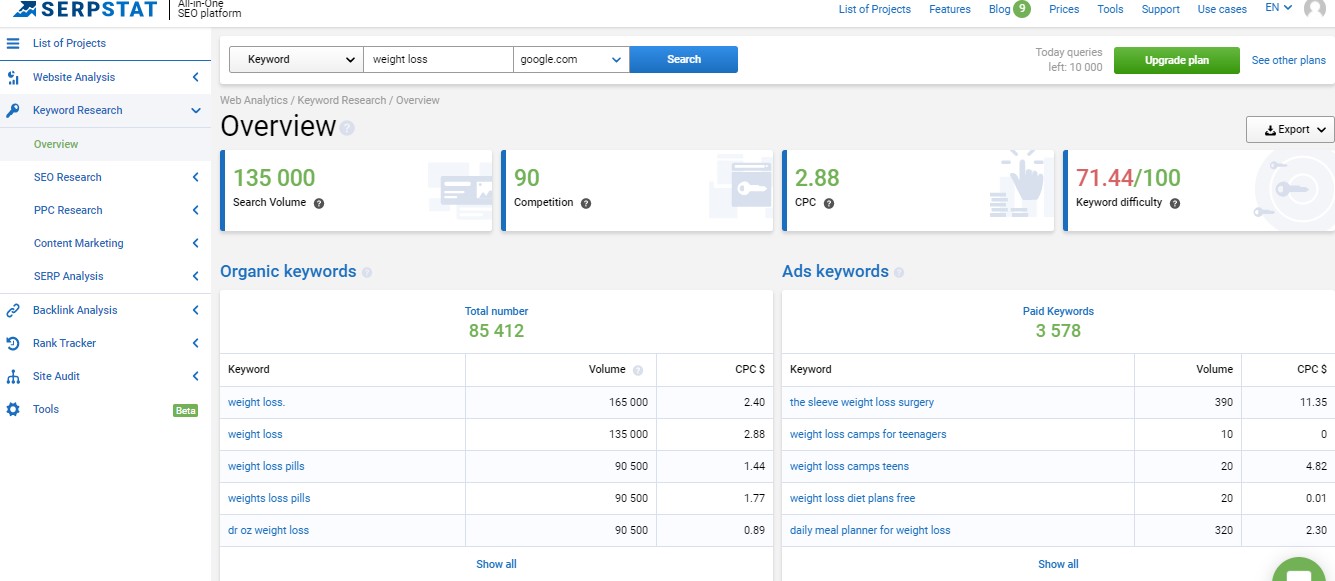 Serpstat is an all in one digital marketing intelligence tool that covers several SEO areas such as; Rank Tracking Backlink Analysis, Keyword Research, SEO-audit and Competitor Analysis.Serpstat is a keyword and ranking search engine tool used that is used mostly for in-depth contender analysis and making advertising campaigns.
Serpstat does keyword and domain research, provides analysis on organic and paid keywords, level of competition and cost per click. On the other hand, Ahrefs will allow you to determine competitor SEO rankings and replicate their backlink profiles.
Ahrefs – Best Backlinks Checker Tool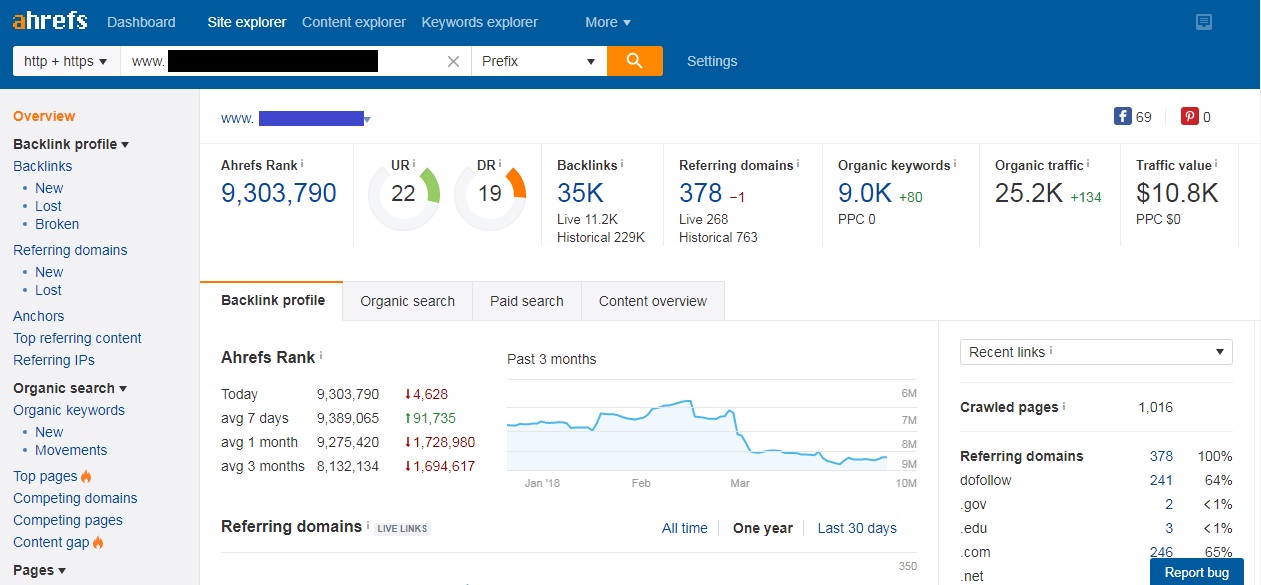 Ahrefs is defined as the world's largest catalog of live backlinks and the definitive website analysis tool, this SEO tool is most suitable for the Integrated Marketing Professionals worldwide.
Ahrefs will only be useful to you things like domain comparison, crawl reports, backlink checker, social metrics and batch analysis unlike Serpstat which will provide you with a comprehensive analysis on organic and paid keywords, it will also show you the level of competition on your website and the cost per click.Any SEO specialists would like to have as much information as they need whenever they need it.
The best thing about Serpstat, you will not only get the ranking of one domain for the tracked keyword but you will get all the details of like the top 100 search results for that particular keyword. This will enable you to gain insight into the exact rankings of all the top 100 domains for a keyword without having to create individual projects to monitor ranks of competitors.
On top of that, you will also receive the historical data of a keyword per city or region. UnlikeAhrefs which will only concentrate more on the backlinks only on your website without giving you competitor details.
Read also,
5 Best Low Competition Keywords Finder ToolsSerpstat is also a great tool for backlink analysis which is important to any SEO power. With Serpstat, you get a detailed backlink analysis report that will include a set of anchor links together with referring pages and domains.
The Serpstatsystem will also enable you to track the backlinks of your websites and that of your competitor's website as well. Serpstat implements a unique procedure that enables the system to determine the market share of all the domains in the top 100 search results for a particular keyword or group of keywords.
This software allows SEO specialists to ascertain inclinations and drawbacks in a domain's visibility. Serpstat will also display variations in the market share, which provides users sentience to diligently track their competitors' websites as well as dig deeper into the market niche.Serpstat will allow you to analyze your own website is optimized compared to the level of optimization on your competitors' websites.
This helps you to see what optimization practices you need to implement and what elements you need to remove.
lYou will also spot search new errors and duplicates and address these issues so that your websites will rank better in the SERPs.
Why should you use Ahrefs instead of Serpstat?
There is no doubt that Serpstat is a professional SEO tool that provides almost all the necessary SEO services, but Ahrefs is still superior to Serpstat in many ways. But how? Here are some of the main reasons:
Ahrefs is best for building backlinks : If you are sure about your keywords and you also know what kind of content you want to create, then the only remaining work is to create backlinks. There are no better SEO tools than Ahref in terms of backlink building. In the case of backlinks, Ahrefs provides very accurate results. If your target is to only build backlinks then you should choose Ahrefs.
Ahrefs provides accurate and complete analysis of your competitor website : We all know that Ahrefs are currently one of the most used SEO tools by SEO Experts. The only main reason behind this is that Ahrefs provides the most accurate data of competitor website. Ahrefs not only shows us about the backlinks created by the competitor for ranking but also guide us about how we can build that type of backlinks.
We can do some extra things by using Ahrefs : If you use Ahrefs, you will not only be able to analyze your competitor's website, but you will also be able to do some other things by using it. Ahrefs is also useful for doing things like domain comparison, crawl reports, social metrics and batch analysis etc.
Why should you use Serpstat instead of Ahrefs?
Serpstat is truly a great SEO tool that provides all the necessary SEO services at reasonable prices. Everyone from beginner to professional can easily use Serpstat. In many ways Serpstat is better than the popular SEO tool Ahrefs. But how? Here are some of the main reasons:
This is an all in one SEO tool : Ahrefs are especially beneficial for those who only focus on backlink building. But Serpstat is an All-in-one SEO tool that offers you a lot of SEO services. Serpstat offers us services like Rank Tracking Backlink Analysis, Keyword Research, SEO-audit and Competitor Analysis.
It is more budget friendly : A lot of people who are new to the field of digital marketing and blogging are often looking for SEO tools that can do all their work easily and they do not have to pay much for it. Serpstat will prove to be the best tool for such people. Serpstat offers its services at very reasonable prices making this tool a pocket friendly for people.
Serpstat helps us in-depth analysis of any keyword: Serpstat is also a professional SEO tool that helps us in-depth analysis of any keyword. With the help of this, you can easily find out about accurate keyword density, search volume, ranking difficulty and alternate keywords etc. It is one of the best SEO tools currently available, by taking advantage of its advanced features, you can easily find low competition keywords and target them.
In the end it depends on you whether you need an all-in-one SEO tool or a link building focused SEO tool!
Serpstat Features
Serpstat has several best features to help you get full search optimization results, if you compare Serpstat with Ahrefs you will find that Serpstat has more features that Ahrefs. Serpstat has the following features;
Search Analytics
Advertising Analysis
Keyword Research
Rank Tracking
Reports and Infographics
Competitor Research
Market Intelligence
API
Content Marketing Ideation
On-Page Audit
Ahrefs Features
While Ahrefs has the following features;
Search engine optimization
API
Analytics
Notifications
Serpstat vs Ahrefs Ratings
We give 9 out of 10 stars to Serpstat and 7 out of 10 stars to Ahrefs.
Serpstat: 9/10
Ahrefs: 7/10
Conclusion
When you making the decision to buy a search engine optimization tool it is important you be keen of the features and what the software will be able to help with, if look you at the above comparison between Serpstat and Ahrefs you will see the many advantages as to why you should use Serpstat. An SEO tool that allows you to keep track of your keyword search, ranks, competitor search and also enable you to analyze your website advertising. Choose Serpstat and it will help you to optimize your website 100% thus attracting huge traffic the website since you already know what to do.