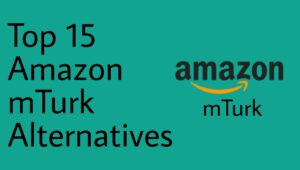 Nowadays crowdsourcing is becoming popular day by day and it is also the best way to earn online. MTurk is the famous site for doing micro jobs and numbers of people earn through this.
You can earn a lot of money via crowdsourcing. You just have to find contacts and image related to the given keywords, give your reviews and ratings on different websites, write short contents, like the pages and websites and that's what you need for crowdsourcing.
Top 15 Sites Like MTurk (Alternatives to mTurk)
If you are looking for some other alternatives like mTurk and want to increase your earnings then this article surely helps you to find such similar websites. Here we are going to mention similar websites like mTurk, so let's take a brief look at that and choose whatever you like :
1. Rapidworkers
Rapidworkers is equal to Microworkers and it is popular among micro job seekers. You can work here and earn money via crowdsourcing. It is a service provided by UnikScripts, Inc. and day by day it is becoming a growing platform for online income.
It provides the best facility for marketing related websites and helps in promotion. You can withdraw your payment via PayPal and the $4 is the minimum payout balance.
2. Microworkers
Microworkers are known as the best online platform and it is quite a similar site to mTurk and becoming popular day by day. One can have thousands of job options here and you can get work on a daily basis.
Most of the time, the employer gets the task of promotion of the website, so the client can be connected with people and can increase his contacts.
Most of the tasks are easy and simple to do and manage and you must have less knowledge to fulfill all the work. If you have ever done similar tasks on mTurk then it is on your hand and you can easily have projects and earn more. Just check the example of the microtask here:-
Make a twitter account and chose anybody to follow
Give your ratings to YouTube video
Create an account on Gmail
Signup and upload an image to someone website
You can register on the Microworkers for free of charge and after making your account you can simply perform and earn money.
3. Clickworker
Clickworker is also a reputed place to work online and it is like mTurk. There are millions of users available working regularly with mTurk and earning well.
The person who works here is called Clickworker and whenever you join the site you have to pass two assessments named, the Basic assessment that is specially structured to evaluate your knowledge of English grammar, spelling mistakes, and basic knowledge of foreign language.
The second assessment is project assessment which is worthy for your work requirements. You can get numbers of micro jobs on a daily basis. So make your account and give a click to' start your first basic assessment now'.
It would be easy for you if you first read all the FAQ and then start your assessment.
4. Samasource
It is basically managed by Leila Janah and a non-profit organization which provides a great opportunity to poor woman and youth to work with dignity and earn online.
You just need to know the 3 basic steps for working with Samasource :
The First step is Samasource has an in-country partnership which helps to find and recruit the poor and needed woman and young people to get a decent job and who are earning $3 in a single day.
The Second step is training, all the selected workers get the basic training and computer knowledge to perform well and it helps them to get projects and micro jobs.
At last, all the trained workers get their projects, complete them for the clients and get their payments accordingly. They also improve their skills for pointing the lifetime work.
5. ShortTask
ShortTask is another way of crowdsourcing and earns money online. If you are s ShortTask employee then you have been called a 'solver', like mTurk called its candidate a 'worker' just like that.
Here you will find 4 categories of working procedure:
Research:
It demands enough research related to competitor website, research related to given keywords and etc.
Data entry: It requires the copy-paste tasks and entering some data and uploading the image etc.
Writing: It's added Proofreading, Writing a comment, a short content or a review etc.
Design: You can get a banner design, logo design, and header design.
6. CrowdSource
Known as the finest site for crowdsourcing, earning money and provide uncountable opportunities to professionals and freelancers.
As a business leader, you can get crowdsourcing facility for the financial field, technique field or for the medical field and there are many other options available.
If you are unable to find an expert for your task who can manage and analyze your important data related to your financial system, e-commerce, and cyber-security purpose then you can ask crowdsourcing and it will help you to find the perfect one after researching around the globe.
CrowdSource allows you to promote your business via publications, social media, and e-business. You can get excellent material for your site promotion and scripts written by professional writers and copywriters.
You can also view the objectionable comments and reviews before they get appear online. The source has been using by millions of people and fortunately, the reviews are quite positive.
7. Designhill
If you consider yourself a good graphic designer then welcome to Designhill. It is a great place for graphic designers. No matter you have small or large working availability or business you need a logo, banner or caricatures for promotion and making your site attractive for gaining crowd.
Designhill brings the most talented designers from all over the world so you can have the task or design that you ever imagined.
A designer can also meet with the worthy clients here and payback decently and can work with branded and popular firms and companies.
You may like to read:
8. Crowdflower
Crowdflower is also a prominent website and similar to mTurk. If you are working with Crowdflower then you will be called a contributor. Currently, 30 million contributors have been working with Crowdflower or more than that and the number is increasing day by day.
You can't signup directly on the Crowdflower so if you wish to work with that then you have to log in up with their authentic channels that also connected as contributors with Crowdflower like mTurk, SuperPay, and ClixSense etc. Here is the detailed ySense review.
ClixSense is known as the finest PTC site for earning money online. Other channels are also good so you can choose one of these and simply work on Crowdflower.
9. Jobboy
Jobboy is a worthy and good site for crowdsourcing and nowadays more than 60,000 people are working through this website and making money. You can simply join this and get various micro jobs according to your skill.
Though, here you will find particular tasks but not on myriad scale. If you are a fast picker then you can have many tasks here to do.
10. Crowdtap
Crowdtap is the best source to find favorable tasks and crowdsourcing. They are connected with various brands and names so if you work with this then can become a reputed worker.
Also, you don't need to create an account for that, just connect your Facebook account with that and get tasks. Unfortunately, Crowdtap is only available for US natives but they are trying to expanding it more as soon as possible.
11. Utest
Utest basically provides the facility to test software's and apps before launching them to the public and they have been tested by IT professionals and experts. If you consider yourself as an expert and can test these or customized then this is the best opportunity for you.
All the tests and research are done by IT experts those are available all over the world via crowdsourcing. You can get the finest IT solution of every trouble like security loopholes, detecting snags, and user friendliness etc.ySense is also a good website to earn money by completing tasks. You can read the detailed ySense review here.
12. The Smart Crowd
The Smart Crowd provides a cost-effective and smart solution for your business and industry. It offers online and offline services like translations, analyzing data, transcription, and global data testing and other suitable solutions and services for your website.
You can work in groups if you have big projects to work. It pays smart and you can connect with various branded companies. You can also work from your home easily and can manage everything.
13. Swagbucks
SwagBucks are one of my favorite short task websites. There are a lot of tasks available on Swagbucks which gives you a chance to earn more and better. On Swagbucks, you can earn a passive income by watching videos, completing surveys, playing games and signing up on websites. Swagbucks are the best if you are looking for a great small-task platform to earn a little extra. but why? Actually, this platform is designed in such a way that you will never find a lack of tasks in it.
On Swagbucks you get your payment in the form of SBs which you can transfer to the bank through paypal or redeem it as a gift card. Swagbucks is one of the best alternatives to mTurk where you get a lot of online tasks, just complete them and earn money. Swagbucks is quite popular due to its excellent advertising and referral system but it also has one drawback. Like many other small task websites, Swagbucks does not give you much money but it is a really good platform to generate some extra income.
14. InboxDollars
InboxDollars are often the favorite of people making money online by completing tasks. But why? Actually InboxDollar is currently one of the highest paying get-paid-to website out there. Have you ever received 5 to 20 dollars for completing a single task? InboxDollar users are taking advantage of this high payout. According to the reviews on the Internet, 5 to 20 dollars can be easily earned by completing a single task on InboxDollars.
Most short-task websites make a limited payment for all tasks, but InboxDollars understands the value of your time. InboxDollars pays according to the time taken in the task. That is, if you choose a lengthy survey, then you will get better payment too. But InboxDollars also has a problem, here you won't get a lot of tasks like mTurk and Swagbucks.
After collecting 30 dollars in SwagBucks wallet, you can redeem it in your Paypal account. Apart from all other small-task websites, you can get your earned money as a gift card on InboxDollars too.
15. KashKicks
I like this small-task website because it follows a good native algorithm. The type of task you are more interested in, you will be given more similar tasks by KashKicks. But what will be the benefit? This will take you less time to complete the task and you will be able to earn more money by doing extra work. One bad thing about KashKicks is that you will get less Surveys on it. But believe me, dont even need them.
In KashKicks, you will not only get surveys in the form of small tasks, but you can also earn money by watching videos, watching advertisements, downloading apps and playing games on this platform. KashKicks pays you the most to complete the serveys. You'll get a bonus of $1 just to get started. It is also better in terms of timely payment. You can redeem the money earned from KashKicks in your PayPal account or as a Gift Card.
Conclusion
These mentioned crowdsourcing websites are worthy and get a tag to your skill and talent. You can choose any of them or can also work with many. If you like this information or you are already working with any of these websites then please tell us about your experience.
We hope that this information will help you to find a perfect way for working and you can enhance your income quickly. Presently, all these sites are known as a great alternative to mTurk. Maybe there would be others but these are being used for crowdsourcing and paying millions of people.
Share this information so any needy can get a job and money.
Message: I hope that you have enjoyed '12 Best Sites Like MTurk to Find High Paying Micro Jobs (Croudsourcing Sites)' article on Tips2secure. However, if you want me to deliver more items, then please share my post. You can use Social Sharing Widget provided at the end of every post. After all, Sharing is Caring!