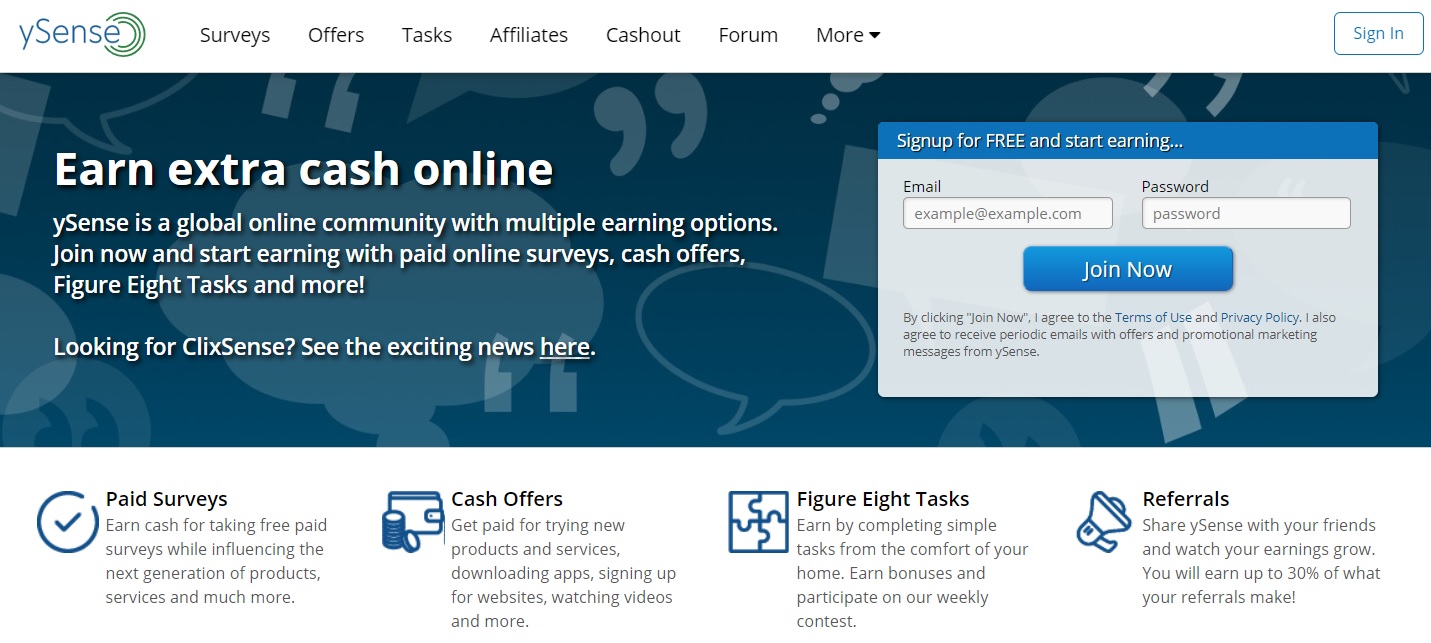 Whenever you search for earning online money through GPT (Get Paid to Sites) then there are a plethora of such sites that provide you online mini jobs and tasks to fulfill and you get paid accordingly. ySense is one of them. ySense (Formerly Clixsense) is considered as the best sites to make money globally. In this ySense review, we will discuss all about ySense.
You need to complete such tasks, surveys, polls, and offers and various mini-jobs for earning smartly. But now the major question arises that how you come to know that which site is genuine and authentic and not a scam because many people have tasted the taste of fraud and wasted their precious time for finding related sites, worked hard and at last they never received any money.
You will be surprised to know that the legit GPT sites are very fewer, even you can count on your fingers and ySense is one of them through you can make money online.
In this article, we are going to review ySense and how you can earn doing different tasks. This ySense review will help you to choose a trustworthy GPT site so you can increase your income double or triple.
So let's have a closer look at that:-
What is ySense?
ySense is a popular GPT or PTC site working since 2007 which has millions of workers in working condition and getting paid handsomely. Here you can earn money after completing mini-tasks like viewing ads, participating in surveys and polls and many other jobs available to do.
One can easily receive and withdraw money via Payoneer, Neteller or Skrill. All you need to do that open the official website of ySense and click on sign up. You will receive a validation link sent by ySense when you click on this link you will be asked whether you want to login to your account.
After that, you have to fill some of your personal data like address, your image, name etc. and the main thing which is payment procedure choose from the given options and that's it. You will also receive extra bonus points after login.
Payoneer is a famous way to link with your ySense account. If you have already an account on Payoneer then connects this simply if not first create it.
How to Earn Money on ySense?

Paid surveys are the main source of income on ySense except that cash offers, figure tasks, and referrals are also another source of earning here. Now let's have a brief look at these methods so you will be able to understand well.
1. Paid Survey
Using this method, first of all, you need to complete your survey profile so you will be able to receive more surveys to complete. You can complete this simply opening the paid surveys option.
Fill all the required information like your age, interest, preferences, family, and hobbies so you will receive surveys according to your personal interest and information.
You can ear. $0.25 to $5 via survey invites which totally depends on how much time you have spent to complete a survey. Some surveys completed instantly and you receive your payment and sometimes it takes some time to complete which will show with a red flag icon.
You should log in your account daily and complete these surveys for earning more. Make sure that fill your profile and survey account information well otherwise your survey can be rejected. If you disqualified from any survey then don't think much because it's common to choose the other one.
Here you can have many attempts to complete a survey. Sometimes you can take this once in a day and others take many days to complete. So you should check many times which survey is in active mode and try to complete this.
It usually takes 5 to 30 minutes to complete a Survey and pays up to $5 for a survey.
NOTE: At start, you get a large number of surveys and most of the time you are rejected after completing more than half of the survey, that is because of your incomplete survey profile.
So, before participating in any survey, you must Complete your 'Survey Profile' so that you get more targeted and country specific surveys. The number of surveys and earnings vary according to the country.
You may like to read,
2. Paid Offers
Paid offers are also a good source and method to earn money on ySense and most people use this method. You get offers regularly which you have to complete on the regular basis and can earn daily.

There are more than 7 networks that provide paid offers in ySense and the first one is 'ySense offers' itself and the other Ad networks are as follows:
Adgate
Adscend
OfferToro
Peanut Labs
Wannads
Revenue universe
You can check and participate in different offers which are provided by different networks.
3. Get paid to Simple Tasks (Figure Eight Tasks)
ySense allows you to complete different tasks offered by Figure Eight (Formerly Crowdflower tasks), which is a Crowdsourcing method to complete mini jobs and various types of tasks that you can complete online and it doesn't take excess time in completion.
Just Login to your account and click on the Task and then it will ask to sign up to Flight Eight click on it and get the different task to complete. There is no limit of tasks you can do as you want.
Read all the instructions carefully before completing the task. You can also click on 'Top Task worker' for finding the worker. You can easily view the title of your job, payment, and your rating on the screen.
Important Points to Keep in Mind:
Users at Figure eight are divided in 4 levels (0 -3)
When you are getting started completing tasks you start from Level 0.
At start you get few tasks which are also difficult to finish and they pay less than others.
Here you need to keep patient and try to complete as many tasks as you can in order to get to level 1 and then achieving the next levels to get more and easy tasks with higher payouts.
Keep in mind, you need to maintain your accuracy level high to get more work. For that, if you feel the task is difficult for you to complete then you can skip that particular task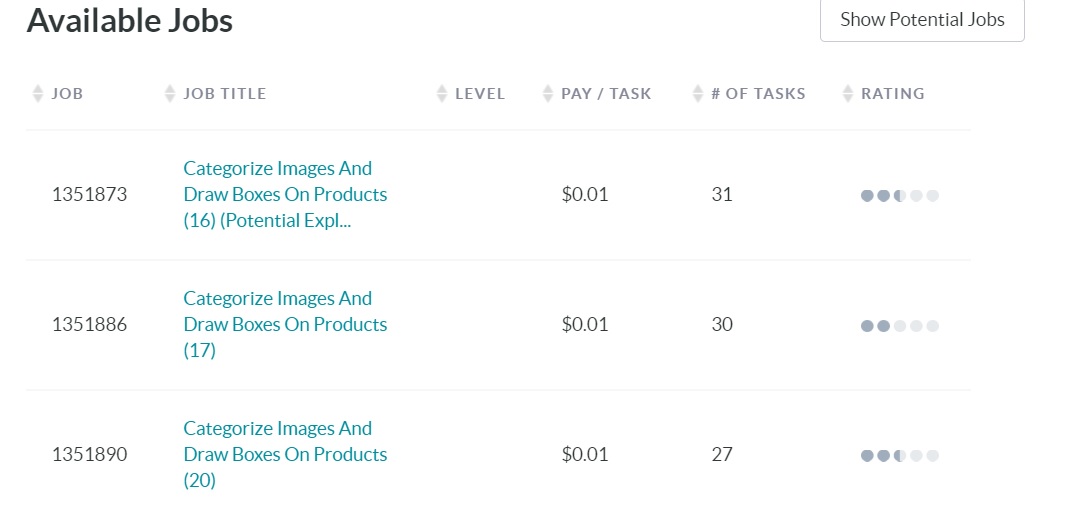 Completing various offers let you earn extra money on ySense. For example, you will get the chance to download many apps and related links and there are various sites that pay you for signing up so you can choose any of them.
There are different companies and offers that you can go with. Whenever you log in to your account click on these companies and find out their offers and choose any of them. Complete the offer and payment will be transferred to your account.
4. ySense affiliate program
Choosing an affiliate program is the good option of ySense (Formerly Clixsense) which let you earn extra money and if you understand this well then you get lasting stability in your monthly income.

This method is a referral service and each reference provides a favorable opportunity to make money. There are three types for referring a person on ySense which are:-
You can get $0.10 to $0.30 or more than that for every referral from top tier Countries only. List is below,
Whenever your referral would earn $5 instantly you will receive $2 as a bonus prize.
Whenever your referrals complete the tasks, surveys, and other jobs you will get 30% commission.
Top Tier Countries: Australia, Austria, Belgium, Brazil, Canada, Chile, Denmark, Finland, France, Germany, Greece, Hong Kong, Ireland, Israel, Italy, Japan, Malaysia, Mexico, Netherlands, New Zealand, Norway, Poland, Portugal, Saudi Arabia, Singapore, South Africa, South Korea, Spain, Sweden, Switzerland, Thailand, United Arab Emirates, United Kingdom, United States.
Imagine that 20 people referred by you and each person is earning $50 in a month by completing tasks, surveys, offers and all. Then you can make $300 in a month just by your referrals. Sounds great, isn't it?
You can search your affiliate links in your account information in Red color. So these are the methods which have been provided by ySense.
ySense Strategy to Earn More
Here we are mentioning some important tips to grow your area more in ySense and you can earn extra bucks, just check out these tips:-
Try to log in your ySense account regularly and check all the available surveys, offers, and tasks. If you do not log in daily then it can affect your income and getting the bonus points as well.
Try to refer 1 person in a single day by convincing the ideas for making money. It would produce more bonus money and you would be able to earn more.
Clixaddon is the service that you can easily download from your browser that enables the notification service of surveys, tasks, and offers on ySense. Download this and stay active whole day so you notified every time whenever any company releases their offers.
ySense offers contests on weekly basis and pays well to their top workers so try to become one and you can earn $50.
ySense Scam or Legit
Is ySense Scam or a legit business? The answer is, ySense is a legal, free to join, paying, genuine, and one of the best GPT sites. ySense is not a scam but a legal platform to earn money online globally.
ySense (Formerly Clixsense) was established in 2007 and it has been paying regularly since then. There are tons of ySense payment proofs are available on the Internet.
ySense Payment Methods & Payment threshold
The minimum amount that you can cash out from Clixsense is $5. There are mainly 5 ySense payment methods (payment processors) that you can use to withdraw your earnings are;
Paypal (Min. $10)
Payoneer (Min. $52)
Skrill (Min. $5)
Reward link (Min. $7)
Steam (Min. $50)
Payment methods can vary from country to country. You can check ySense Payment Methods by navigating to ySense>>Cashout section.
ySense Cons
There are few cons as well of using ySense to earn money online. These cons are;
The minimum threshold for the payment is high for some users, i.e., $5.
Most of the offers are geotargeted so earning opportunities are not equally provided to everyone. It varies according to the country of the user.
Surveys some times take a lot time.
If Survey profile is not completed or accurate then it will be rejected and you won't get paid for that survey.
Conclusion
ySense is a legitimate PTC site that is a great way to earn money. You just need a little knowledge about what the surveys are? How you can get offers and can complete mini-jobs.
A person can do all these tasks and jobs from his or her home. If you perform all activities well then you can make $10 to $12 in a single day. Also, if you refer a person and the commission and bonus points will be added to your account.
If you do not wish to complete surveys then simply download the apps or play games and view ads that pay you for a single click. Read the instructions before clicking to a particular offer or app.
ySense providing a great opportunity of earning and it is well growing in India as well. ySense is a genuine site which has millions of paid workers. It is not a scam but sometimes people don't understand the methods so they can't make any money and take this as a scam or waste of time.
If you are planning to earn by any PTC site then we will suggest that take a look of ySense work here and you will definitely receive your payment. There are many people who are earning $500 a month and you can also be one of them.
We hope that this article will help you understand the ySense strategies and earning ways. If you like this article then shares it with your friends and if you are already working on ySense then share your experience with us so that a beginner can have proper guidance before registration.
Message: I hope that you have enjoyed 'ySense Review 2020 – Is ySense Scam or Legit?' article on Tips2secure. However, if you want me to deliver more items, then please share my post. You can use Social Sharing Widget provided at the end of every post. After all, Sharing is Caring!