Are you planning to buy Grammarly and looking for Grammarly review before making your purchase? If yes then start reading this Unbiased Grammarly review that I have written after using it personally. In this review of Grammarly, I will be revealing all about this tool and you will get to know whether Grammarly Premium subscription Worth it or not? Also, you will be able to get Grammarly premium account in just $9.91/month with the help of Grammarly discount mentioned in this post.
Grammarly Review 2023
Grammarly is a tool that is intended for anybody who writes and needs to develop his or her writing ¬skills. For example, if you are a student, blogger, professional or writer then you can use it for your needs. Below you will know the basics of Grammarly, how to use it, how it works, its features, reasons to use it, my personal experience of using it, pros, cons, etc.
This review will cover following points:
Introduction – What is Grammarly
How to use Grammarly
How it works
Who Can Use Grammarly
Features of Grammarly
Why it is the best tool for the writer
My Experience of Using Grammarly
Grammarly Video Review
Grammarly Affiliate Program
The Price of Grammarly (Exclusive Discount to Readers – Premium Subscription in $9.91 Only)
Grammarly Vs Whitesmoke Vs Ginger: Comparison
Pros & Cons of Grammarly
Concluding Note
Introduction – What is Grammarly: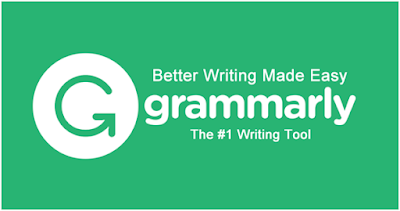 Grammarly is essentially writing enhancement software that not just works to correct spelling and grammar mistakes, but even offers a full array of helpful tools to improve your writing. I found that this particular tool even has distinct versions for secondary-school as well as higher-education pupils. It is found by me that it scans the text for over 250 types of grammar errors in six diverse writing genres. While using, I came to know that Grammarly too provides informative flash cards that can assist you to change weak areas into your strengths. I found that everything regarding Grammarly focuses on not just enhancing written texts but even focuses on developing the writers themselves.

How to use Grammarly:
In order to use Grammarly, I have initially registered a free account with the tool's site. I also get the privilege to upgrade the account later if I want to select its premium plans. I have found that after you create and verify the account, you can even make use of Grammarly in 4 various ways both for free and also premium account. Through it, I have also tried to
use Grammarly Microsoft Office
and an online dashboard that operates similarly like Google Docs.You can login to the latter through the help of a web browser. Directly on the dashboard of this tool, you can open a fresh document and later begin writing. Users can even paste their work inside this new document for purpose of analysis.
I came to know that after several seconds, it highlights grammar mistakes through underlining similar to the Word. It even offers a detailed clarification regarding the reasons for your mistakes so you can get an idea to correct it. As an alternative, you can even install an extension right in your web browser or even a plug-in for Word software. Usually, I didn't make use of this Grammarly Microsoft Office plugin, because I use Scrivener for the majority of my writing works.I found that there are two approaches to
use Grammarly
like you can use it in your web browser or in form of a Microsoft Office add-on, whichever you wish. Both of these options are instinctive in nature as well as it possesses the look and feel of a contemporary program. After its use, I found that analyzing your text is as simple as hitting a single button.
How it works:

I have used it several times so I can say that it works for
spell checks
, grammatical errors, plagiarism detection, and finding out incorrect sentences or incorrect words. Its sentence structure checker searches out misplaced words, wrong sentence structure, and wrong word order as well. Its style checker is slightly more subjective—it flags verbosity and redundancies; however, it's even expected to develop your writing style, without asserting exactly how.
For example in the sentence:
"My brother, and me would of listened for hours at time", which is incorrectly written by me, Grammarly works to detect few errors. In this specific sentence, there is a needless comma, word-"me" was used in place of "I," "would of" was applied instead of "would've," and also there's an article which is missing prior "time."
When I checked in this tool, it flagged the needless comma placed after "brother." It also recommended the use of "I" instead of "me," and flagged "would of" through a comment that this particular phrase, and even similar phrases such as "could of," are never right. It even flagged the missing that must be placed before time, advising that I should add "a" or "the."
In this particular case, Grammarly worked at its best as it found out four out of four errors. Hence this is the way, Grammarly works to develop your writing skills and improve corrections.Here I made this mistake intentionally to show you how Grammarly works. Let's see the example in this image.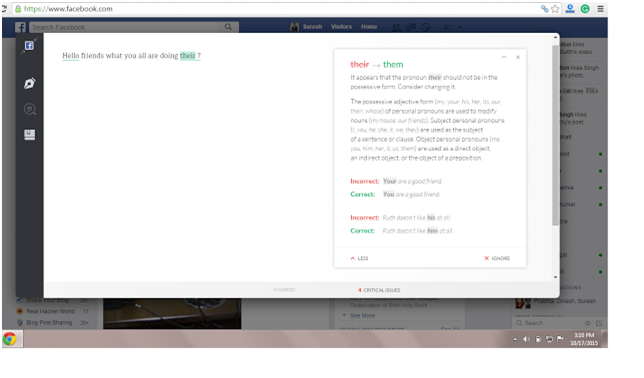 Who Can Use Grammarly:
Grammarly is a worldwide tool which is appropriate for everyone to enhance his/her writing and language skills. Though, Grammarly has considered its features giving special consideration to the following people:
Students to compose essays, admission letters, case study, etc.
Working professionals for writing reports, a business email, memo, etc.
Casual Writers who need to write personal blog posts or a personal email.
Writers for writing a well-researched novel as well as for purpose of creative writing.
Content writers and for writing blog posts or articles.
Medical Transcriptionists and Doctors for writing medical reports that make use of medical terminologies.
Grammarly offers some unique features that help you to benefit yourself to develop your writing and language skills. It offers the feature of the Personal Writing Handbook, which is a kind of writing journal. It trails your scores of each document that have been analyzed and gives a comprehensive report of your personal weaknesses and strengths.
Another valuable feature I have found in this tool is the plagiarism-detection. Users can easily drop any text into this tool and go for plagiarism, which will compare it to over eight billion documents online. This feature is found helpful for editors and teachers who doubt that their students or writers may be writing copied material.
One more feature that I found useful is that it even offers you the option to use the service online or in form of a plug-in to Microsoft Office, providing flexibility. This complement is helpful as writers are not always continually linked to
the internet
. The additional perk to this method is that you can make use of the web-based Grammarly in form of a word processor unto itself. This is essentially helpful for writers who are far from their PC but can access a mechanism that's linked to the internet. I found that these writers later have the ability to write inside Grammarly, verify and correct the text and email it to themselves for subsequent use.
I personally used the Microsoft Office version of Grammarly's grammar and its feature of spell check software that gives an intensification to the
spelling and grammar tools
previously accessible in that suite. It does not need you to be connected to the internet hence, writers can carry their laptops to any place they want and gain access to the writing enhancement tools that are offered by Grammarly online. I have experienced that it consists of an all-inclusive dictionary and thesaurus that anybody can access at any specific time.
Why it is the best tool for the writer: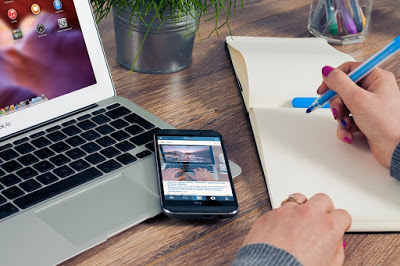 Till now, after using for many years, I have felt that it is the best tool for a writer. Whenever you tick on an error, it provides an explanation of the problem. It has the capability to identify probable solutions and clarifications for your errors.
Throughout my use, Grammarly assisted me to identify:
Wordy sentences
Confused prepositions
Overuse of the passive voice
After applying this tool in several articles, I came to know that I have a bad habit of terminating sentences using prepositions. Many times, I am too guilty of making use of the infrequent squinting modifier. The inbuilt grammar checkers in Scrivener, Word, and Pages didn't serve me with this vision. Grammarly tool is a recommended grammar checker if English is not essentially your first language or if you do not write English frequently. The reasons why I use and recommend it is that it will assist you to verify for spelling, grammar, and punctuation mistakes in less time. Its premium and free versions are helpful for students who might have a batch of work they need to check, though be cautious to check that you're not breaking any rules fixed by your school or university. This particular tool behaves as another line of defence, which you can apply to assure your article, book, or blog post is precise and simple to read. Apart from this, Grammarly doesn't point out an error without stating a valid reason.
Is there any need for a grammar checker:
For an editor, it is essential to write clearly and accurately. There is a massive difference between good grammar and bad grammar. The content must be such that it provides you with a clear message about the idea. Grammarly helps you to improve your writing skills by finding the error, spelling mistakes, etc. In this post, we will tell you why there is a need for excellent grammar-
Your writing represents you: your writing provides an idea to the reader who they are-so your writing impresses the reader. Therefore, Grammarly finds the error and gives you suggestions to improve the quality of the sentence.
You don't have to lose anything: while using Grammarly, it only adds quality to your writing within minimum time. You don't have to depends on another person for proofreading and waste your time.
Is Grammarly safe and secure:
Does everyone have doubts in their mind that are Grammarly safe and secure or not? Whether their data is protected on Grammarly.
Yes, Grammarly is a safe and secure platform for your content. It saves your content on their servers which Grammarly can access with proofreading. So now Grammarly is a safe and secure platform for writers.
There are issues in 2018 regarding the safety and protection of data, but now Grammarly dealt with all the problems. One more thing about Grammarly is that if you delete your data from Grammarly, then it is deleted on the servers also. Therefore, you can trust Grammarly for the protection and security of your content.
Grammarly V/S Human editor:
There is no doubt that Grammarly is safe and provides practical and accurate results. But compared with humans, it takes a long time to match with humans. Sometimes it becomes harder for machines to find out the basic mistakes which a human mind can detect easily. Therefore, Grammarly is more suitable for casual writing than formal writing because you can't blind trust Grammarly for correction. Even they sometimes cannot spot the errors in paragraphs.
Does a question arise in the mind of users that can Grammarly replace human editors? The answer is No because Grammarly cannot work automatically. It only works when we use or work with it together, whereas human editor work can check the content while writing .so we can say that Grammarly cannot replace the human editor.
What do you get in the free version:
Grammarly provides you with the basics that you need to improve your writing skills, grammar, spelling, punctuation checker, which is better than the other grammar checking app. The free version of Grammarly is pretty good because it provides you with many benefits at no cost.
Grammarly works on internet connection. When you paste your content in Grammarly, it underlines the error in red. By clicking on the error, you are to find out the correct solution to the problem. Grammarly not only provides a solution but also suggests new words to use in your content. If you want to try Grammarly, then firstly, you can check its free version.
Important points to be noted:
In this review, I want to tell you that Grammarly is sometimes unable to spot the error. You can't trust Grammarly blindly for error detection. After detecting a mistake, you have to proofread it for 2-3 for better content as Grammarly is not a perfect grammar checker. It sometimes may provide confusing and incorrect suggestions also.
So always keep in mind after reading the suggestion of Grammarly, read the explanation, and understand its meaning entirely. If you are satisfied with the direction of Grammarly, then apply it or otherwise. If you are in doubt, then google it.
My Experience of Using Grammarly: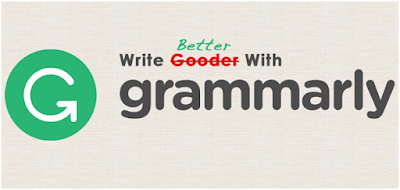 After using this tool for years, I found that Grammarly analyses that diverse documents have diverse levels of formality. This is because you are allowed to scan the work in the context of many 'paper types', including 'business', 'academic', and 'technical'. It's not even precisely clear what the diverse criteria are for every article. For instance, I experienced that it let a conjunction beginning a sentence in 'creative' mode, still emphasized it in 'general' mode as ill-advised for the formal form of writing. In actuality, the tool tends towards the conventional in its rulings, to counseling against contractions, like can't and don't, and terminating a sentence with help of a preposition.
I also found that Grammarly applies an intelligent algorithm to analyze grammatical mistakes in the article. According to my opinion, it accomplishes a great job doing the same, particularly when compared to different grammar checking tools accessible in the market.
I also used its online app where you can instantly type your content or can even copy-paste or directly upload documents for purpose of proofreading. This particular app is particularly supportive if you need to proofread the content to be uploaded on websites that are not supported by the standard browser extension. I even noticed and that Grammarly has lately started a native application for Mac and Windows system, I have used it as well. I personally experienced that the reports produced by Grammarly are both helpful and simple to understand, even by new writers.
Grammarly Video Review
Here in this video, I have reviewed Grammarly and given my honest views for Grammarly. You will see how Grammarly works in this video. Must watch this video review before deciding on your purchase.
Grammarly Affiliate Program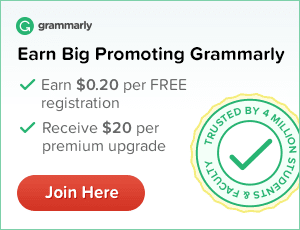 If you own any
website or blog
then you can participate in Grammarly's affiliate program that offers good commission and make you
earn a huge amount
. Unfortunately, if you don't own any blog or website still you can promote Grammarly to social media followers. You can share this product on social media platforms like Facebook, Twitter, Google plus, etc.. For this, you'll have to contact Grammarly and show them your ways of promoting Grammarly. If they allow you then you can start promoting Grammarly even without having a website or blog.
If you are webmaster or blogger then you have to just create your account and apply for Grammarly affiliate account.
I have already written a detailed post on Grammarly affiliate program on this blog and
you can read here
.
The price of Grammarly:
I have used it so I can mention that anybody can use Grammarly through a subscription that will cost you $29.95 per month. However, the same will cost you $19.98 month for the quarterly program and $11.66/month for the purchase of 1 year. I found that the premium version of this tool will help you analyze more grammar mistakes in your document as compared to a traditional free grammar checker, and it even offers thorough info about each error.
As a reader of this blog, you will get a huge discount on your purchase of Grammarly premium subscription. You will get your premium subscription in just $9.91. (
This offer is valid only for 2 Days
)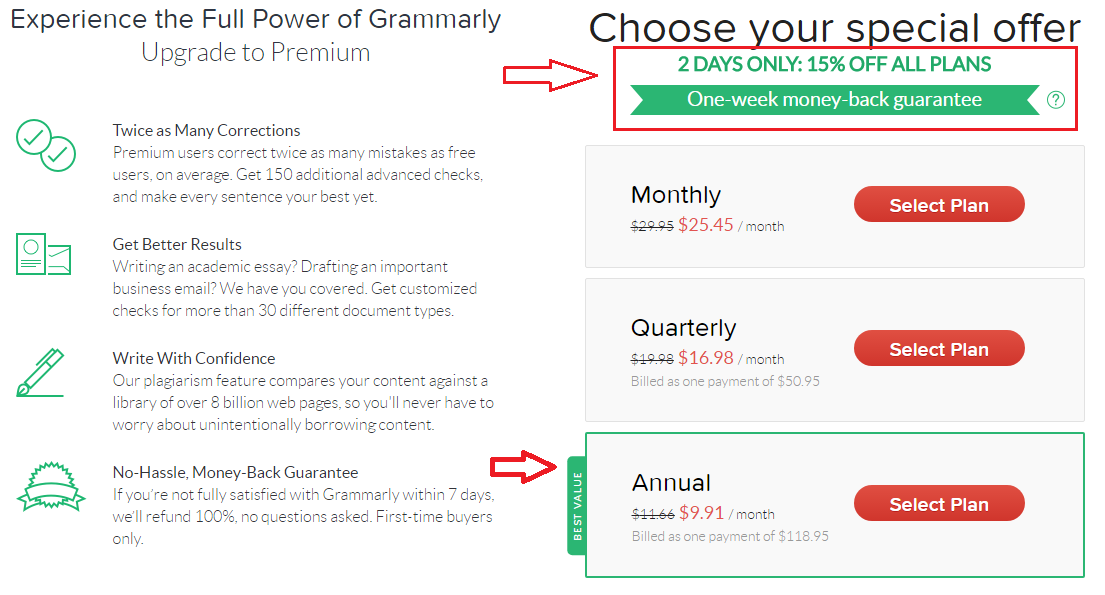 Grammarly Vs Whitesmoke Vs Ginger: Comparison
If you're reading this Grammarly review then you might already be heard of Whitesmoke and Ginger software tools. These two are the alternatives of Grammarly but I recommend you to go for Grammarly.
Why? Read this Comparison and decide yourself…
Grammarly premium will cost you US$11.66/month, while Whitesmoke will cost youUS$9.95/month and ginger will cost you-US$5.10/month.Grammarly comes with Brower extension hence you can use it very easily, while
Whitesmoke does not come with Brower extension
. On the other hand, Whitesmoke will allow you to translate the writing in 45 languages.There is also another grammar checker tool-Ginger that offers a powerful grammar-checking feature for multiple platforms, like Mac, Windows, browsers, Android, as well asiOS platforms. On the other hand, unlike Grammarly,
Ginger doesn't contain the plagiarism checker tool
, which may be helpful for people who make use of the software for online publications.
Also read,
Grammarly Vs Turnitin: A Detailed Comparison Review
Pros and Cons of Grammarly:
Here are the pros & cons of Grammarly…
Pros of Grammarly:
It is an outstanding online grammar knowledgebase tool
It serves as another line of defence for writers who are used to self-publish.
The tool is useful for non-native English speakers as well as novice writers looking to enhance writing skills.
Its premium version contextually scans the text for finding mistakes and typing errors as well as it gives suggestions to transform the writing improved.
It is capable of working with almost all the website with great simplicity and its plagiarism checker is extremely handy for bloggers.
The tool is more detailed than your typical checker, skimming for over 150 common and advanced grammar rules.
Cons of Grammarly:
I found that few writers balk at paying $29.99 per month for this tool. (But you will get it for $9.91/month only)
It is not a well replacement for human proof-readers as felt by few writers. In my case, it can replace human proof-readers.
Its Microsoft Office integration is not accessible on the Apple platform and it does not work with Google Docs.
The browser extension, as well as Microsoft Office Add-on, is not accessible for Mac users.

Through outstanding educational tools and an emphasis on the writing as well as the writer, Grammarly has long-term positive impacts on enhancing writers' language skills. Grammarly offers excellent analytical tools, letting you accomplish things like investigating your document for a different genre.  It even provides a tool that allows you to check for plagiarism, and users can also pay to use the handy online one-hour translation tool. I have personally found that Grammarly merges the finest aspects of teaching, proofreading, and community into a writing enhancement tool that will have instant and positive effects on you as a writer.
Message: I hope that you have enjoyed 'Grammarly Review 2023: Is Grammarly Premium Worth it?' article on Tips2secure. However, if you want me to deliver more items, then please share my post. You can use Social Sharing Widget provided at the end of every post. After all, Sharing is Caring!