Being having one of the biggest sought of the internet, Microworkers is the name that is specially designed to make people some easy earnings.
Microworkers is a most excellent online platform where you don't have two make a start with a scratch, you are being provided with different options where you can easily use built-in templates to make your website even much better.
For providing you some genuine Microworkers review, it gets very much necessary to offer you each and single detail of it so that you can get a better idea about it.
Microworkers Review: What is Microworkers?
Microworkers is one of the leading crowdsourcing website being developed by Nhatvi Nguyen in the year 2010. It is one of the most beautiful sites that are being designed to meet employers for their small online tasks with interested employees.
These are generally the tiny tasks that usually the offices avoid to perform due to specific reasons. The range of functions may vary from online surveys to YouTube commenting, writing blog posts to data entry jobs there are so many opportunities where a seeking candidate can quickly check their hands off.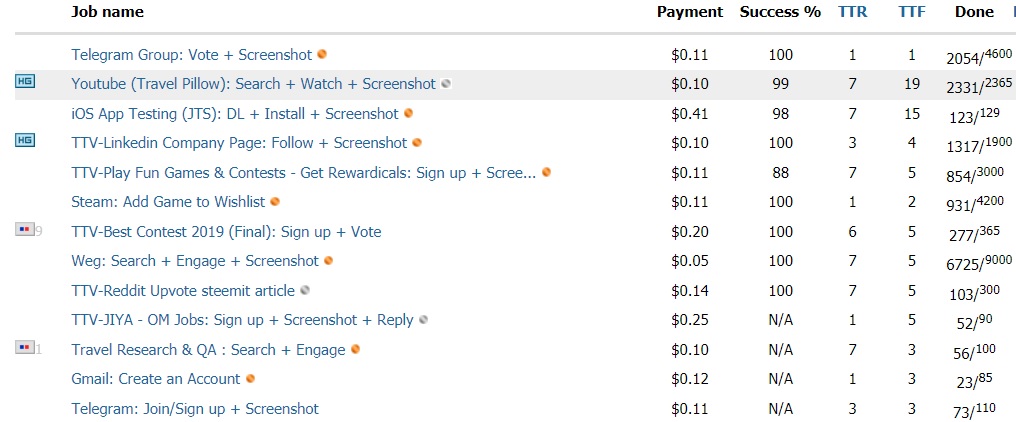 These are small and general jobs but these are still paid jobs, and one can easily earn quite an efficient sum of money just by making these as their part-time working opportunity. Most of the time, Microworkers mainly works as a marketing platform for employers.
The popularity of the Microworkers have been grown to a great extent from the past few years, and the main reason that lies behind it is that it is mutually beneficial for both employees and employers. Thousands of people already have to get associated with this excellent platform to meet their needs.
How does Microworkers work?
Leading up ahead with one of the most obvious questions, Microworkers is the platform that is quite simple to use and work on.



Microworkers depends upon two sets: Employers who post short tasks and Workers who do those provided tasks.
Signing up process is quite straightforward here with quite easy navigation. You have to give a home address where you will receive your pin code. One thing that you need to keep in mind is that the PIN code is essential here. One is not supposed to receive payments he/she has some valid pin code options.
The pin code is necessary to prevent various ongoing frauds and to prevent users from creating multiple accounts. Once you have acquired the PIN code successfully, you have to make phone verification.
On the successful submission of your pin code, one gets eligible to appear for the job. You can quickly view different job opportunities along with its success rate, payment rate, and time to finish a job, and the number of vacancies available on your job profile.
One thing that you need to keep in mind while working on such a platform is your performance rate. If it gets falls below 75% anyhow, the job preference will also get low down for you.
How to create an account in Microworkers (Login)?
Microworkers Review
: For starting up working with Microworkers, one need to open an account here and then need to stay updated with it continuously. If you are falling anywhere short for opening your mind with it, below is the step by step procedure is given to you.
Open your web browser and go to the official website of Microworkers.com.
Make click on the Register for Free option where you will be provided with a form to fill in,
Complete the form carefully so that to prevent the creation of misleads in any case. You have to add on your exact name here as you can't change it later along with a secure password that you can't share with anyone. Moreover, you also need to fill in your contact details here for privacy reasons.
Once you did with it, don't forget to verify your email address.
That's all. Once done with the account creation carefully, you are now allowed to get started with the earning phase in Microworkers.
How to Work in Microworkers?
Microworkers Review: Earning money is not a difficult situation here. Once you have successfully done with the registration process, you can quickly meet the portfolios of different employers and their requirement status. You have to complete the given task in the provided period, that's it.

More will you spend time while working on it, more will be the amount that you can earn on. The tasks usually being provided here are limitless.
It is a great source to find out task matching your working capabilities and skills. Some of the most common examples are:
Data categorization, matching, and tagging
Sentiment analysis
Data mining
Website signup
Social media likes, share, and comments
Transcription aka typing
Content writing and comparison
Surveys
You have to spend some time while doing a few types of research to accomplish work up to the mark.
For example, if you are choosing the work of blog writing for which you are getting two to three dollars for content. And you are doing more than four or five in a day, the sum you will get here would quite enough to run your daily needs and if you want to do it as a part-time job offer, having your blog will be a more significant opportunity for you.
Don't forget to submit the proof of your task completion so that to get employers to review on it. Work efficiently for the satisfaction of the employers. It is the only key to get some more advantage of this beautiful platform.
Also, make sure to accept the tasks that you can complete comfortably so that you can get some positive reviews on your profile and hence make your profile more trustable.
You may like to read,
Picoworkers Review- Is PicoWorkers Scam or Legit?
BuilderAll Affiliate Program Review 100% Commissions, Really?
RapidWorkers Review- Is RapidWorkers Scam Really or Legal?
How can we get paid in Microworkers?
Microworkers is one of the most trustable sources to start earning online. The only things you need to work hard are to meet suitable employers there and to work hard to meet all of their requirements, that's it. For every satisfactory delivery of the provided tasks, the employers will pay you a preferred sum.
Usually, these amounts are automatically debited on Microworkers account that you can later withdraw as per your choice. Your account will be debited automatically with $1 when you register on this platform. You need to have at least $9 to make your first withdrawal.
Thus in words, we can also say that you can put on your withdrawal request on the accumulation of every $10. On-demand for the first payment, a PIN will be posted to your address by post.
On the successful verification of this PIN through your account, your account will be automatically credited with the required sum of money within 72 hours. Payments here are usually being sent twice per week, i.e., on Wednesday and Sunday. Moreover, payments through Microworkers are thoroughly acceptable in different countries.
This PIN verification procedure is only eligible for the first payment only, later you can directly withdraw your required sum directly anywhere anytime you want.
Microworkers Payment methods
Microworkers offers you different payment options for making it more convenient for the users. The payments are usually accessible from different countries globally. You have to choose on the required payment options such as PayPal, Skrill, Dwolla, Payoneer, Bank Transfer via Transbay or a local funds transfer.
Microworkers Scam or Legit
Scam or Legit? It is one of the most obvious questions that may strike your head when listening to such a fantastic platform. Microworkers offers a great working opportunity, and that is one of the main reasons that make people think so.
It is an entirely legitimate website that is currently being used by millions of people worldwide. There is no scan related to it. You have to reach up to the mark for employers to get your funding on time. The growth of the company is currently increasing and hence the number of customers being associated with it as well. Microworkers offer two times the payment option in a week.
You will be allowed to achieve payments on every Wednesday and Sunday as well. It hardly takes more than three days to get your amount get credited in your account. If you still have any doubts related to its legitimacy, you can quickly research and check various online sources for the same.
Microworkers Review Conclusion
Working on an ideal platform like Microworkers would be an excellent opportunity for all those who are seeking some home based working opportunity both on the regular and part-time basis as well. It is one of the best platforms that offer a wide range of working opportunities to the people.
Microworkers is a great platform for the employers and the employees as well to meet their requirements. You have to select the desired task depending upon your skills and need to perform it up to the mark to get your credentials into your account on preferred time. Moreover, you don't need to think much about the payment options as well as it is being designed to make it convenient for the users.
Message:
I hope that you have enjoyed 'Microworkers Review 2020 – Is Microworkers Scam or Legit?' article on
Tips2secure
. However, if you want me to deliver more items, then please share my post. You can use Social Sharing Widget provided at the end of every post. After all, Sharing is Caring!