If you are looking for a perfect developed form for your WordPress site so you can enhance your business and promote your page then these developing tool can help you for sure.
You need not hire any developer or any expert for making these kinds of forms you can do it by yourself easily. If you have decided to go with SurveyMonkey then wait for a second and take a look at the difference between WPForms and SurveyMonkey and this comparison will help you to make a fine decision.
In this article, we are mentioning the pros and cons of both tools and features and helping abilities of both tools, which will make your point clear and you, can choose according to your choice. So let's have a closer look at that:
What is WPForms Survey & polls Addons?
WPForms is a friendly tool of plugin for users to make online forms on WordPress. It can be the best choice for WordPress beginners or no matter you have less knowledge of WordPress.
It is available in built-in smart features and links through you can make attractive and powerful forms. Your website and page look more customizable and stunning. The default added features and forms buttons reduces all the hard work and time which were wasted during making forms and buttons.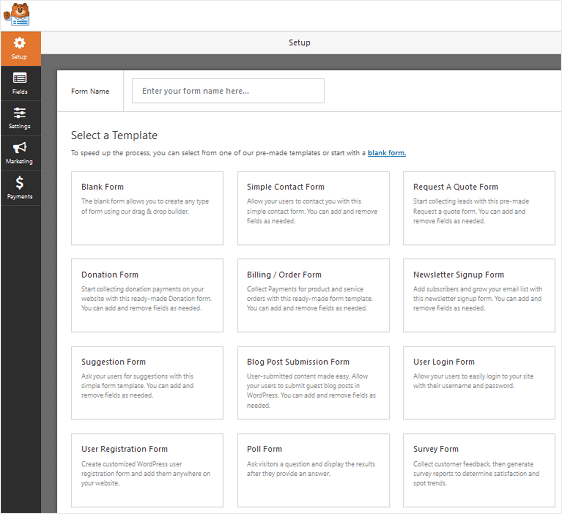 Here you will find the pre-developed templates and buttons. Every facility is available on drag to drop option and you will be surprised to see that how easy is this to use. You can simply connect it with your site and can launch a form just by simple clicks.
WPForms includes online polls and addons, so you can have online reviews and polls and also can accept the online payments via this addition.
You can make simple and easy contacts forms for your simple business so it would become more convenient or you can also make difficult forms that include several buttons and polls and add-ons etc.
Main features of WPForms
WPForms survey & poll addon aims many attractive and user-friendly forms than SurveyMonkey and it supports any kind of business idea and promotion and knowing the view of any customer. The highlighted features that you can't ignore are:-
It provides smart survey fields with ease of removing and adding.
Best tool in class-survey reports, NPS survey and forms.
Unlimited pre-templates allow more freedom and flexibility to your work.
What is SurveyMonkey?
SurveyMonkey is basically used for using online survey or online opinions of people and where people would be able to share their views and votes.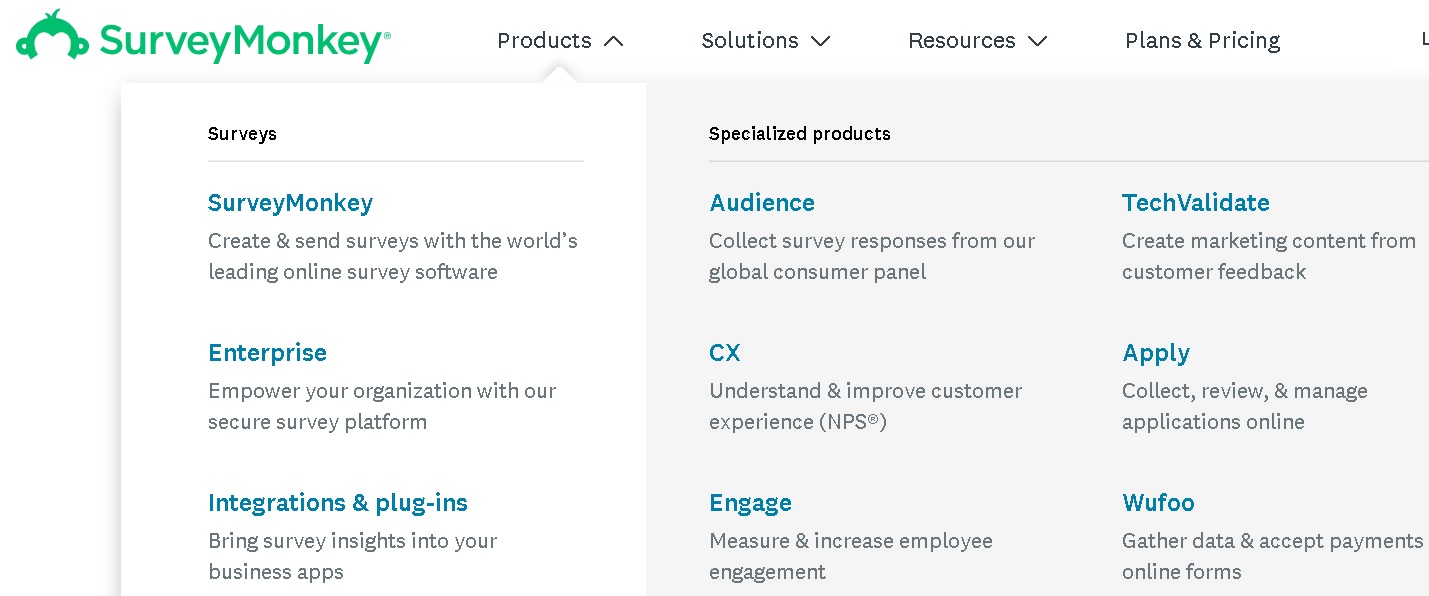 SurveyMonkey adds pre-built buttons and templates to collect survey result, polls, it accepts online payments, the metrics information and after reporting and building any kinds of survey form.
In addition, you will get the same drag and drop system, so you can ask questions to users and can make the answering field. It customizes all the survey options and the structure is also quite easy and simple.
Before choosing any tool for contact form builder you make sure that the tool should be easy to use, the tool has a plethora of built-in templates and buttons, it should support your requirements and running program, the accessibility is also must be simple and understandable for beginners, and if we talk about the price then you must pay for the best so it can give you more than its price.
WPForms Vs SurveyMonkey [Comparison]
Both tools are good but a fair comparison is necessary so let's compare both of them:-
WPForms
1. WPForms is a modern tool that provides a wide facility for making WordPress contact forms easy and simple and as a developer, you will love it.
2. This tool doesn't require any coding knowledge or pre-information regarding making forms.
3. WPForms comes with unlimited pre-designed templates so you can add according to your wish which makes it better than any other tool.
4. You can make any types of forms using WPForms like ticket forms, job application forms, survey forms; RSVP forms etc. all are available on WPForms.
5. You can easily make changes in your forms using some clicks and removing and creating a new one is also easy.
6. This tool allows you to create an online payment section to accept payment from clients using different apps like PayPal, Paytm etc.
7. WPForms features and in-built design and templates are uncountable and it makes more impressive and powerful forms.
SurveyMonkey
1. SurveyMonkey is a tool that helps to build forms related to a specific field that is called Survey forms.
2. You can create any information field easily and simply remove it or delete it. But sometimes when you wait for people's vote and they don't respond, it can make you feel a little disappointed.
3. SurveyMonkey tool also includes plenty of pre-built templates which are quite worthy.
4. For creating any survey form you will have to input a question to your audience which would be chosen from a dropdown list, you can add a comment section, ranking box and choice section etc.
5. It takes quality time to create questions and allows your whole system to manage this, sometimes it looks very easy but if you put wrong questions or unreasonable questions it can affect your site and promotion.
6. This tool is only perfect for survey forms.
7. SurveyMonkey features and in-built designs and templates are limited and require much information and lack of that can make your form lousy and weak performed.
Features comparison: WPForms Vs SurveyMonkey
SurveyMonkey:
There is no specific field added to create password field, agreement field and Captcha etc.
Several illogical questions make your form long that disturbs user's concentration and interest; also you can have limited response every month.
It never allows recurring survey system in first tier plan, so if you are eager to create then you have to wait and waste your money.
Uploading a file requires a high paid plan and you will get the brand name on the footer side.
WPForms:
There is no limitation of creating fields and entries and the dashboard management is also quick and simple.
All the plans provide file uploading and you can create survey, polls and add-ons forms.
It automatically manages your Captchas and provides anti-virus system which enables the safety assurance.
You can save your forms with a password and can create several forms in one time and can manage them easily.
You may like to read,
Pricing Comparison: WPForms Vs SurveyMonkey
Both tools have a different tier and monthly planning system available so you can choose according to your requirement. The prices are:-
SurveyMonkey:
Basic plan – 0
Monthly standard plan – $14/month X12= $168 year
Advantage plan – $30/month X 12= $360 year
Premier plan – $77/month X 12= $924 year
WPForms:
Basic plan – $39.50/year
Plus plan – $99.50/year
Pro plan – $199.50/year
Elite plan – $299.50/year
Here we see, WPForms wins.
Conclusion:
WPForms announced as a winner, comparing the prices of both, the features of both, the ability and working clarity of both clears the main point that WPForms survey and poll addon is much superior and smart way to create forms with, so choose it and experience by yourself.

If you have still any doubt then compare by yourself. WPForms has other many qualities which you surely are going to love and nowadays it is an excellent tool to make your WordPress page attractive and advanced.
Message:
I hope that you have enjoyed 'WPForms: Best SurveyMonkey Alternative? [Comparison 2019]' article on
Tips2secure
. However, if you want me to deliver more items, then please share my post. You can use Social Sharing Widget provided at the end of every post. After all, Sharing is Caring!