Email is one of the critical parts of every business. In every business, you need to send messages from your website. Every website owner wants their emails to are correctly sent to respected users, and they also receive them properly. But when you send an email from your website, are you always anxious to know that your email is sent or not? Another question arises in the mind that if the emails are opened or not?
Now, you do not need to worry about your emails. With the help of simple ways, you will never be going to miss any email tracking again. First, you have to install the WP Mail SMTP Plugin and follow the guidelines to set up your website to send out emails easily. With the help of the plugin, you can check the status of your email sent from your website in this post.
We will also discuss the advanced functionalities of this plugin in this post. We will also explain how to set up and view WordPress email logs using the WP Mail SMTP Plugin. Before going further, we will discuss What is Email Log…
What is an Email Log?
An email log is a way of recording every email sent and received from your site. With the help of an Email log, you can also track who has visited your site and what they read on your website, and it also helps you know if they signed up to subscribe to your blog.
In other words, an Email log is only all the emails, in order, that you have sent from your website or received through your website. There are two options if you can log email from your website, either set up a tracking service on another site that records every email received and sent from your website or install the WP Mail SMTP Plugin in WordPress.
What is WP Mail SMTP Plugin?

WP Mail SMTP plugin is one of the most popular WordPress plugins with more than 2+ million active installs and an excellent rating of four point eight out of five stars. In addition, WP-Email SMTP Plugins are the easiest and most cost-effective log email.
This plugin is a WordPress plugin that sends email from your website. one of the great features of WP Mail SMTP Plugins is live form notification. With this, you will get alerts when someone gets fil out the form. Another important feature about this plugin is that it helps you organize all the email receiving processes and ensure who should receive them.
CLICK HERE TO GET WP MAIL SMTP PRO NOW
How to set up WordPress Email Logs?
WP Mail SMTP plugins help you to use your email server without any third party services. You can also set up these WP Email SMTP plugins for free and view the logs easily. If you want to track emails easily, then you have to follow the following steps-
Install WP Mail SMTP Plugin
Firstly, you have to purchase a license because it is a paid plugin; download the plugins from the dashboard of the plugin's website. After this, you have to log in to your WP Mail SMTP Account.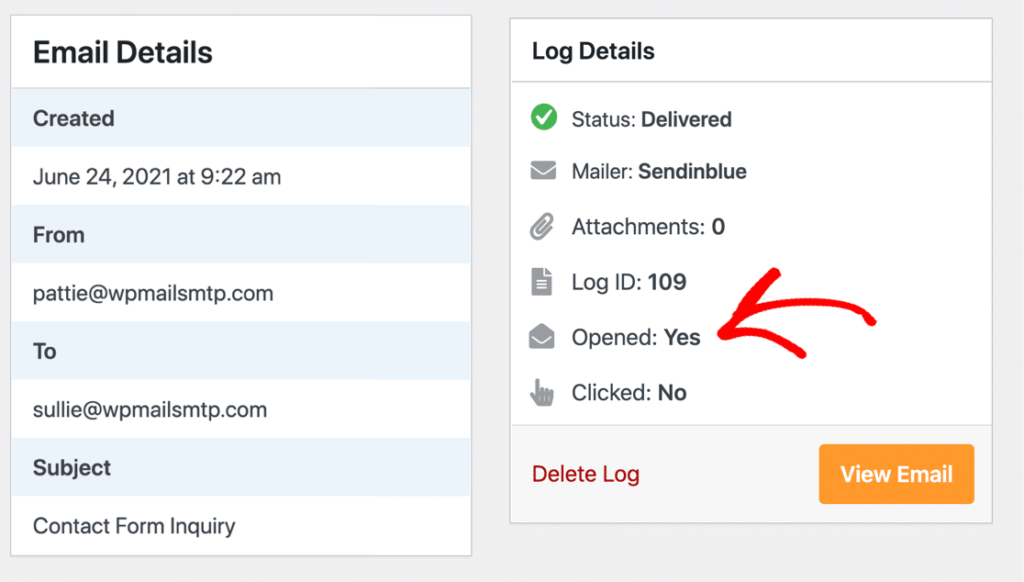 Once you logged in, click on the download tab to install the current version of the plugin.
From your dashboard
Go to plugins>> add new

Click on the upload plugin button.

You have to choose a file and upload it.

After this, your file is uploaded. Click on the install now button.

Once you have installed this plugin, click on activate button.
Enable WP Mail SMTP Email logs settings.
Go to WP Mail SMTP >> Settings.

Go to the email log tab.

There is an option named enable log. Click on it.
The following data is available with this enable log option-
After enabling the log feature, a second option is a display called Log Email Content. This will helps in storing all your website's log details in plain text. Once you enabled your log setting, click on the Save button to enable WordPress email logging.
You May Like to Read,
WP Mail SMTP Pro by WPForms- WordPress not Sending Emails? (Solution)
How to create high converting ActiveCampaign Forms with WPForms?
How to Accept Credit Card Payments on WordPress with WPForms
Viewing WordPress Email Logs
If you want to view email logs, then go to WP Mail SMTP >> Email log
Here you can view all the emails sent. If you want to view individual emails, then click on the subject. It shows you all the additional details of the email.
Why should you use the WP Mail SMTP plugin instead of using the other plugins?
WP Email SMTP Plugin is one of the most popular plugins used to send emails from your website as it is straightforward and cost-effective.
You can also use multiple email accounts with these plugins. However, if you are a beginner, then you must go for WP Mail SMTP Plugin.
Other Features of the WP-Email SMTP Plugin
WP Email SMTP plugin is used to send your emails from your website. There are various ways to use this plugin.

When any new content is published on your website, you can also have notified subscribers. This also helps with SEO and traffic.

You can also stay in touch with your customers.

You can track all your emails in one place.

You can get more potential customers and sales from existing customers.

You will never forget to follow up on emails.
Conclusion
WP Email SMTP email plugin is the most popular plugin to track your email logs. I hope this post helps you understand how to set up WP Email SMTP Plugin. With the help of this plugin; you can store all your email for the future. It is straightforward to use.