Are you looking for LanguageTool vs Grammarly comparison review? Here is the detailed comparison of Language Tool vs Grammarly.
Nowadays, grammar tools are becoming popular more and more. These grammar tools help a lot to all the people who attend college, write content or indulge in any sort of writing service. With the help of the grammar checker software, it becomes quite easier to provide quality content that is grammatically correct and having the right readability. The grammar tools have proved to be a boon for all the writers out there.
Among all, there are two major tools available that have gained a lot of popularity. The two tools include Grammarly and LanguageTool. However, it becomes quite difficult to decide which tools are better than others. The best way to find out which application actually fits your need best is by evaluating them side by side. Considering the same, here we have given the comparison between both of the tools with respect to several factors.
LanguageTool vs. Grammarly Comparison table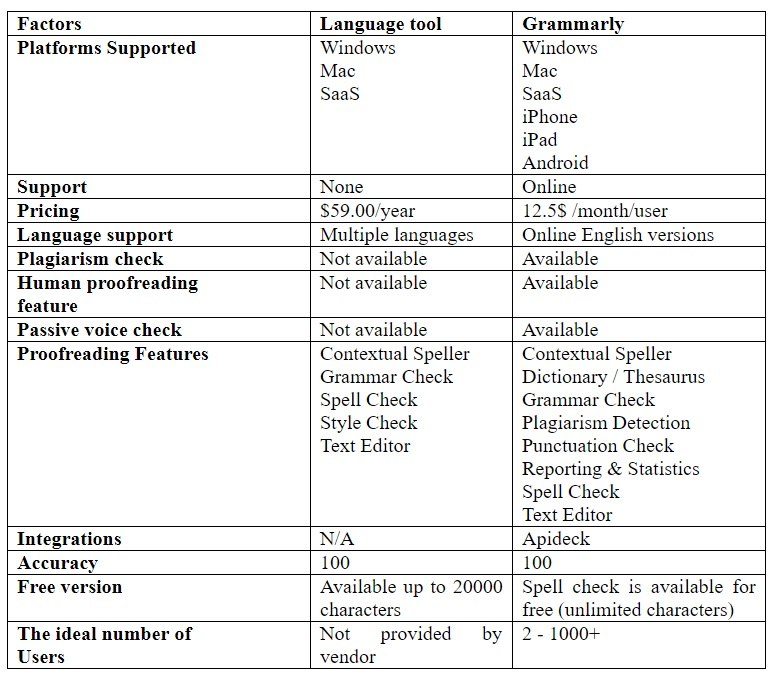 What Languagetool and Grammarly tools are?
Before moving further towards the comparison, it is necessary to understand what these tools are. Let's take a brief of both.
Both Grammarly and language tool are the grammar checker tools along with their own features. These tools work in helping the people in correcting their content with respect to grammar, spell checking and readability.
The language tool offers the spell and grammar checking. You just need to paste your content in the tool and then click on the check text button. All the potential errors will be displayed on the screen. You can easily click on the coloured phrases for details on the errors. It is an open source and free grammar checker.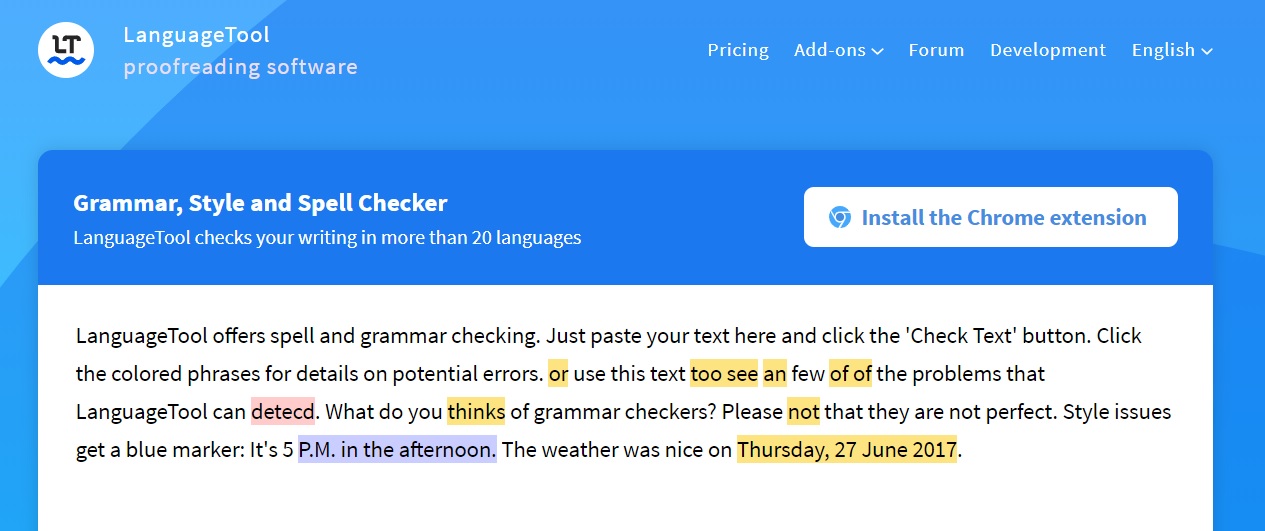 Just like a language tool, Grammarly is also an online grammar checking tool that helps you in getting mistake-free writing and also it helps you in improving your skills as well. It helps a lot in making online writing clear and effective. The spelling checking feature available at this platform is absolutely free of cost.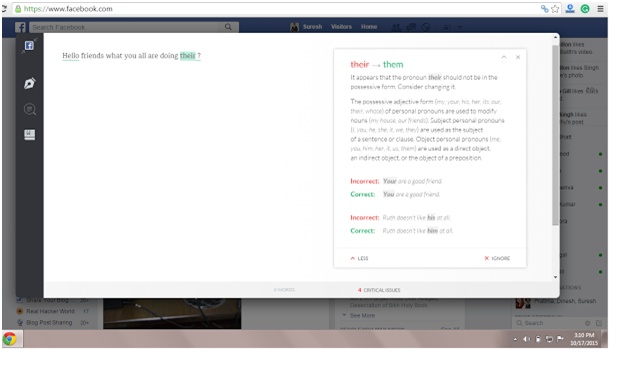 Additionally, it supports multiple platforms including Apple, Android, Chrome, Safari, and Firefox, internet explorer, Microsoft Office, Microsoft word and others. Along with checking the grammar, you can also easily check the reason for your content.
Hence, this is a short brief of both of these language and grammar tools. Just with the introduction, it can be seen that Grammarly is better than language tool. In order to explain this a bit more, here we have given all the additional details. Take a look.
How Grammarly is better than language tool?
In the below section, we have covered all the major areas that states how Grammarly is much better as compared to the Language tool. This is purely an unbiased comparison that has been done. The comparison has been done on the basis of the following factors:
User Interface
Major Features
Device compatibility
Pricing
Pros and Cons
1. LanguageTool vs Grammarly – User Interface
Take a look over the detail and you will get to know yourself.
The interface of language tool
The interface of the language tool is quite simple that anyone can easily use it. It is just like a blank page having an option to check your text, choose your language and upgrade as well.
Interface of Grammarly
The user interface of Grammarly is quite complex. Once you create your account then you get redirected towards the dashboard. From here, at the dashboard, you get different options like copy and paste, upload your print, search your documents, editing your profile, and download apps as well. The performance score option is also there that shows the rating of your content along with the list of errors.
2. Features of Languagetool vs Grammarly
LanguageTool features
1. Grammar checker
As compared to other programs, the grammar checker tool of this platform is very accurate. You can easily find out the grammar mistakes that have been made commonly. It also captures the hyphened word mistakes. When it comes to spelling, it works correctly but it does not account for passive voice.
2. Device compatibility
The language tool is easily accessible to your web browser and mobile browser as well. Apart from this, it is also compatible with other platforms including Firefox, Google docs, Chrome, Microsoft Word, and others. There is a community of language tools that have developed plugins and add-ons for other programs like Android or checkmate.
It is necessary to determine that there are several plugins that are not offered by the service itself and it is important to take the right precautions.
3. Language support
The major feature that makes the language to stand out amongst others is its language support. In case your content is written in any other language then also this grammar checker can easily detect out the errors. There are several grammar checkers that do not support this type of feature. Apart from this, it is also having the auto-detect language feature.
4. Forum
The language tool forum just acts like the customer service tool. It can also be considered as the help guide. You can easily search the forum with the help of keywords or also click on the thread for finding your requirements.
Major features of Grammarly
You may like to watch this video to learn the working of Grammarly tool.



Grammarly is not only a spell checker but also a free grammar corrector. Apart from this, there are several features that help you in correcting all your mistakes.
1. Language settings
Grammarly can easily correct English grammar but it does not support any other language. So if you are content is written in any other language like Hindi or Arabic then it will not detect the errors. But still, it does cover the variety of English like Australian, us or British.
2. Goal settings
As compared to the other grammar checker tools and the language tools, there is a unique feature included in this platform. The feature is goal setting. Grammarly does not only check the spelling and grammar mistakes but also it analyses the structure of your sentences, also offers the rephrasing for your sentences, the punctuation checker, the style checker, audience, intent, emotion, and tone can also be checked with the help of this platform. You can easily set the goals before checking the content and get the best results.
3. Uploading of documents
A part of the copy-pasting feature, you can also directly upload the documents right from the dashboard. From there, the corrections can be done in the Grammarly editor.
4. Dictionary
It provides an amazing option of adding your own words to the dictionary. With the help of this feature, you can easily stop Grammarly from giving suggestions and corrections on the words that you have rightly added or specifically added.
5. Device compatibility
The Grammarly tool is compatible with almost all browsers and can easily make corrections as you search and type. Even, you can also use this tool on Google docs for MS word with the help of extensions. There is a mobile application also available for Grammarly that works on Android as well as on IOS devices. The tool application is quite different than the official website and it acts more as a Grammarly keyboard that checks your grammar and spells more than anything else. It is quite perfect for all those who always send emails from there smartphones.
6. Proofreading tool
There is an amazing feature included in Grammarly that is the human proofreading. It is not part of the free Grammarly software for the paid subscription. You can easily send your work to the proofreader who will make sure that your content is free of all types of errors and misspellings, punctuation mistakes and others. The price you need to pay for the grammar proofreading will depend upon the deadline in which you want it to be checked.
7. Plagiarism checking tool
Grammarly premium version also includes the Plagiarism checker tool. With the help of this tool, you can easily examine your content for duplicacy. At once, the organism software exam is more than 16 billion websites. This feature automatically reduces the chance that your content is plagiarized unintentionally. With the help of this feature, you can easily cite your sources.
You may like to read,
How to Get Grammarly Premium for Free
Grammarly vs Whitesmoke [Detailed Comparison]
Is Grammarly accurate? How accurate is Grammarly?
Grammarly Vs Ginger – A Detailed Comparison Review
9 Best Proofreading Software
3. Language Tool vs Grammarly – Pricing
Language tool pricing
Up to 20000 characters, the language tool checks for free. But if you are willing to use some of the other features and check the content up to 40000 characters then it will become important for you to upgrade. Language tool is available in three different subscription options including the monthly subscription, a 3-month subscription for the annual subscription. For the monthly subscription, you need to pay $19 per month. Either you can go for the three-month subscription and for that you need to pay $39 and for the annual subscription, you need to pay $59 per year.
Grammarly pricing
Grammarly is free to use and you can easily get your spellings to text without paying a single penny. But if you are willing to get access to the special features then it is important for you to upgrade to the premium plan. With the help of the premium plan, you can easily get access to the plagiarism software.
It will also help you in getting access to the writing features. You can easily check your writing any time for free with the help of Grammarly. It is important for you to determine that the human proofreading feature is not included in the Grammarly premium. It is separate and for this, you need to pay the other amount. There are two options available for taking the subscription that is the monthly or annually.
The monthly subscription cost 29.95 dollars and for the annual subscription, you need to pay the amount of 135.9 dollars. The Grammarly business package is also available but for that, you need to have a three-member minimum and it will be live at 12.5$ per month that is for each member.
If you're looking for the discount then here is the special Grammarly discount for you. Read the steps complete to learn how to activate your discount.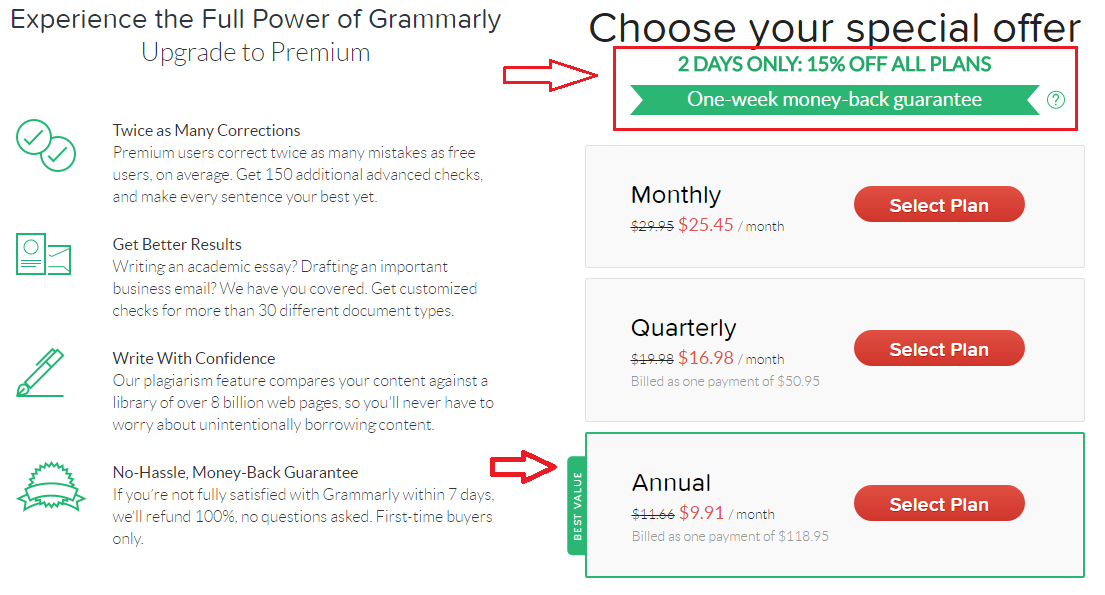 LanguageTool pros and cons
Just like other grammar software, there are some advantages and disadvantages associated with the language tool also.
LanguageTool Pros
Language tool's interface is so easy. It provides you with a simple colour-coded workspace directly on the homepage. You do not need to scroll much for getting the grammar checked.
This tool never slips or misses anything. Until your last spelling, three-member word gets checked. Even, it will routinely correct you if you just add anything in between of the checking.
If you are having a small content to check then you can easily take help of the free language tool. Yes, it helps you in checking up to 20000 characters. It is not a bad option to have.
It is compatible with several devices is and it covers almost all the writing applications including the library office, Microsoft word, Firefox, Chrome and Google docs as well. Apart from this, it is open-source so that you can easily get atoms of different plugins available.
With the help of language to you get easily check the content in different languages. Yes if you are having any Arabic content then you can easily check it with the help of the tool.
It is having a forum for support so that if you are having any sort of difficulties that they are helping you to improve your experience.
LanguageTool Cons
Language tool easily captures several grammar issues but still, there are some that it does not catch like the passive Voice features. It does not catch is the passive voice errors
There is no plagiarism for reporting support available at this tool. It is quite a disadvantage because it makes you get paid for an additional tool.
The accuracy of the language tool is quite legit. It actually does not tell you which style guides are being used. Apart from this, there is no human review support available new line
While the language tool offers a ton of different device options but still many reportedly not supported.
Grammarly pros and cons
Grammarly grammar checker is also having many advantages but it is not also flawless. Some disadvantages are also associated with it.
Grammarly Pros
Grammarly is extremely easy to use and it helps you a lot in improving your writing style and sentence structure as well. You just need to simply copy-paste and you will be immediately started getting your results.
It helps you in getting a brief breakdown about what's wrong and why it is wrong.
Among several most of estimated testers, Grammarly is actually the top one. It easily catches even the tiniest details and mistakes of your content including the passive voice.
Online writing should always be crisp and concise. Grammarly plays an important consideration of this fact.
It comes with a built-in plagiarism-checker that can easily scan up to 16 billion web pages along with the Proquest database for any issues.
You can easily set up the goals while using Grammarly for checking out your content.
Along with copy-paste, you can also upload your content from the files that are available in your device.
Grammarly application is also available so that you can easily use it in your device.
It provides almost all the insights of your content including the overall score, number of writing issues, and others.
It is compatible with almost all the devices including the IOSand Android. Even you can also use it on Windows 7, window 8, window 8.1 and Windows 10 as well.
It provides you with helpdesk service.
Grammarly Cons
No grammar checker provides 100% accuracy and this is the same thing associated with Grammarly. Sometimes, it misses a few issues.
It does not support multilingual documents.
LanguageTool vs Grammarly – Which tool is better?
On the basis of the above-given comparison it can easily be stated that Grammarly is a far better option as compared to the language tool. This software will not only help you in correcting your writing but also you will be able to improve it. If you are in need of a grammar checking tool that can help you in checking the grammar of different languages then the language tool is undoubtedly a good option for you. But still, there are several features that are lacking in language tool and still, you are paying. Keeping the language support side, Grammarly is undoubtedly the best option available.
Conclusion
So, finally, here we are with the conclusion. In order to have a properly structured Grammarly correct content, it is necessary to use the best grammar check tool. There are a lot of factors that make a grammar tool efficient like the spell check, plagiarism check, grammar check, punctuation errors, readability and others. The best tool must be having all the features. On the basis of the details, we have stated in the above section, Grammarly is undoubtedly the best choice for you.
Message: I hope that you have enjoyed 'LanguageTool vs Grammarly (Detailed comparison) 2020 – Which is Better?' article on Tips2secure. However, if you want me to deliver more items, then please share my post. You can use Social Sharing Widget provided at the end of every post. After all, Sharing is Caring!