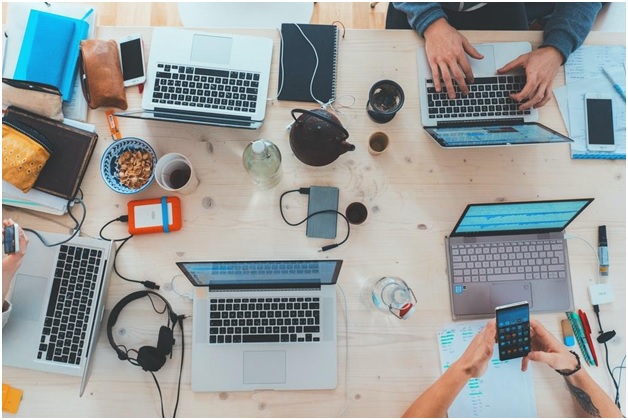 Running a business is indeed a great way of making profits and finding your place in the world. However, with so many people interested in taking part in the business, the competition among business owners has increased over the years.
Business owners now have to focus on adapting unique solutions to differentiate themselves from other vendors. Tech solutions are changing things for businesses around the world. Compared with any other industry, the advancements in the tech world are proving the most beneficial for businesses in all niches.
Are you a business owner and want to know about all these latest advancements? Keep reading this article as we are going to share with you the seven amazing things in tech that will change the way we do business!
1. Cloud Computing
Gone are the days when businesses had to rely on paper and notebooks to note down all the important business details and transactions. But as things have changed, you no longer have to pick your pen up and record things on a daily basis.
Desktop computers made it easier for people to keep track of all the business processes. But soon, it was realized that simple desktop computers coupled with fax machines would not be enough for businesses that have offices across countries.
The need of finding better solutions gave birth to cloud computing. One of the best things about cloud computing is that it enables businesses to access data anywhere in the world. Online cloud computing is not only swift and easy to use but also provides a superior security solution. Over the recent years, cloud computing has given birth to better solutions like HCI, and different hci vendors are available for various business needs.
However, keeping your information safe from competitors is a big problem. Tech such as least privilege principle is making it increasingly easy to keep your data hidden from hackers and other prying eyes. The advanced data protection techniques are indeed more reliable and sustainable than other traditional solutions.
2. Team Management
Who doesn't want to run their business across countries? The world has now morphed into a global village, where staying connected and sharing ideas is easier than ever before. But with all these new things coming together, it's still hard to find ways of keeping your staff together.
Relying on traditional ways like making phone calls is not the best option when dealing with a team of thousands of employees. A better solution is relying on faster tech for team management. Several solutions have surfaced in the market that makes it possible to manage your teams across the globe.
You can now make video calls to know what your team is doing and maintain the human touch in your workflow. You can even set schedules online to stay on the deadlines and deliver your products and solutions as planned.
3. Data Protection
As mentioned above, it's not easy for business owners to stay ahead of their competitors. Keeping your business different and providing better solutions in the market is not as easy as it seems, and you have to come up with something different to cement your position in the market.
But no matter how unique your products are, if you are unable to keep them safe from your competitors, you will always fail to achieve your goals. You have to ensure that your data is safe from other businesses to stay on the competitive edge.
However, keeping your information safe from competitors is a big problem. Tech is making it increasingly easy to keep your data hidden from hackers and other prying eyes. The advanced data protection techniques are indeed more reliable and sustainable than other traditional solutions.
4. Business Analysis
An analysis is a key to keeping your business alive. Suppose you think that you have the best products and services in the market without comparing your business with your competitors. In that case, you will never be able to grow your brand – analyzing your offerings is indeed the most important thing!
But how can you analyze the effectiveness of your business with so many competitors that are present out there? The good news is that now you can use technology to analyze your business without going through so much hassle. There is no shortage of amazing tools like Google Analytics that enables you to organize and improve your business in no time.
5. Blockchain Development
It has always been a challenging problem to send data from one place to the other without letting others know about it. If a business fails to send its information securely, it will fail to leave its competitors behind, making the growth process super tedious and difficult.
Blockchain technology is helping businesses to overcome this problem. One of the most important applications of Blockchain is its implementation in cryptocurrency, but there are so many other places where Blockchain can help a business grow. It is expected that Blockchain will earn a central place in the business process over the years.
6. Virtual Reality
The physical bounds have always limited the growth of a business. For example, if it's costly and time-consuming for your prospects to test your products, how can you enable them to try out your products in their homes? The solution to problems like these is the emergence of virtual reality.
In simple terms, a virtual reality application is computer software that enables you to experience a place or product without touching it physically. Virtual reality is super useful for realtors who want to make it easier for their customers to know about a real estate property without visiting it. Other applications of virtual reality will make it even easier to conduct business operations.
7. Social Platforms
Businesses had to run door-to-door campaigns to attract more prospects and sell more products in the past. But the problem with such campaigns is that they take more time and cost more money in the first place.
However, the latest inventions in the tech industry like Social media have made it easier for businesses to find better prospects. Social media is fun to use and makes the user comfortable with making a buying decision. Even the Fortune 500 businesses have allocated huge budgets for social media marketing campaigns. Social media is here to stay, and there's no doubt that it will change the way businesses operate.