After using Grammarly for a long, I was excited to check the functioning of Turnitin as I had listened a lot Turnitin as a Grammarly alternative. So, I also gave a try to Turnitin and what I got and observed about
Grammarly vs Turnitin
is going to write in this post.Before starting the comparison of Grammarly versus Turnitin, I would like to give a summary which might be helpful for you.
Grammarly vs Turnitin (Summary)
Rating (According to my personal experience)
Grammarly: 8/10
Turnitin: 7/10
No matter how good you are at writing or how efficient you are in any language, you always tend to make mistakes in your write up. Isn't it the case with you?
Some small mistakes are negligible if you are writing your own diary or personal greeting cards. But what if you are a professional? Yeah, you would surely require proofreading of your write up before final submission.
So, have you hired a proofreader? Good then. But what if his eyes miss any grammatical mistake or spelling mistake? It will make a negative impact on your reader's mind. You can't tolerate it right?
Then I have an option for you. Why don't you try any tool available online? Yeah, it's confusing which tool is worth to give a shot but here I am at your help.
I would recommend you to go with either Grammarly or Turnitin. Now decide which one is better after going through their features and comparing it with your needs.
Grammarly Vs Turnitin ~ Detailed Comparison
The slogan of Grammarly is – The World's Best Grammar Checker and they have proved it 100% right. It serves the user with the best services in order to enhance the user's writing experience.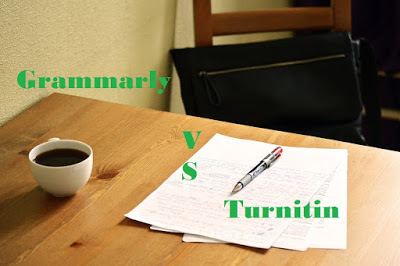 Grammarly At a Glance
Grammarly is known as one of the most popular proofreading and grammar checking tool that provide a smart error detection management for your content and data.Grammarly working procedure is based on 400 rules of grammar. It detects spelling, punctuations, passive voice, and repetition of word, vocabulary, comma mistakes and many more.
You can create your personal dictionary. Grammarly works great with an Add-on which enhances the flexibility of working with advanced software. Now Grammarly team has developed a smart app for more advanced options.
Only you need a fine internet connection for better performance.
Features of Grammarly
Let's have a look at some amazing features of Grammarly.
1. Grammar Checker
When it comes to checking the grammar of your documents, actually no other tool can beat Grammarly. This tool is designed by so many linguistics and it checks your document throughout 250 Grammar rules and gives you suggestion to enhance your write up.
2. Plagiarism Checker
Uniqueness is always required to make any write up interesting. What is the meaning of reading your article if it is simply copy pasted? Readers will show interest in your  article only if it is unique.
3. Amazing Proofreader
What is the job of a proof reader? Correcting all the mistakes lying in your write up and enhancing some sentence formation to increase readability? Then what's wrong in using Grammarly. It performs these jobs better and efficiently than human proof readers.
4. Different Writing Style
Writing style changes with the change of the fields you are writing for. Grammarly offers different options to choose your writing style like- technical, creative, medical, student paper and so on. So that reader's experience can be enhanced.
5. Stops You for being Tautological
Isn't it boring that while reading any article the same thing is presented to you wrapped in a different style? Sometimes, we don't repeat things intentionally but it happens and it irritates your readers a lot. Grammarly is for your help in this problem. Grammarly will highlight all the repeated words in your document and it will also provide alternatives for them, you can choose as per your requirements.
Pros of Grammarly
Easy to maintain and use and available in paid and free version.
Provide an explanation of each word and describe well that help to enhance your grammar knowledge.
Very helpful for English learning people, students, writers, and proofreaders.
Instantly check plagiarized content and makes your writing more professional and attractive.
Available at different browsers like Safari, Firefox etc.
Cons of Grammarly
Add-on service is not available for Mac users.
The Monthly paid plan is quite expensive so if you have less use of it or using individually then choose the free version or get the annual plan.
Works only online no offline mode is available.
If you are still not convinced to go with Grammarly, then check out this tool – Turnitin and its features. It will be better than Grammarly only if you want a plagiarism checker tool for any institute. Else Grammarly is a smart choice to go with.
Turnitin At a Glance

Turnitin is also one of the great software that was developed in 1997. Specifically, it is used to detect copied content and alert you for the plagiarized content.Its plagiarism facility identifies the duplicate content or sentences within a few seconds and finds 10 typos copied content. Turnitin is the best tool for students, bloggers, writers, and people who want unique and professional writing for their business or website.
In current time, millions of users have been using Turnitin software for increasing their academic skills with that, numbers of academic institutions and universities are connected with this and have big benefits.
Turnitin Features
Turnitin is also a tool available in the market to recognize plagiarism in your article. It is mostly used by schools and universities. They buy a license and submits documents to the Turnitin to check plagiarism. It scans its own database using the proprietary algorithm. Now, what are the features of this tool? Have a look…
1. Reminder via E-mail
It is an awesome feature of Turnitin that it sends an email to all the students who have submitted their assignments in this tool. It also works as a reminder for students who have not submitted their work till deadlines.
2. Allows Image Submission
With write-ups, students can also upload images in any format like PNG, JPEG, TIFF, BMP, etc. These image files can be open directly in GradeMark so grades can be given according to that.
3. More File Upload Size
Initially, the uploading capacity in this tool was 20 MB which is now increased to 40 MB. Yeah, it means students can upload their work in the file of size up to 40 MB.
4. Submission of all file type
Students can submit any file type as their assignment work up to 40 MB size and it will be directly displayed in Turnitin Document Viewer.
5. Grades without submission
GradeMarks can show grades without student's submission. It can be used on an iPad, laptop or another device to provide overall comments, reviews, and grades.
Pros of Turnitin
Instantly detect plagiarized context and content that help you to get 100% original content.
A superb and worthy use for making any speech, presentation, article, or content means the fantastic app for students and teachers as well.
Its revision and feedback features are also good that provide the feedback of your writing.
You can also check Grammar checker tool by Search engine reports here https://searchenginereports.net/grammar-checker/
Cons of Turnitin
Only beneficial for students, professors, and those people who are linked with the academic field not much worthy for finding grammatical errors and other basic mistakes which we often do.
Works online, no offline mode is available.
If you want to get Turnitin then check out the official website and check out the prices and plan's availability as well.
Some Other Grammarly Comparisons
Grammarly Vs Ginger
Grammarly Discount Code: Exclusive 65% OFF ($9.91/M) Only
Why Is a Grammar Checker Must Have Tool For Everyone?
Even if you aren't a Grammar Nazi, how does it feel when you find a grammar error in someone's book? How does it feel when your write ups contain numbers and someone else points it out to you?
On the other hand, even if you are an expert when the work volume increases, it is not easy to maintain the quality of inspection in line with the skyrocketing workload.
… agree with me?
In both above cases, you will need an assistant to support your workflow.
In English Grammar, specific rules are unchanged and are strictly followed, without any bias.
So, to make things easy, software developers have made those rules packed into programmable software.
These programs have evolved a remarkable level of efficiency. Now they work way faster than a typical human brain. And, also are capable of handling large volumes of data flawlessly — both ways saves time and improves productivity overall.
The software applications are called Grammar Checker Tools, and they come with Artificial Intelligence powered, backed by powerful Machine Learning algorithms. Collaboratively, it operates and automates the entire proofreading process within a few seconds.
The Grammar Checker Tools use a set of databases that store a large number of common grammatical errors, based on the different contexts of sentences, tonality, etc. Thus, they are exceedingly efficient at catching mistakes and suggesting fixes in their places without any human intervention.
The fact is: Unlike humans, computers don't skim through or miss out a single word. They work according to their back-end algorithms regardless of the place and time.
In a row, a Grammar Checker Tool functions as a Virtual Editing Assistant, a Proofreader, a Grammar teacher as well.
It catches the incorrect capitalization, incorrect spacing, suggest appropriate words, punctuation, and structure styling. Even help you format the content according to your reader persona, I mean it has several options to optimize your content.
Their in-built readability formulas help you categorize the documents for different fields like; general, medical, technical, formal, business as they all has to use discrete audience & vocabulary.
So, which tool meets your requirement? If you don't want the tool for the organization but for your personal usage, then
I would recommend you to go with Grammarly
. It is the best tool for individuals regardless of your profession. If you don't trust my words then you can use its free version and get the experience of making your writing better.
Which tool do you use right now to enhance your writing skill? Grammarly or Turnitin? Or any other? Let us know your views about any of these tools or if you want to recommend a third better tool via the comment section.
Message:
I hope that you have enjoyed the 'Grammarly Vs Turnitin 2020: A Detailed Comparison Review' article on
Tips2secure
. However, if you want me to deliver more items, then please share my post. You can use Social Sharing Widget provided at the end of every post. After all, Sharing is Caring!