In this post, I am going to Compare Grammarly Vs Whitesmoke tool. So keep reading this post on Grammarly Versus Whitesmoke.
Grammarly vs WhiteSmoke
There are many people out there who use different tools online. Being an online person, one can use any tool which he likes. Some tools are good whereas some are not.So before purchasing or using any tool, people want to find reviews of any tool. Here the role of blogger comes into the picture.
A Blogger can write the perfect review on any tool because he uses those tools in and out.
The reviews which a blogger writes will read by people out there and based on the reviews people decide to buy the product. So as a blogger, today, I am going to give you the perfect comparison between two BIG products which will help you to improve your writing skill.
I am the regular user of Grammarly tool to
improve my English and writing skill
. But to write this review, I have spent a good amount of time on WhiteSmoke too. So that I can tell you exactly about which tool to use and which not to.
Grammarly vs WhiteSmoke: Grammarly Tool
If you are a non-native speaker of the English language then you must have the idea that a proofreading tool is much important than anything else. Your content must look professional and without any errors and plagiarized content is totally prohibited for writers.

There are numbers of tools available on the internet to find out your grammatical errors and common mistakes but Grammarly is more worthy than any other tool.
Grammarly is the best software to improve your writing. If you are working in the professional world then with the help of this software, you can drastically change your English writing. There are some common functionalities which should be there in any language software. With all the common functionalities, Grammarly is having some more advanced functionality which will help you to improve writing skill. I have been using Grammarly for 2 years. I have used all the functionalities of it. Here I am going to list some of the functionalities of Grammarly:
1. Different Writing Styles
As we know that the writing style of a Medical student will be different from the writing style of an engineering student and Writing style of Engineer will be different from any general person. So In Grammarly, you can set your style of writing as per your requirement. It will allow you to write in any style so that you don't need to write in just one style only. In Grammarly, you can easily change your profile for writing. It supports writing style like creative, technical, student, medical etc.
2. Enhancement in Vocabulary
This is the must have function of any writing software. Grammarly does this job pretty good. Grammarly scans the whole article to find out the repeated words. Once it finds the repeated words, it will suggest you the alternatives for those words. So with the help of Grammarly, you can enhance your vocabulary. No one wants to read the same words again and again. With the help of this awesome tool, you can easily use alternatives which will improve the writing of yours. There is one option in the left-hand sidebar to enable vocabulary enhancement option. If you want suggestions then you can enable it and see the difference in your writing.
3. Plagiarism Checker
No one likes the copied content. Grammarly will help you to save yourself from such content. If you are a content writer then you can check your content via this tool. This tool will tell you whether your content is copied or not. So you can give original content to your clients. Even if you are a client then you need to make sure that your content writer is giving the original content. So to cross-check the things you will need this tool. This tool will search the entire web to find out the plagiarism and if there is any plagiarised content is present in the article then it will let you know.
4. Free and Paid Versions
This is the best thing about Grammarly. There are two versions of Grammarly are available. One is Free and the other is paid. There is lots of functionality in the Free version of the Grammarly. One can first use the free version to test the Grammarly and then he can switch to the paid version for more functions. The free version is also enough for beginners. For simple usage of Grammarly, Free version is fine. But if you want to get most out of Grammarly then you should go for the premium version of Grammarly.
5. Browser Extension
This is the best feature which is available with Grammarly. You can correct your grammar in the browser also with the help of Grammarly Brower extension. Whenever it finds the text box, Extension will start working. So if you are writing Facebook status or Mail in Gmail then also it will start giving the error so that you can correct it. This is the very fast way to correct your errors while writing which is only possible with the help of Grammarly.
6. MS Word integration
This is the most astonishing feature of Grammarly. You can integrate Grammarly with your word document. If you do so then you don't need to open your browser and check the error. It will show you the error when you are writing in the Word itself. So with this method, you can save lots of time in proofreading your article. There are many writer and bloggers who use this type of integration of Grammarly with MS word.
So here is the Screenshot of the Grammarly software. As you can see, Grammarly shows the error and different points for your article. Once you enter your article in the editor of Grammarly, it will allow you to proofread it. It will suggest you the alternative words for repeated words. This all happen automatically so that you can save a lot of time. You can even download the report of your writing and then send to your client for analysis.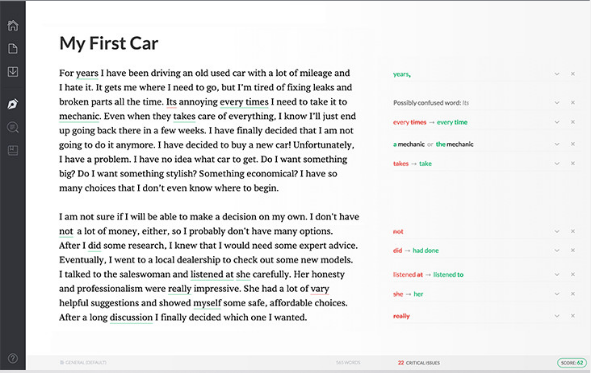 7. Works on Add-on
Grammarly offers a great facility which is its add-on feature and it works smoothly with MS-word. You can directly connect your content or article or any data with Grammarly and find the errors.
This add-on service is not available for Mac users so Mac users have to wait for some time to get the add-on facility. Though Grammarly is a smart and advanced software so developers have developed a smart App for Mac users so they can also detect grammatical errors and able to do every task easily.
One can simply drag and drop the file to the box and Grammarly will perform much better of your imagination. It keeps your data safe in a draft so you can check your content anytime.
8. Create your personal dictionary
You can make your personal dictionary in Grammarly. The words which you often use in your context add them in your dictionary and Grammarly will never highlight them again. This mode will improve your vocabulary knowledge and language as well and soon you will realize that you are doing fewer mistakes.
Grammarly vs WhiteSmoke: WhiteSmoke Software
Whitesmoke is another Grammar checker tool which is used by many writers. The best thing about Whitesmoke is that you can use it on any device you want. You can use it on mobile or laptop. You just need internet connectivity to use the function of this software. WhiteSmoke offers translation in 45 different languages. It is a very quick, easy and user-friendly software to improve writing. The best part about it is that it provides alters for repeated words and templates to start letter writing. So let me show you some of the features of Whitesmoke:
1. The writer of Whitesmoke
This is the best editor in Whitesmoke. This is having highly improved the algorithm to detect your errors. There are some statistical data which will also play an important part while guessing the error. It can work with any platform like mobile, tablet or laptop.
2. Available Everywhere
This is the best thing about Whitesmoke. It is available on any platform. You just need to integrate Whitesmoke where you want to use it. You can integrate it in mobile, tablet or laptop. You must have an internet connection to use it.
3. Whitesmoke KIBO
There are many people who still using mobile for blogging. Mobile enables the feature of auto-correcting but with this feature, we make many mistakes unintentionally. To avoid these mistakes, WhiteSmoke provides the android keyboard in mobile which will allow you to correct your English and writing on mobile.
4. Plagiarism Checker
As I said earlier, no one likes plagiarised content. WhiteSmoke will also let you detect plagiarism in the content so that you can remove it and improve the quality of the article. There is a robust algorithm which works behind this feature.
5. Whitesmoke Translator
Sometimes we want our article in different languages. Here WhiteSmoke will help you with its translator feature. It will allow you to translate your writing into many 45 languages. So you just need to translate your article in the language you want.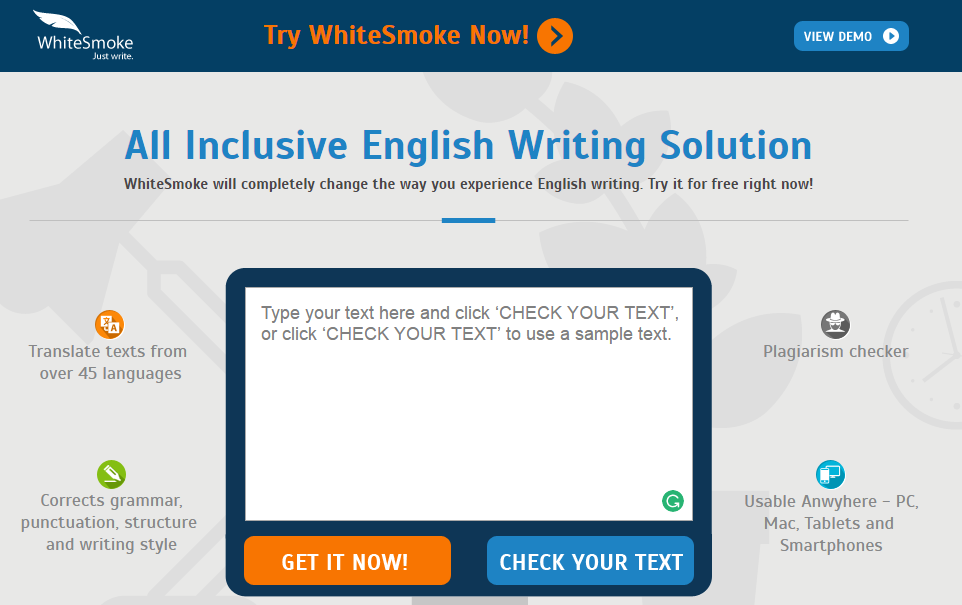 6. Spell and Punctuation checker
Spelling and punctuations are common mistakes and people often do these mistakes a lot. If you are using WhiteSmoke then just forget about your these mistakes because when you drag and drop your data instantly WhiteSmoke tool detects the wrong spellings and punctuation.
It shows several suggestions regarding your word and briefly tells why you should not use the particular word in your context. WhiteSmoke also provides suggestions for new words which are in trend.
Both software's are great and available in a free version and paid version. After doing several researchers I must say that both tools are worthy especially if you are a writer or if you want to improve your English skills or just want to learn English or translate your data in different languages then choose any of them.
Grammarly Vs WhiteSmoke – Detailed Comparison
Grammarly
W

hiteSmoke

1.  Grammarly is popular software that is used for checking grammatical errors, proofreading, plagiarism content, and many other supportive items, that are beneficial for writers and the people, who want the perfection in their writing a common document or any e-mail. The tool needs a fast internet service for superior work.2. You must know that Grammarly is available for free and you can easily download via the internet. Once you download the latest version of this tool, you can able to check any kind of document or content. For better results and satisfaction you can see the explanation. One can join the premium membership that search out each deep and hidden error. Otherwise, for common errors, the free version is also far better than any other tool or software.

3. Grammarly software is very easy to use; it needs not any extra knowledge for handling it. Even a person with less knowledge of tackling the computer can also use Grammarly for finding grammatical errors and many other things.

The main features of Grammarly tool are:-

One of the great tools to find out grammatical errors and plagiarized content.
It has an inbuilt dictionary and spells check tool that quickly checks the whole data within a few seconds.
Always works on fast internet quality that makes your work more efficient and enhances productivity.

4. Grammarly is available for iOS and Android users. It can suitable for MAC users and for MS word.5. For checking common grammatical errors you need not pay for Grammarly, but for premium service, you have to pay $29.95 per month.

1. Whitesmoke is said to be another great tool to find out the grammatical errors and plagiarized content and sentence improvement. Whitesmoke is also suitable for translating several of language and millions of writers and others. It needs a fine internet quality to work out.2. Whitesmoke is also a strong contender of Grammarly. It is also available for free; you can easily get this from the internet. It has advanced inbuilt plagiarism checker and sentence checker that will allow you to find out several errors, that you never aware of while writing. Whitesmoke is favorable for different devices and supports several operating systems. It has a fine keyboard facility that can be helpful for android or Smartphone users as well.

3. Whitesmoke is also much easy and smooth to use. Once including in your PC or mobile or tab then it will work like the greatest app. You can directly paste your data here and can get and correct your errors and basic punctuations.

The main features of Whitesmoke software are:-

Whitesmoke has a perfect compatibility and ease of processing that finds deep errors and wrong sentences.
It works on SMT technology that stands for Statistical Machine Technology.
It also prefers high-speed internet quality.

4. Whitesmoke is also available for iOS and Android users as well as suitable for MAC users and MS word.5. Whitesmoke is available in several plans with 50% discounts as well.
Advantages: Grammarly vs WhiteSmoke
| | |
| --- | --- |
| Advantages of Grammarly Over Whitesmoke | Advantages of WhiteSmoke Over Grammarly |
| Grammarly comes with Brower Extension so we can use it very easily. | It Provides Translator in 45 different languages. |
| We can integrate Grammarly with MS Word also. | It has many tutorials which you can utilize to improve your English. |
| With MS Word, we just need to have an internet connection. We don't need to open Browser. | It is working on many different powerful algorithms. |
| Plagiarism detection is provided in it. | It can be used on any device. |
The Disadvantages of WhiteSmoke:
1. Restrictions on Desktop App
Though the WhiteSmoke Grammar Checker is highly accurate in checking hard-to-catch grammar errors, the WhiteSmoke Windows application has some crucial yet unfixed issues.
The WhiteSmoke Windows application has an extremely sluggish processing rate for documents. Also, it has a downside that is "character limitation," yes characters. It has a limit of processing 10,000 characters at a time, not words. This means the letters, punctuation marks, space—everything counts to 10,000 only.
The limitation becomes a nightmare when you have a lengthy document to process through. Suppose you want to analyze a novel of fifty thousand words or a business document of three-four pages but are struck by this limitation. Now, it would need ten-twelve separate analysis.
By saying this, what I mean is WhiteSmoke is okay if you want to use it for casual Social media posts, short emails, etc.
…but gives you a headache when you burden the WhiteSmoke Desktop app with loads of content.
However, you won't face any such issue while using their web-based editor. You can get a complete report in a gimmick much similar to Grammarly.
2. Sluggish Customer Support
Often from my personal experience, WhiteSmoke has slow customer support when compared to Grammarly.
If you login into the WhiteSmoke Dashboard, you will find a chat box in the corner which will mimic as a live chatbox. To be fair, it is not what it looks from outside.
To ask for a query when you try to hit the send button with an expectation for a quick conversation, and for sure, you will get an automated successful reception reply from the bot. The catch is that it doesn't work that way—not at least as a live chat feature.
For my case, it seemed forever to get a reply from their support team. More than 24hrs crossed I received no response at all—it mostly stays offline.
The same goes in case you try to email them for any queries. So, this is one of the terrible affairs by WhiteSmoke to their consumers.
3. Need for internet connectivity:
To work on WhiteSmoke, you need a constant internet connection in the background. It ensures that their algorithm is connected in real-time with your device and thus fluctuations in Internet connection gets you and your time both in trouble.
The Disadvantages of Grammarly:
1. Need for constant internet Connectivity
While Grammarly is available for you cross-platform and also beats other Grammar Checker Tools out there in the market, there is a need for its offline application. A standalone desktop application which works offline too—means without any need for constant internet connectivity.
2. No Native apps for Smartphones:
One of the most awaited features by the Grammarly users is its launch of native apps for the Android and iOS devices. Currently, it offers a Keyboard which does most of the work while you write on-the-go.
But it lacks the power of processing a pre-written text thoroughly for Grammar checks and other linguistic improvements.
My Recommendation
After testing both the tools, I found that both are really great. I cannot recommend any single tool for you. But still, I found Grammarly as a good tool when we compare both the tools. Because in Grammarly, we can switch to different writing styles. So Grammarly is useful for any kind of person. Moreover, in Grammarly, we can turn on/off some features if we don't need it. White smoke is also a great tool if you want device independence. If you are having an addiction to mobile or tablet and if you want to work on such devices then you should go with Whitesmoke tool for grammar correction.

If I am asked to give a rating then I would give:
You must read,
Conclusion
As a blogger and as a writer I will suggest choosing with Grammarly without any second opinion. It is more valuable and beneficial for us and after doing several studies and asking thousands of people we would recommend Grammarly.
WhiteSmoke is also not a bad option but Grammarly is smarter app. If you want to decide by yourself then have the experience of both tools and choose the free version for a month of both and check by yourself.
Grammarly and WhiteSmoke both offer huge discounts on their premium membership and it would be a great deal to have the perfect service in a cost-effective range.
The free version will provide the limited access and features whether the paid plan will open all the unlimited features for you and make your writing experience purely professional and great.
If you like this Grammarly vs. Whitesmoke Comparison then do share it with your friends and help them to improve their English. Which tool are you using for proofreading? Let me know via comments.
Message: I hope that you have enjoyed 'Grammarly vs Whitesmoke [Detailed Comparison] – Which one is Better?' article. However, if you want me to deliver more items, then please share my post. You can use Social Sharing Widget provided at the end of every post. After all, Sharing is Caring!