Yes, I made $738 in February 2016. I earned this amount from Google Adsense. In this month till now that blog has made $426 just because of
website traffic from USA
.
In this blog post, I will share some of my stats and secrets of how I achieved that much amount in 30 days.
Honestly, the Secret behind all this is traffic from the United States (US) on that blog.
In this post, I am going to share the experience of last month's earnings only. I will reveal the steps that I used in targeting the traffic from the USA.
As a blogger or web owner, we all know that if we target traffic from European countries then we can make lots of dollars from Adsense.

But we people fail in targeting traffic from a particular country and as a result, our earnings start fluctuating.
Agreeing?
Experts advice to target micro niche sites to earn more money from Adsense. Yeah, that's a good point but if we also target specific country traffic then it will boost our results.

I will guide you step by step in this post.
First of all, I would like to show you some stats of my last month's earnings.
At present that blog is 4 months old. I can't share URL of blog because that is private one.
Impressions I delivered last month: 55,000 (Approx.)

CPC I got: $1.2 Average (Total I got 615 Clicks)

CTR: 1.12%

RPM I got: $13.42 (Approx.)

Traffic: 90% traffic from US.

Traffic platform: High-End mobile devices

Category: Lifestyle

Here is the screenshot of recent payment of march 2016: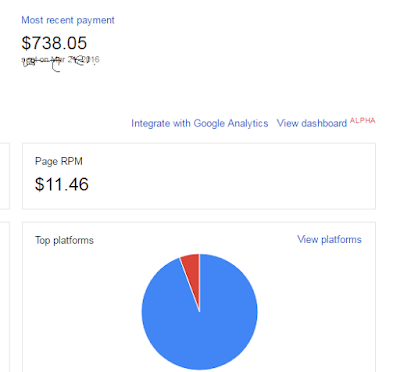 Now I will proceed and write the steps I used to target traffic on my website from United states.
Here is the list of Tools I used:
1. TLD domain (.US)
2. Blogging platform: Blogger
(There are lots of reasons behind using blogger and that is why still Tips2secure is on Blogger. But here, I chose Blogger for some different purpose. I needed USA based hosting and servers. I don't know a lot about these things but I had observed several times that blogger's hosting and servers are US based. That is why I specially chose blogger.)
3. Social bookmarking sites
4. Directory submissions.
Now, we will study these facts in detail. If you also want to target website traffic from United states then it's a time to be serious while reading the post further.
You should follow these points to target your traffic from a specific country or region.
As I already told that I used .US domain and Blogger's from hosting and servers for free. I am recommending here to use the same. If you are a WordPress lover then you can choose your hosting from somewhere else but you should target only USA based servers.
Tip: Here in the first point I have advised you to use hosting, server and domain of US country. You can follow the same steps by changing a little (Country) if you want to target some different country's traffic.
For example, If you want to
traffic from the United Kingdom
then you can use
.co.uk
domain extension, same if you want to have
traffic on your blogs
from India then you can choose .IN domain extension. Also, try to use hosting and servers of the same country for better and fast results.
A problem that you may face while booking .US domain;
Booking a .US domain will ask you some additional questions and purposes behind using this TLD. There you will have to mention the reason of booking that domain.
2. Geo-targeting in Google Webmaster Tools
This is the second most important thing that worked for me. Google webmaster is a free tool for web owners to monitor their website and it is very helpful to a blogger or webmaster seeking country-specific traffic. This tool allows you to set which country your website is targeted to, and this in turn helps you to get traffic from your targeted country.
Here are the steps to do this:
Login to your Google Webmaster Tools account, if you don't have then create a new one and add your site there.
Now verify your website.
Now Go to Dashboard and Expand "Search Traffic" option given at left-hand side.
Now click on "International Targeting" option.
Now Check the box and Select the country to target users from that country as shown in below image.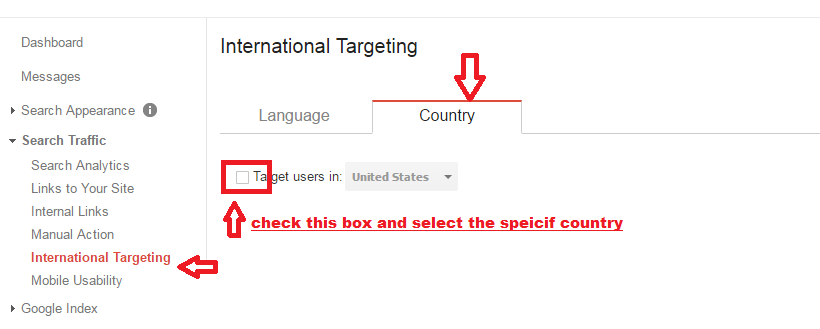 This video by Google will help you better and visually about geotargeting your website.
3. Commenting for backlinks
These days commenting on other sites to earn backlinks is not a good idea. It does not pass any link juice for the sites but still benefits in increasing DA of the sites. Also, if you are going to comment on other sites then comment only on those sites which come under you blog niche.
But here, I also used commenting for that private blog with some strategies. I did comments only on the US sites because I want to earn backlinks and traffic from United states.
Always give valuable comments or it will be deleted by administration.
If you don't have the list of country-specific websites with high PR and DA then you can find the sites with the help of Alexa or by making a Google search. I recommend you to Alexa to find a list of popular websites in a particular country or to find domains with country-specific domain names.
This is also an important part. I also did lots of researches before creating that blog. I used several keyword research tools for this purpose. Firstly I derived ideas from Google Adwords keyword planner to check the search volume and competition in that specific country. I got ideas but I always prefer
SEMRUSH for keyword research
.
Adwords keyword planner
is free to use but SEMRUSH is paid. Also, SEMRUSH results are more accurate and give better results. That's why I bought SEMRUSH for the first time and finalized my category of Lifestyle of USA people.
If you can afford to
buy SEMRUSH
then you must buy it, if not then you can simply use Google Adwords keyword planner.
Tip:
Always pick a low cometition niche to start a country specific blog. If your plan is to
make money with Adsense
then you should also keep in mind of CPC rates. If you have a plan to earn money through affiliate marketing then you don't need to take care a lot of CPC rate for search terms.
5. Content Level Targeting
Your content is the main signal that Google uses to determine which country you are targeting. You should read and follow the ideas from already running blogs and websites in that country for the same niche.
For example, if you are a person from India and going to start a USA based blog then you will have to change your writing style. There is some differences between the English of USA and India.
These are some simple tips that I used in my private blog. Hope these tips may help you also.
6. Social bookmarking and Directory Submissions
I used some renowned platforms and directories to submit that blog. Hardly it was the list of 10. Some of those sites include:
Reddit
Stumbleupon
Digg
Scoop.it
Pinterest
Delicious
Pocket
Tumblr
Twitter
Linkedin
I forgot to mention in above list about one of most important sites for promoting blogs posts, i.e.,
Growthhackers
. You should try that also.
Final Words:
This was my first private blog experiment and somehow I got success in that. I thought sharing the tips I used here on
Tips2secure
would be profitable for the readers of this blog too.
After this experiment, now I can also say running private blogs under micro niche sites always give an awesome feel.
Also, I would like to know from the readers of this post if you follow any other methods to target website traffic for a particular country? Let me know using the comments section below.
Message: I hope that you have enjoyed 'How I Targeted USA Blog Traffic and Made $738 in 30 Days' article. However, if you want me to deliver more items, then please share my post. You can use Social Sharing Widget provided at the end of every post. After all, Sharing is Caring!