The prolonged fight of Grammarly vs. Hemingway for who is better if judged upon the functional front of these two grammar detection tools and serves the purpose better is yet to arrive at a conclusion.
So, to aid you in deciding which one to buy, Grammarly or Hemingway depends upon the operation you want to execute from them.
We have enlisted features of Grammarly and Hemingway which we have concluded with a comparison of distinct parameters.
We hope you'll discover by the end of the blog what purpose Grammarly and Hemingway serve and can form an opinion on which is better, Grammarly vs. Hemingway, as a grammar editing app.
Grammarly vs. Hemingway – 1 min read
For solo writers or probably school projects, it's impractical to buy two grammar-fixing apps, both being costly. If you're in dire need and want an immediate answer, we would say go for Grammarly with your eyes closed; you'll not regret it. Grammarly has a rich-feature interface, and it comes with multiple extensions. Though pricey, it gives quality content.
If you even need it for a school project or creating an SEO-friendly article, it performs both functions very well. The only function of Hemingway superior to Grammarly is its phrasing modifications.
Not just knowing English but knowing correct English is a prerequisite many companies ask for in their job openings. However, not everyone can be thorough with those hundred grammar rules, which is why the invention of grammar-fixing tools happened. Grammar detection apps like Grammarly and Hemingway have the sole objective of enhancing the grammar score, tone, and readability of a write-up. Frequent use of grammar correction editing apps can also improve your grammar.
Why is using error-free copies vital to you as a marketer/Brand?
It will help if you always ask for grammar reports of documents you are given by a writer. It is quintessential for you to scan your marketing copies for grammar errors and tone detection as, according to a report, about 36% of consumers discard Ad copies full of mistakes.
While picking the right grammatical error-catching tool for yourself, you need to have vital background research for which one is right for you. Pricing plans, response time, extensions available, real-time performance metrics & ease of application are some of the parameters they ought to be looked at to get clarity over which one outperforms this long-lived battle of Grammarly vs. Hemingway.
Here are two of the most popular spell-checking/editing apps dissected in detail to help you get an overview of these platforms.
Grammarly vs Hemingway: Grammarly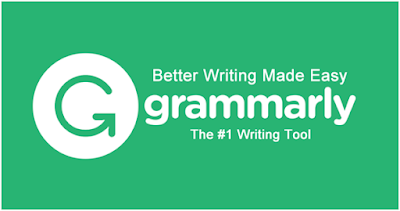 The free version of the Grammarly editing app comes with a chrome-extension for android, Microsoft, IOS, or any other devices. If you already use Microsoft Word, you get an add-on to your standard word doc. Grammarly has recently released its iPad App, which is available for free version users as well.
Along with the premium version, you get an option to set the expected tone of the DOC every time you open it on Grammarly.
Grammarly app features
Grammarly has a huge database of 16+ billion; thus, the grammatical error it takes into account is enormous.
This grammar-detecting tool comes with an extended word limit of 150k words.
The number of devices you can connect with your paid application of Grammarly is up to five.
The Grammarly proofreading app has a short stipulated response period of 1 hour. Thus this established them as pretty quickly responsive.
Grammarly is primarily famous and has been marketed as a grammar detection app but the Plagiarism detection software that comes along with it, is pretty impressive as well. You get access to this feature through the premium version
The adjustable tone for the documents.
Great writing tools and grammar aid resources are available even with free editions.
With the exclusive paid edition of Grammarly, you get access to feedback from a manual editor.
Grammarly expertise lies in vocab enhancement, comma placing,
How to use Grammarly for grammar detection?
To use Grammarly, you first need to sign in on their app through whichever device you want to. You can use Android, Windows, or Mac, anything you want to. Once you're done with the logging part, you will be able to see an editor's dashboard from where you can get downloadable pdf reports of your text analysis and plagiarism detection. Searching for the document already created is accessible through their in-app search console, located above the text bar.
How much will a pro-plan of Grammarly cost you?
Monthly plan of Grammarly costs- $30 (But you can avail it for only $10.20 per month, read it here how.)
Annual plan of Grammarly costs- $11.66
CLICK HERE TO CHECK DISCOUNTED PRICE
GRAMMARLY PROS AND CONS:
| | |
| --- | --- |
| PROS OF USING GRAMMARLY  | CONS OF USING GRAMMARLY |
| Short response time | The only language checked is English. |
| A higher percentage of accuracy | The annual plan costs a fortune. |
| Provides text performance analysis in the form of | You can't get direct API access |
| Goes through 120 billion online copies for plagiarism detection. | It suggests rule-based grammatical suggestions pre-installed in its interface, which may not fit into many sentences. |
| It detects passive voice also, as too many sentences in inactive form reduce the SEO performance of a text. | |
Grammarly vs Hemingway: Hemingway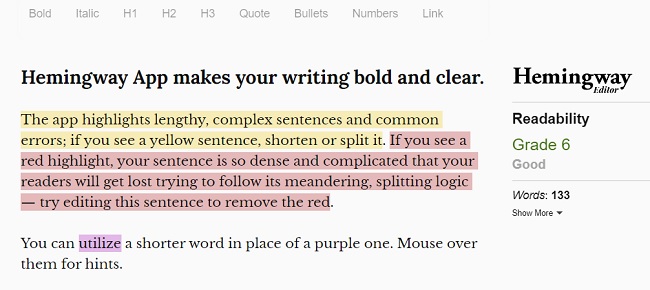 Hemingway (https://hemingwayapp.com/)is a quite popular minimalist grammar editing software. It comes with an extensive toolbar located in the app itself. The app interface isn't something appreciable as it includes lots of irritable features when you browse the text on the app Page.
This app was named after the famous English novelist Ernest Hemingway. It makes suggestions by highlighting the words by colour-coding them. It also offers tips on passive voices and indecipherable sentences.
Hemingway app features:
Hemingway's grammar editing app comes along with a colour-coded grammar-detecting feature.
In the app interface, you can access other text analysis pointers, such as word count and error count.
The best feature of Hemingway is it can be used offline, too, unlike Grammarly, where network troubleshooting can disrupt the entire interface.
The Hemingway desktop version has text formatting features such as inserting links and others.
It highlights jargon and wordy sentences.
The interface is surprisingly quick but not very impressive.
Extensive analysis, such as reading time, characters, and paragraph count, is available.
How to use Hemingway for grammar detection?
Once you go to the Hemingway App, you'll see an extensive toolbar placed above the text bar with features like bold, italics, quote, numbers, etc.
Its colour codes denote the error in green, purple, yellow, red, and blue.
Green denotes– passive
Yellow indicates– too long sentence
Red denotes– hard to read sentences
Blue denotes– weak phrases
Purple denotes– hints for too-long words
Place mouse pointers above coloured sentences or words to see the hints given or changes suggested.
How much will a pro-plan of Hemingway cost you?
The Hemingway desktop version is cheap, you can steal the deal at $19.99 only.
Hemmingway Pros and Cons:
| | |
| --- | --- |
| PROS OF USING HEMINGWAY | CONS OF USING HEMINGWAY |
| You can run the interface in offline mode too. | Hemingway colour codes the error so that won't be of any use for colour blinds. |
| It has a tone decipher feature, which is available on both free and paid versions. | Hemingway does not take a business formal tone into consideration. |
| It has an aesthetically pleasing interface | There isn't any browser extension available. |
| Good to check readability. | Does not have plotting & organizational tools |
You may like to read,
Grammarly vs Quillbot- Which one is better? Review
Grammarly vs Whitesmoke [Detailed Comparison]
ProWritingAid VS Grammarly- Which One is Better?
Grammarly Vs GingerA Detailed Comparison Review
Grammarly vs. Hemingway Overview
| | |
| --- | --- |
| GRAMMARLY | HEMINGWAY |
| The Grammarly interface has a separate section adjacent to the document where all errors are explained. | Hemingway colour codes the error, so this is of no use to colour blinds. |
| Grammarly checks for active and passive voice in the paid version. | Hemingway scans for passive sentences in the free version of it. |
| Grammarly is much better than any available editing tool for longer copies. | Hemingway isn't a preferred platform for write-ups with great numbers of words. |
| Grammarly provides a readability score, which can be found on the report in the editor mode or highlighted text. | Hemingway also offers a readability score. But the suggestions offered are less extensive in comparison to Grammarly. |
CLICK HERE TO CHECK GRAMMARLY IN ACTION
Final Remarks on Grammarly vs Hemingway
Both these grammar-fixing tools are rich in quality and offer an array of features. For fixing typos or considering changes in the tonal quality of text both Grammarly and Hemingway are similar. A drawback that the Hemingway makers should consider improving is it colour-codes the errors in the document rather than bolding or making a separate section adjacent to the text for suggestions like Grammarly does. For specifically grammar detection Grammarly would be a clear-cut winner.