Which one between Grammarly and Microsoft Editor is the best for writers? Writers don't write strategically; instead, they write creatively.  That's why using grammar-detecting tools is a quintessential part of their job.
Even for school graders' use of spell-check, tools became necessary.
As education shifted from classrooms to virtual platforms in the covid era. So, assignment paperback culture transformed into DOC format.
If someone works in the corporate sector, they understand better than anybody else how important it is to write grammatical-error-free business documents and presentations.
So, these are some reasons why you need editing software such as Grammarly and Microsoft Editor on your device.
We have set the premise for the face-off between two of the most used grammar correction AI tools.
Here we have done Grammarly vs. Microsoft Editor comprehensive comparison. We have reviewed them over pricing plans, tools available, language support, tone predictions, and other parameters.
But wait, what is the need to compare these two? Why can't we use them both?
Because not everyone can afford both of them together for minor grammatical corrections, and honestly, we ourselves wouldn't recommend buying pro plans of two proofreading software at once. For a student, it isn't practical to take Grammarly and Microsoft Editor into use together.
TABLE OF CONTENT
Grammarly 
Grammarly Specifications
How to use Grammarly?
For whom is Grammarly the best choice?
Cons of using Grammarly
Price of Grammarly
Microsoft Editor
Microsoft Specifications
How to use Microsoft Editor?
For whom is Microsoft Editor the best choice?
Cons of using Microsoft Editor
Price of Microsoft Editor
Grammarly vs. Microsoft Editor 
Which is better, Grammarly vs. Microsoft Editor?
What would we recommend between Grammarly vs. Microsoft Editor?
Final verdict
Grammarly vs Microsoft Editor: GRAMMARLY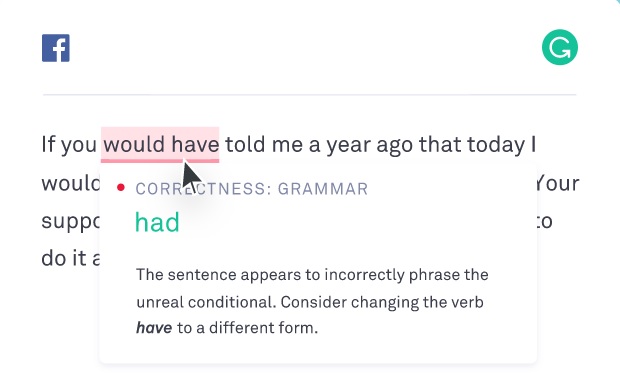 Grammarly is a grammar detection and AI spell-check tool.
It is a go-to tool for Proofreading.
Grammarly was first released in 2009 for public use.
Errors like missing commas, missing hyphens, spelling typos, capital letters, and small letters are checked effectively over this AI-powered writing software.
With its lightweight chrome extension, your chats, emails, and tweets also become error-free.
So, even if you are not an editor, you'll produce error-free copies with Grammarly.
Grammarly has an array of attributes, which makes it suitable for executing a large number of functions such as editing a document, altering the tone of documents as per the theme, extracting write-up performance reports, the passive sentence checks for SEO purposes, detecting hard to decipher sentence for readability check and the list will go on.
For the free version, passive sentence spotting isn't available.
Grammarly already has a different name in the writing extension market.
The Grammarly browser extension is mighty.
It has android, IOS, windows, Firefox, Chrome, and many other plugins. So, even if you want to send only error-free email or text messages, this is for you.
Constant use of Grammarly, in the long run, will yield excellent results in terms of honing your writing skills.
You'll have a tone fixer in the free version, which works fine and serves the purpose well.
Grammarly Specifications:
A good thing about Grammarly is its ever-evolving system. The Grammarly team asks for reasons sometimes when you decline their grammar suggestion on the app.
It covers all errors concerning grammatical aspects; as with nearly 250 kinds of grammatical rules pre-installed in their system, it hovers over your document applying the same.
Grammarly has web apps, iOS, Windows, iPhone, Android, Microsoft Edge, Chrome, and Safari plugins. So, no need for any other writing extension.
It aids in simplifying compound sentences. Also, it helps in detecting fragmented sentences.
Grammarly suggests adding transition verbs if missing.
Before every Document, you can manage the tone of the write-up following how you want it to sound. The software suggests tone moderation by colouring them purple.
This sentence refinement AI tool makes you customize your articles and spots recurrent words.
Grammarly also manages and looks for the reliability factor of the document uploaded.
It checks for the consistency and fluency aspect of the write-ups.
This writing tool's free edition gives tough competition to even premium versions of many proofreading applications.
Businesses have an additional business plan where you can access many management tools and style guides by applying for a license for software access. The business plan starts at $12.50 for each member.
Grammarly helps you scan for unintentional plagiarism.
Grammarly sends weekly reports over the mail on how you're progressing. These infographics provided by them in the form of a document are very helpful to budding writers—the learning curve with Grammarly is perfect.
CLICK HERE TO CHECK THE LIVE DEMO OF GRAMMARLY
How to use Grammarly?
To use it on the desktop, you can upload your file saved in word doc, or you can type on-spot on the app as well. But if any connectivity issue happens and if you are writing on the app itself while troubleshooting, you might lose your text.
If you don't want to extract the plagiarism report, the window and IOS desktop plugin will be handy with your Word or Google Docs document.
Grammarly plugins for android are good too.
They have plugins for iPhone or iPad too.
For whom is Grammarly the best choice?
For someone who not only wants to correct their mistakes but also wants to sharpen their writing skills, Grammarly is for them. Grammarly is an advanced writing tool and offers the best-in-the-market extensions. So, if you're a novice and want to get remarks on everything from sentence structuring to hard-to-read sentence detection, you can check out the Grammarly app. Their interface is decent, with access to every feature at a click. The plagiarism feature is helpful, unlike many lame options available in the market. The Grammarly app scans through about 120 million copies there on the internet to bring you the plagiarism report of your text or document.
It comes along with a browser extension, The Grammarly web tool, A downloadable desktop app, The Microsoft word add-in, and a mobile app, so anyone who is looking out for a complete package of basics to advance easy-to-use tools, Grammarly is for you.
Cons of using Grammarly-
The price factor turns most people down from using it.
The only language it supports is English. So, Grammarly is useless if you want to use it for any language other than English. However, it covers all significant dialects like British, American, Canadian, and Australian.
Do I have to pay for Grammarly?
Grammarly wouldn't cost you a penny for the free version, but its premium plan has multiple options.
Like, For every month, a Grammarly pro-plan pricing is $29.95. Monthly plans are not an advisable choice, as being a bit heavy on pockets.
You can get Grammarly premium subscription for $10.20 per month only with the help of our special discount for the readers of Tips2secure. To activate your discount you can follow the below link:
CLICK HERE TO ACTIVATE DISCOUNT
They have three versions to take into use. Apart from the average premium pack, they have student and business plans also. The price for the business plan is about $12.50.
Grammarly vs Microsoft Editor: MICROSOFT EDITOR
Microsoft Editor is a grammar-fixing software.
If you're already good in terms of grammar and sentence structuring and you don't want to spend hefty amounts on premium plans of other writing extensions, Microsoft (Office 365 is for you).
Microsoft editor is suitable for general usage to correct minor spelling mistakes and verb forms and adverbs.
Due to the absence of advanced tools like Grammarly offers, this can't be taken into use by professionals.
The catalogue of mistakes it works upon is hyphen placing, spelling corrections, punctuations, small letter and capital letter correct appointing, and other minor grammar-based inaccuracies.
Also, it makes suggestions on the readability front.
Sometimes too many hard-to-read words irritate the reader, so these tools keep a check on that as well.
Microsoft Editor does have a Chromium Browser extension, but honestly, it is not of much use.
If you're extremely low on budget and don't need a writing editor for professional use, then Microsoft Editor would be a great companion for your write-ups.
Microsoft has been in use in the industry for quite a while now.
For enterprises looking to keep Grammatical consistency, Microsoft may not be a preferable choice.
It is more commonly used between students and for other non-professional use.
If you are a writer and a novice, you can't completely rely upon Microsoft Editor.
Microsoft Specifications:
Has working scope taking into account all basic grammatical errors if used for free.
The 365 office package that it comes along with also detects adverbs and extras of the text at scrutiny. This is an advanced feature limited to subscription holders.
One of the best things about Microsoft Editor is that, unlike Grammar which only includes the English language, Microsoft Editor(office 365) works in sixty languages.
The office 365 subscription has word, word online & outlook extensions.
It catches capitalizations mistake also.
The free edition offers access for one person only. To use it in a team, the family package is to be bought.
How to use Microsoft Editor?
Microsoft Editor's free version gives one person access. The other plan it comes with is premium which also provides one-person access. To be accessed at a team level, a family edition is to be bought that allows access to 2-3 people. Also, if you're looking for multi-language support, it's again an undoubted option.
For whom is Microsoft Editor the best choice?
The Microsoft Editor comes along with Edge and Chrome extensions. Also, Microsoft Editor (office 365 package) is significantly cheaper than other primary writing tools in the market. So, if you are looking for a writing extension that wouldn't cause a burn in your pocket, Microsoft Editor is the one for you.
Cons of using Microsoft Editor- 
Not a writing extension for professionals
Though a Browser extension is available but it is of no use.
Significantly less and primarily level features.
A major issue is it does not come along with an android keyboard or desktop extension like Grammarly does.
Microsoft Editor doesn't support tone prediction.
It doesn't give API access.
Do I have to pay for Microsoft Editor?
You can get it as cheap as $6.99/mo if general use is concerned.
Grammarly vs Microsoft Editor (Comparison Chart)
Till now, we have studied their attributes individually. Now we will put them side-by-side. This table will help you understand them comparably. When judged on different parameters, let's find out which one Grammarly vs. Microsoft Editor outperforms.
| | | |
| --- | --- | --- |
| PARAMETERS | GRAMMARLY  | MICROSOFT EDITOR |
| Working Language | Grammarly takes into account only the English language and its different dialects. | It supports approximately 60 languages. Microsoft's versatility concerning languages is a plus point. |
| Price of premium packages. | By judging the price factor, Grammarly charges higher than most of the available tools. | Microsoft Editor has a significantly lower price than Grammarly. |
| Customized dictionary | At Grammarly, you can build a personal dictionary for words that the app autocorrects. You can add your regional words or slang for exact names, for that matter. | With Microsoft Editor, an option of adding proper nous also comes along. |
| Extensions | The Browser extension provided is exemplary. | The browser extension's quality is questionable. |
| Tone prediction | Grammarly comes along with a tone prediction feature. | It doesn't make tonal suggestions in the text. |
You may like to read,
Grammarly vs Hemingway- Which is Better?
Grammarly vs Quillbot- Which one is better?
Grammarly Student Discount- Exclusive (70%) $10.20/M Only
ProWritingAid VS Grammarly- Which One is Better?
Which is better, Grammarly vs. Microsoft Editor?
This you should ask yourself. We have, from our end, given a wholesome perspective of how these two operate in real-time. Moreover, we have judged them on different parameters for you to decide which one to choose. Your personal expectations from an editing tool might be different from others. If you are a writer, you need a more professional tool like Grammarly. Still, if you are someone looking for minor corrections to be made in your document, Microsoft editor would be more advisable, being light on the pocket.
What would we recommend between Grammarly vs. Microsoft Editor?
Both have significant pros and cons, which we have discussed above. However, if we have to pick one, we will go for Grammarly without any doubt. Grammarly has an advanced dashboard that includes all sorts of tools from basic to advance. Due to its extensive features, it's been the most used writing extension up until now. Also, the Grammarly algorithm keeps improving every day as a dedicated team is constantly working behind it.
Grammarly vs Microsoft Editor: Final verdict
A clear conclusion can't be derived as this is completely dependent upon someone's demands for a writing extension. If someone is looking for a cheap AI writing tool that serves their basic needs Microsoft Editor would do for them. But for a professional writer with higher expectations Grammar is undoubtedly the best. To know more about the working capabilities to choose the best for you try their free versions.