An unbiased review of Grammarly vs. Wordtune based on a comparison of their specifications.
Writing isn't something based upon creativity and artistic urge anymore, as the digital age has presented to us write-ups of distinct forms with different objectives. Whether it's building a presentation online, writing a product description, creating marketing copies for advertisement, or writing a script for videos, all of these fall under the forms of writing a catalogue; though they demand different tones and writing patterns, one thing that is common between all of them is proper punctuations, correct spelling and no grammatical mistakes.
We are no grammar Nazis, nor do we have the patience to proofread (as if you're not a professional proofreader, there might be a chance that you'll miss upon things for longer copies) or money to get it to proofread manually.
In scenarios like these, proofreading AI software comes into play. Spellcheck/writing enhancer tools' scope of working includes checking upon grammar, checking for spelling errors, detecting passive voice as too many passive sentences is a sign of a lousy write-up, also, moderating tone, looking for fragmented sentences, and suggesting other essential changes with a motive to enhance your writings.
But why not a manual proofreader?
Because, in the first place, these softwares are made with the motive to help you save time and money, which otherwise gets consumed like anything. Also, being a human, there is always a window for mistakes.
But do I really need a writing assistance tool if I am not a writer?
Yes, you do! I'll tell you why. Even if you're not a writer, you are still engaging in writing in the English language, which is, by the way, a necessity today.
Grammarly VS Wordtune: Grammarly overview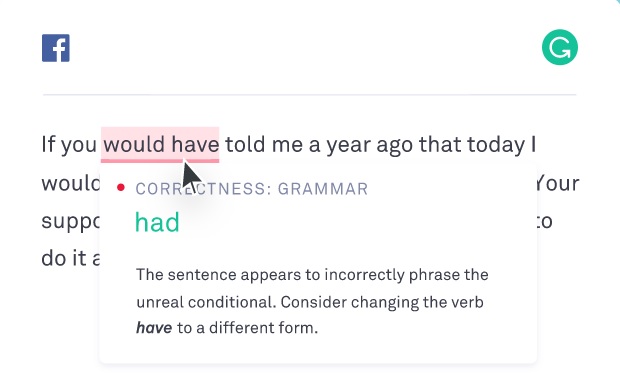 Grammarly is an automated writing assistant.
Grammarly's goal-setting tools help businesses set up a style that caters to their target audience.
In addition to that, one gets access to a dedicated team analytics dashboard.
Grammarly, despite being one of the most advanced writing tools, still offers an easy interface for smooth operations.
Apart from the web desktop editor, it has a Chrome extension.
G-mail and WordPress add-ons also come along with Grammarly.
Grammarly can be used on Android, IOS, desktop apps, i-pad, and others.
Grammarly offers engagement metrics as well.
It can be used to scan for plagiarism also.
Grammarly use
With the Grammarly Chrome extension, writing without errors in the web space and on social sites becomes easy. It can be used as an MS Word add-in also.
Grammarly Drawbacks
Grammarly offers grammar fixing only in the English language.
The monthly package costs a fortune. For anyone looking for a writing corrector for a short period, Grammarly may not be the best choice due to its high price.
Grammarly doesn't always offer suitable suggestions because it operates on several grammar rules which may not be relevant to the text despite being technically correct.
This AI tool doesn't have thesaurus support.
Grammarly does not provide direct API access.
Grammarly VS Wordtune: Wordtune Overview
This AI-based application was founded in 2018
Founded by Ori Goshen Yoav Shoham
Wordtune is currently under the ownership of AI21
Mostly preferred for rephrasing, it helps users form new content using linguistic variations.
This writing tool works with the motive of enhancing the readability score of the text.
In Wordtune, you can set up the expected tone. Whether it's formal or informal, you make relevant adjustments. It has two modes: 'casual' & 'formal.'
As its primary purpose is paraphrasing, one can lessen or increase the word count to the number desired.
If you are running out of ideas but have a certain limit of words to touch, Wordtune will come in handy.
Wordtune to suggest relevant synonyms highlights the word.
It is an efficient content summarising tool used for grammar and syntax rectification.
Wordtune use
Wordtune can be used as a Chrome extension. This feature helps one write on web-based platforms error-free. After installation of the Chrome extension, Wordtune can be used even without the web editor. Also, Wordtune comes along with an MS Word add-on. Because of these two features, one can write error-free on Google Docs and MS Word.
Wordtune Drawbacks
Similar to Grammarly, Wordtune's suggestions aren't always suitable.
Wordtune's primary role is rewriting. But, sadly, one can access only ten rewrites a day.
Wordtune doesn't have a straightforward interface. The platform's user experience is below decent and needs a lot of improvisation.
Grammarly vs. Wordtune Comparison
FEATURES
GRAMMARLY
WORDTUNE
VERDICT
Google Docs Extension
Available
Available
Tie
Pricing
Monthly package-$29.95/mo

Annual package-$59.95/

year

Monthly package-$9.99/mo

Annual package-$119.88/year

The monthly plan of Wordtune is cheaper, and the yearly plan of Grammarly is cost-effective.
Microsoft Word Extension
Available
Available
Tie
Browser Extension
Available
Available
Tie
Rephrasing
Not available
Available
Wordtune wins
Style Editor
Not available
Available
Wordtune wins
Engagement Metrics
Not available
Available
Wordtune wins
Feedback through Email
Available
Not available
Grammarly wins
Student Discounts
Available
Not available
Grammarly wins
Email add-on
Available
Available
Tie
Tone management
Available
Available
Tie
Grammarly vs. Wordtune: Which one is Better for Students?
Between both these rich-in features and AI-powered writing extensions, Wordtune will serve you better if you are a student. Because if you want to cheat in assignments, which by the way, we wouldn't recommend, to rewrite content from the internet, you can take help from Wordtune. Also, if you're looking to expand the wordiness, that can also be done from Wordtune. Wordtune's expand and shorten features will help you achieve the assigned word count.
But if you're searching for a grammatical corrector tool that can aid you in the long term with its constant feedback, go for Grammarly instead of Wordtune.
You may like to read,
Grammarly vs. Microsoft Editor-Which writing tool is the best?
Grammarly vs Hemingway- Which is Better? (Comparison)
Grammarly vs Quillbot- Which one is better? Review
ProWritingAid VS Grammarly- Which One is Better?
Grammarly Student Discount- Exclusive (70%) $10.20/M Only
Grammarly vs. Wordtune: Which one is Better for Writers?
For writers looking for advanced proofreading software, Grammarly will be the one to take into use. Grammarly editor is supplemented with a significant sum of grammatical rules and guidelines which it takes into account while scanning through your document. Also, through their feedback on your writing improvisations via Email, they help a writer with a learning curve. As a writer, you can't completely rely on Wordtune as it only has expertise in modifying the subject text.
Which one Grammarly vs. Wordtune is better for business owners?
If business holders want to access it in a team, they can opt for a Grammarly business plan. Businesses can obtain a license and can access its advanced management and analytical tools. As Grammarly asks you to set a goal beforehand, you can carve the content in accordance with the tone of your Document.
Conclusion: Grammarly vs. Wordtune
While Grammarly is a more established grammar checker, Wordtune hasn't formed such a user base yet. After all this analysis, we can conclude they both are excellent and have different fundamental purposes. Coming to the point, to choose which one to buy in 2023 one can first try hands at the free versions. After about a week of trial, you can compare which of these would be a reliable writing partner in the long run for you.