If you are planning to buy a Serpstat subscription and looking for reviews before making your purchase then you are at the right place, in this Serpstat Review, I will discuss all the Pros and Cons of Serpstat.
When it comes to Search Engine Optimization, there are many tools that are used by thousands of bloggers in the blogosphere. In SEO, everyone is using tools for mainly two purposes:
Keyword Research
Backlink Analysis
I am sure many of you are using SEMrush for keyword research and Ahrefs for backlink analysis. I am also using the same tools, and by those tools, I am quite satisfied. But in the last few days, I came across a new tool called Serpstat. As I was satisfied by SEMrush and Ahrefs, I was feeling quite hesitant to try the new tool for my SEO campaigns. But after reading some reviews and discussions on the forums, I thought I should also give a try to this new tool.
After that, registered my account and did some testing with the Tool and got good results. So finally, I am going to share the review of Serpstat with my blog readers. I will also compare Serpstat vs Semrush and Serpstat vs Ahrefs in this post.
If you have not tried it yet, then I recommend you to try Serpstat for a free Trial.
I have a Special GIFT for the readers of TIPS2SECURE. Keep reading the review till the end and you will get your amazing Gift (discount).

CLICK HERE TO CHECK YOUR GIFT
Serpstat Review: What is Serpstat?
1. Serpstat was founded in 2013. It was only for keyword research initially, but after some time they have created a fully-fledged SEO tool for all the webmasters.
2. Database of Serpstat is massive. It has 5.34 Billion keywords and 3.21 Billion search suggestions.
3. It provides data for 230 Google Regions.
4. Serpstat is used by more than 300,000 online marketers, SEOs, and webmasters.
Serpstat Review: Special Features
Update:
There is good news for you all. Few more amazing features including
Keyword Difficulty analysis, Site Audit, Keyword Grouping, and Text Analytics
have been added by Serpstat.
1. Keyword Research
To explore which keyword has the highest popularity, you can use this feature. It shows you a graph that guides you about the user interest in a specific keyword and its status for a particular period. You can optimize, write content, and even plan your Advertising campaigns according to the keyword trends and fresh user intents.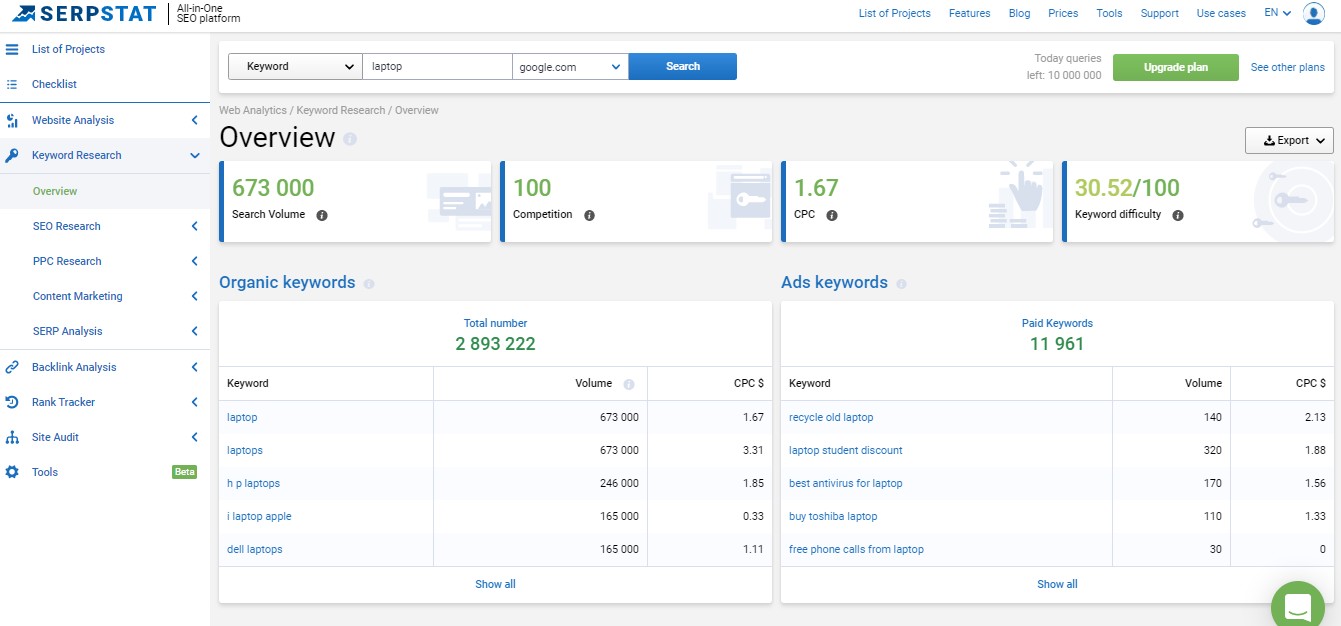 With the Serpstat tool, you can do keyword research. It will supplement your content with untapped keywords and help you to expand your online presence. In the Serpstat tool, you can do various things like collecting keywords for SEO and PPC, determine the value of keywords, find keyword variations, get long-tail keywords, discover international data, check website presence online and do many other things.
2. Search Analytics
With Search Analytics of Serpstat tool, you can discover who your competitors are; you can understand their strategies and weakness and make a full proof plan to improve your business. You can find out direct organic competitors, research the visibility of different domains, discover competitors' ranking, track and get statistics of top pages.
CLICK HERE TO VISIT THE OFFICIAL SITE
3. Advertising Analysis
You can analyse your competitor's ad campaigns and get the best ROI on your campaigns. You can identify your competitors in AdWords, get the competitors methods, research for different keywords and target the local market for your campaigns.
4. Content Marketing Ideation
Content is king, and it will remain king in SEO. So you need quality content to rank in search engines. With Serpstat, you can discover and create unique content that is well-performing in your niche. With Serpstat, you will get search suggestions, you can use related keywords in content, track your shares on Facebook and analyse traffic on your website.
5. Competitors Research
In the search engine results page, the page that stands out for a keyword, the organic keywords, the number of Facebook shares and potential traffic score for all the pages— these vital statistics you can get with ease.
If you do competitors research fine, then you can win any game. Serpstat provides you with the right set of options to perform your competitor's research. You can identify your competitors, perform batch analysis on more than 200 domains at a time, discover your competitor's page and do lot more things that can help your website SEO.
6. Rank Tracking
As a webmaster, one needs to track the ranking daily. Serpstat allows you to track your and your competitor's rank tracking daily. You will get advanced analytics, daily results, and great stats and even you can share your project with your team members without any additional cost.
7. On-Page Audit

You need to do some on-site audits to improve your website performance in search engines. With Serpstat, you can do such audits fast and easily. Serpstat allows you to discover gaps in the domain's optimization and you can find and fix the issues in on-site or off-site. Even you can increase your domain's crawl rate using this tool.
8. Backlinks Analysis
Backlinks are the most powerful ranking factors. You can get all your backlinks data in a single click. You can find competitors strategies for backlinks and get the find the pages that are attracting more backlinks than others.
9. Reports and Infographics
There is a need to visualize all your data. You will get a single place from where you can visualize all your data. You can set email also alters for positions tracking. Serpstat gives you powerful data visualization via Infographics and reports. So that you can get the most out of this tool.
10. Keyword Difficulty Analysis tool
This is the most demanded tool by bloggers and SEOers. Keyword difficulty tool analyses your desired keyword by spying on your top 10 competitors' results in SERP and tell you how difficult your keyword is to rank in SERP. It gives a score of difficulty level on a scale of 100. A higher score means higher competition and difficulty to rank.
What I recommend to my readers keep analysing the keywords and go for the one who has a keyword difficulty level score =< 30.
Give a look at the below screenshot and you will understand better…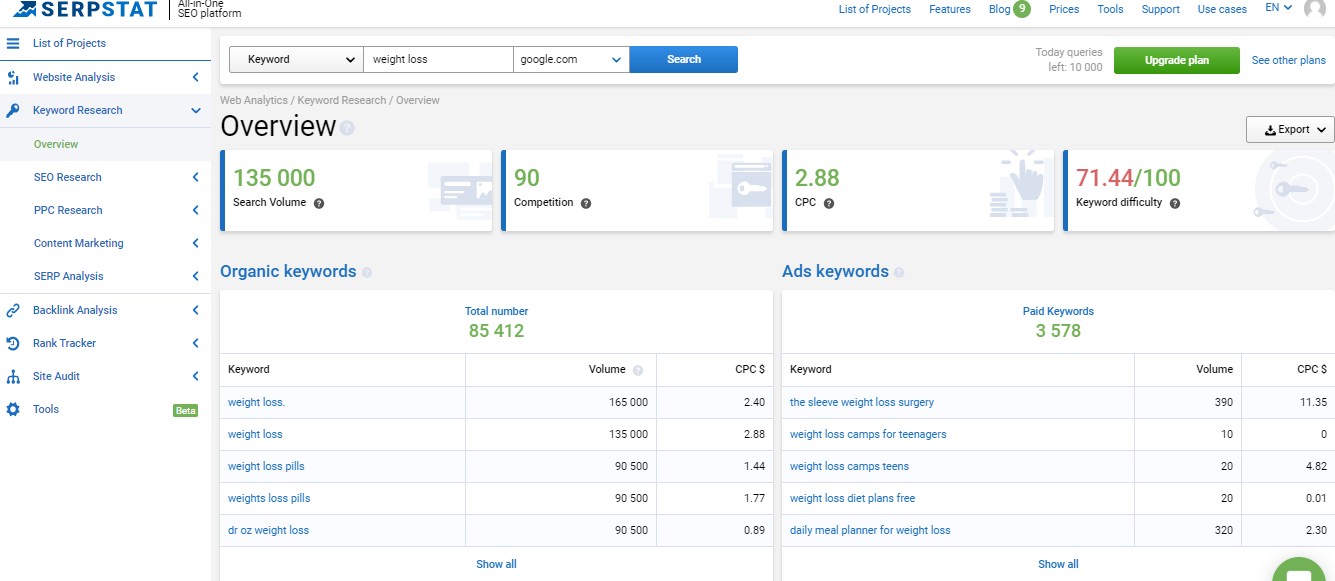 Now you can see this tool does not only show the keyword difficulty level but also shows the search volume, CPC, and the list of related Paid keywords. Isn't it amazing?
11. Site Audit
If you see the usefulness of the Site Audit option of Serpstat, it is tremendously useful in many cases. Also, whenever you perform a Site Audit, you can improve your website errors and stay a step ahead of your competitors. This helps in outranking them easily.
But Site Audit was meant for auditing the entire while there are times when you need to review a particular page and its statistics. For this, Serpstat has brought a solution for you.
Under the Site Audit feature, Serpstat has now introduced a new option "Page Audit" with loads of benefits for you. To unleash the benefits, you just need to set up an audit quickly.

This tool analyses your website for the possible errors and gives you the list of tasks that you need to fix to make your website perform better in search engines.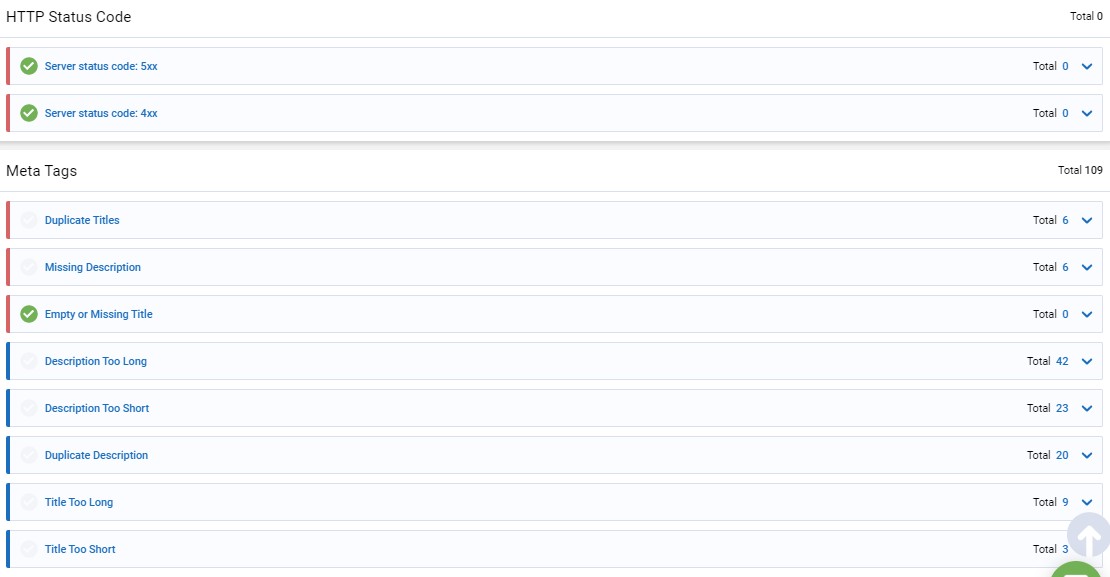 Let's learn how to do away with the site audit.
How do you set up the audit?
Starting an audit is easy. But before you start, you need a little tweak in the quick settings.
Open Site Audit and click on Page Audit. Then, press the Start Audit button.
You will get a window to enter the required data.  Now input the URL (the page you want to analyze), the name of the page, the User-Agent, and login credentials (will be automatically filled).
Now, click the Start Audit button and wait until it completes.
After a while, when the Page Audit is completed, you will get a summary of the glitches found on your site on the same page.
For a detailed report, click on the Result. It will present you the data one by one.
If you are not satisfied with the result, then you can repeat the same steps to get a complete report of the errors from the related pages.
You will find various errors according to their priority.
These are:
High priority — it shows the errors are highly significant and may affect the ranking. So needs to be fixed immediately.
Middle priority — it shows the errors that are relevant but can be fixed on choice
Low priority — it shows the errors that have little to no effect on your rankings. Still, you can choose to fix them if you want.
Information — it shows the suggestions that you should be cautious of
Viruses — it shows the virus or potentially malicious behaviour of applications installed on your website
In the end, after performing changes, Serpstat Site Audit will show you a graph of the changes on the page. Along with reports of errors, the best thing is it shows the suggestions that are helpful to remove the errors successfully.
12. Keyword Clustering (Tools Section)
With the help of this tool, you can upload all your keywords at once and all will be grouped by semantic similarity. It will be best for you if you have a bunch of messy data and are unable to sorting and grouping them manually.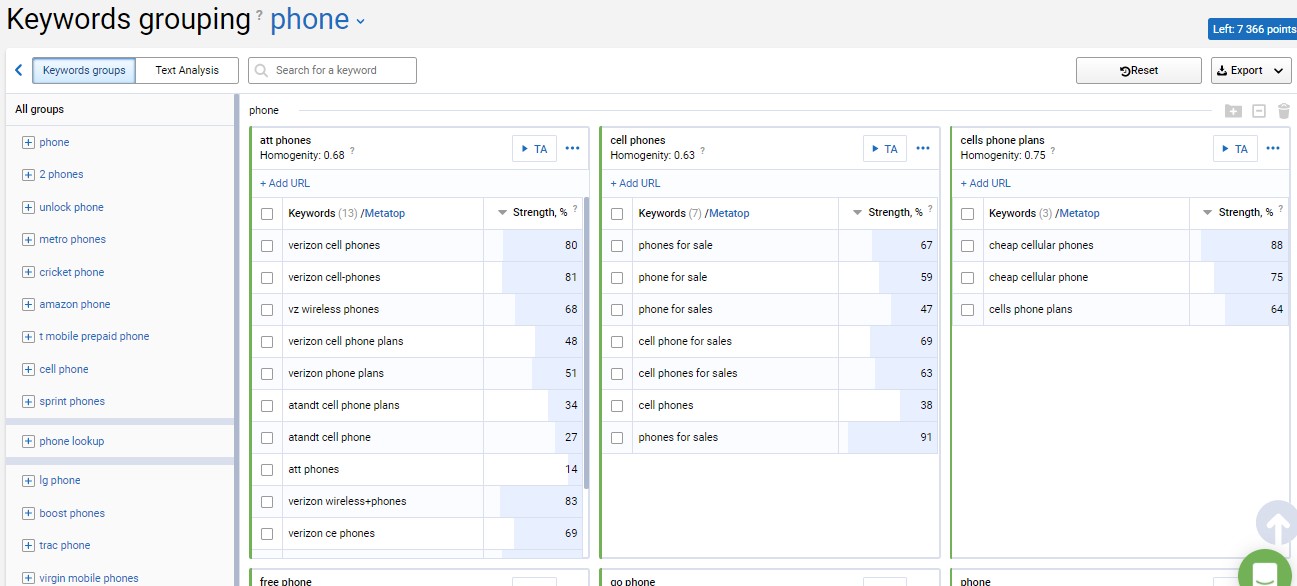 It helps you;
Optimizing your page the whole group of keywords, not for the single one;
It helps in creating a site structure
It provides automatic analysis of a set of keywords.
13. Text Analysis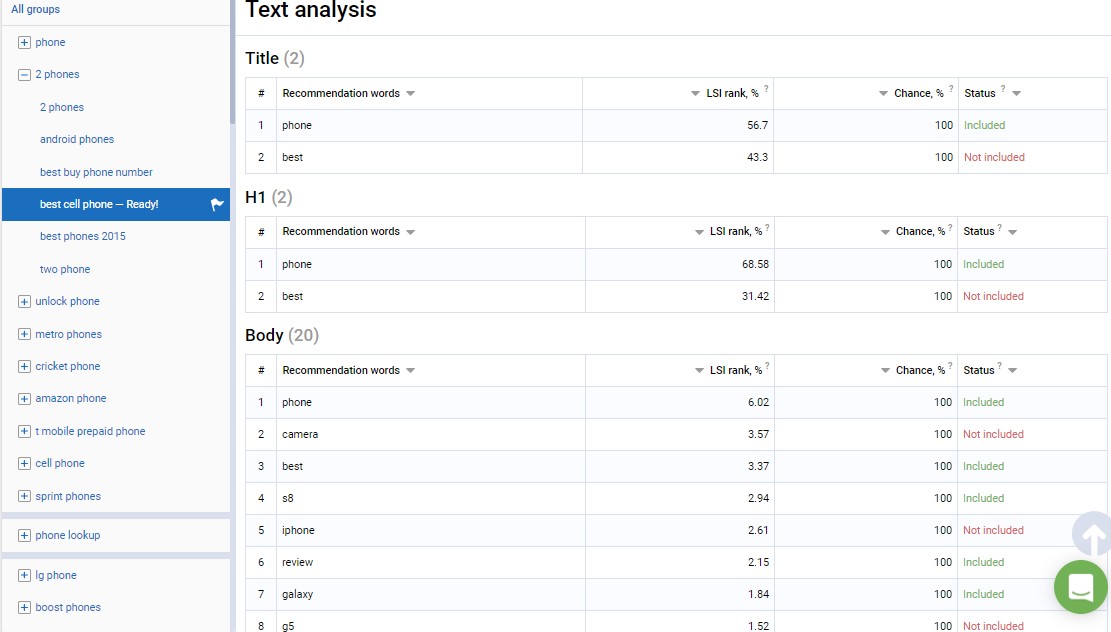 Text analysis tool helps you in improving your On-Page SEO. It suggests what and how to use keywords in Titles, Meta tags, Description, Body, Heading Tags etc. and also point out the missed optimization on your page.
You may like reading these guides as well,
Serpstat Pricing
Serpstat is offering various choices in plans. You can choose the best plan as per your need. There are 4 plans to choose: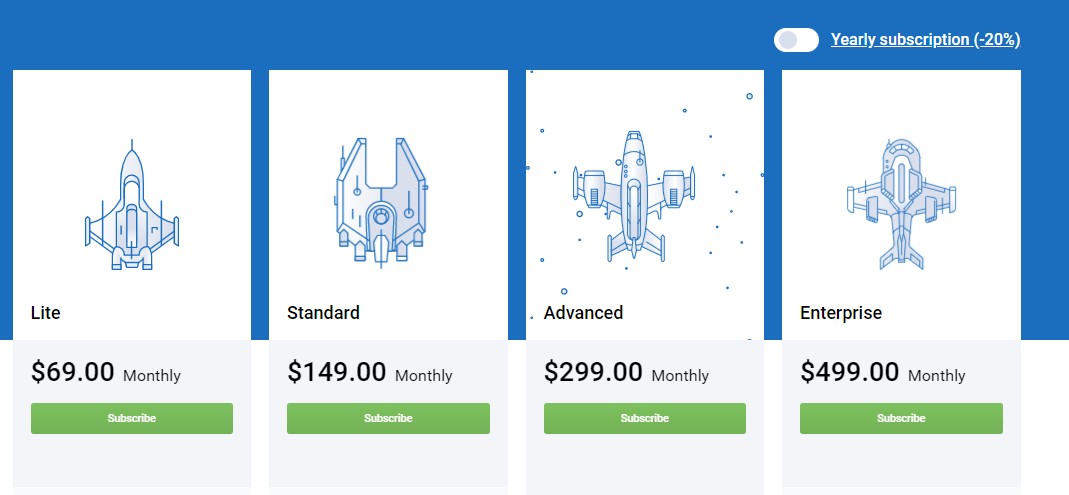 Serpstat: Special Discount for Readers
As you guys are special to me, I have tried to get a discount for you all for Serpstat.
You will get a 30% discount on the premium account of Serpstat. It is valid for the yearly plan subscriptions. If you want to know in detail then do read this Serpstat discount guide.
SEMrush Vs Serpstat
| | | |
| --- | --- | --- |
| | SEMrush | Serpstat |
| | SEMrush is only limited to SEO, SMM, PPC, and Content. | Serpstat supports lots of felid including SEO, SMM, PPC, Content Marketing, Advertisement, etc. |
| | With SEMrush, you can do keyword research, site audit, backlink analysis, position tracking, and organic research. | With Serpstat, you can do keyword research, search analytics, advertising analysis, content marketing ideation, competitor's research, Rank tracking, market intelligence, on-page audit of any site and so many other things. |
| The problem in Backlink Analysis | The backlink analysis of SEMrush is not that accurate, you need Ahrefs for that. | You can trust the backlink analysis of Serpstat. |
| | The price of SEMrush is quite high. There are many newbies who cannot afford this price. The price of SEMrush starts from $99.95/month. They have only 3 plans. So your choices are limited. | Serpstat is built for newbies only. The price can be afforded by any newbie. Price starts from just $19/month. They have many plans. So you can have choices as per your need only. |
Final Words
Message:
I hope that you have enjoyed the 'SERPstat Review: Why I Love SERPSTAT more than SEMrush and Ahrefs?' article on
Tips2secure
. However, if you want me to deliver more items, then please share my post. You can use Social Sharing Widget provided at the end of every post. After all, Sharing is Caring!